Readers Question: explain how economists define 'full employment'?
The first definition of full employment would be the situation where everyone willing to work at the going wage rate is able to get a job.
This would imply that unemployment is zero because if you are not willing to work then you should not be counted as unemployed. To be classified as unemployed you would need to be actively seeking work. This does not mean everyone of working age is in employment. Some adults may leave the labour force, for example, women looking after children.
Optimal Unemployment Level
Another definition of full employment would be the 'optimal' level of unemployment. In practise, an economy will never have zero unemployment because there is inevitably some frictional unemployment. This is the unemployment where people take time to find the best job for them. Frictional unemployment is not necessarily a bad thing. It is better people take time to find a job suitable for their skill level, rather than get the first job that comes along.
Full Employment and Full Capacity
Another way to think of full employment is when the economy is operating at an Output level considered to be at full capacity. i.e. it is not possible to increase real output because all resources are full utilised. This would be a point on a Production possibility frontier. It can also be shown by AD/AS diagram.
Diagram of Full Employment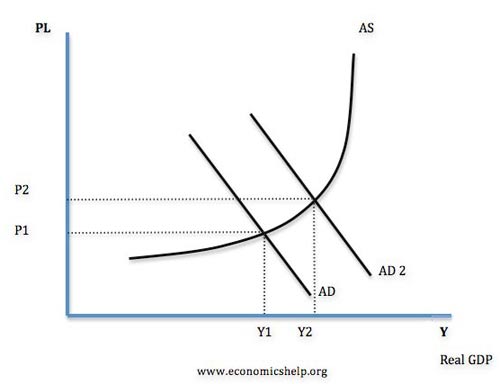 In this diagram full employment would be at an output of Y2. Here any increase in AD only causes inflation. In practise it is difficult to know precisely what counts as full employment. Practical reasons make it difficult for every firm to operate at 100% capacity. Optimal capacity may considered to be 85%
Full Employment and NAIRU
Another related measure of full employment is the level of unemployment when the economy is at the NAIRU rate of inflation. This is the level of unemployment with a non accelerating rate of inflation. This equates to the Monetarist view of the Phillips curve. However, the NAIRU could be quite high due to supply side factors such as frictional and structural unemployment.
Readers Question: explain 3 different ways in which full employment can occur and identify any disadvantages of each?
Optimal Level of Unemployment
Rather arbitrary; there could be disagreement on what constitutes the 'optimal level of unemployment'. For example, how much frictional unemployment is necessary in a modern economy.
Full Capacity and Full Employment.
The problem with this definition is that to obtain full capacity in an economy may lead to inflation and a boom and bust economic cycle. In practise it is hard to attain full capacity because firms usually operate at less than 90% of capacity.
NAIRU
The Nairu indicates the level of unemployment that is consistent with low inflation. However, this can involve supply side unemployment such as structural and frictional unemployment. This level of unemployment could be quite high. Also Keynesians dispute the Monetarist version of the Phillips curve arguing that long term unemployment could be due to demand deficiency.
Related