Readers Question: would you be able to comment on what the Labour party's latest proposal to break up the banks to create competition? I can see some reasons that relate to safe guarding possible failures of large banks which can prove costly if the government are needed to bail them out. However, in terms of helping to stimulate economic growth, would it help or is it like shuffling a deck of cards? I would greatly appreciate hearing your opinion on this.
Labour bank reforms include:
A cap on the size of banks' market share; this will involves splitting up large banks, such as Lloyds and RBS
The introduction of two new challenger banks with an 8% market share.
Refer the issue of banking competition to the Competition and Markets Authority (CMA), within one year of being elected.
Motive for bank reforms
The UK banking sector has become more concentrated in recent years. This has created less competition and more market power. If the government is able to reduce market concentration and increase competition, then they hope that consumers will benefit from more choice and greater price competition. If the banking sector becomes more competitive, the theory is that it will put downward pressure on the cost of borrowing, and upward pressure on saving rates.
The OFT found in a review of the current account market that, while the share of the four largest providers fell from 74 per cent in 2000 to 64 per cent in 2008, it then rose to 77 per cent in 2010.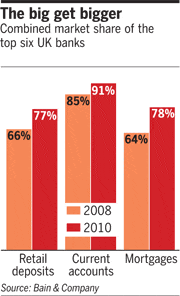 A report by Bain & Company,  showed that the market share of the top six banks together account for 91% of retail deposits. The problem of high market concentration of retail banks is that market power leads to dominance in related financial products, such as mortgages, loans and overdrafts.
Reducing the size of banks helps to deal with the issue of banks which are too big to fail. After the credit crisis, the government had to bail out large banks, at a cost to the taxpayer. Reducing the size of banks means that any bailout will be less costly. Continue Reading →