The German Finance Minister Wolgang Schauble has been a strong advocate of austerity, supply side reforms and 'sound money' policies. (i.e. sticking rigidly to inflation targets). Generally, this has been the preferred approach of Europe to the ongoing debt crisis and recession of the past few years. Recently, he has claimed that the European economy is recovering well and this is vindication that the broad approach of fiscal discipline and structural reforms are laying a foundation for strong economic growth in the future.
Writing in the Financial Times, Schauble states:
While the crisis continues to reverberate, the eurozone is clearly on the mend both structurally and cyclically.
What is happening turns out to be pretty much what the proponents of Europe's cool-headed crisis management predicted. The fiscal and structural repair work is paying off, laying the foundations for sustainable growth. This has taken critical observers aback. It should not have, because, in truth, we have seen it all before, many times and in many places. Despite what the critics of the European crisis management would have us believe, we live in the real world, not in a parallel universe where well-established economic principles no longer apply. (FT – Ignore the doomsayers)
Others are much more critical arguing that this view ignores the long-term damage being done to the EU economy by years of deflationary policies. Also, his view ignores the damage of self-defeating austerity which has caused mass unemployment across Europe and rising debt to GDP ratios.
Economic recovery in Europe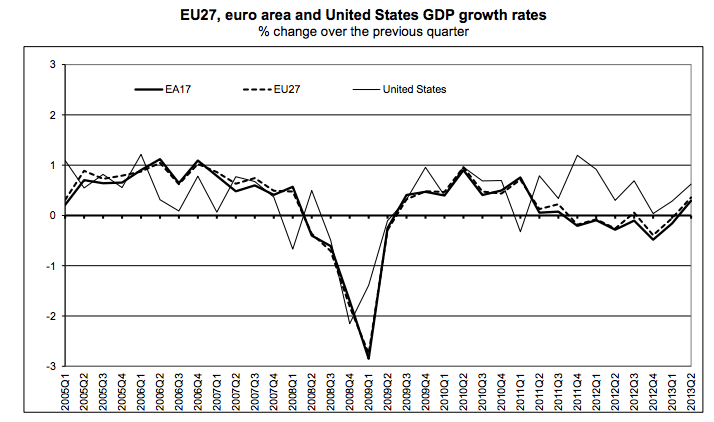 source: Eurostat
Firstly, the recovery is very timid. The Euro area did grow by 0.3% in the Q2 of 2013, but Eurozone real GDP is still -0.5% lower than 12 months ago. The important point is that since 2008, Europe has failed to reach a normal rate of economic growth – there has been no escape velocity. The recovery of 2010 petered out.
Reasons to hold back on the champagne and not celebrate the EU economy.
1. Quarterly growth figures are very limited in determining the success or otherwise of the economy. The European recession began in 2008. The fact you have one quarter of positive growth in 2013 Q2 doesn't overcome the five years of recession. Real GDP growth has fallen drastically behind the trend rate of growth necessary to get anywhere close to full capacity.
2. Unemployment. Unemployment is arguably the most useful statistic for understanding the degree of spare capacity and wasted resources in an economy. High unemployment has very high social costs in terms of lower incomes, declining morale, and wider social problems. On this metric, the Eurozone faces an unprecedented crisis. Yet, it tends to be brushed aside by European policy makers.