An examination of UK house price affordability.
In 2013, UK house prices rose 8%, and most forecasters expect UK house prices to continue to rise above inflation in the short term. However, there is a big concern that house prices are already unaffordable for most first time buyers. In many parts of the country, potential buyers are being kept out of the market due to house prices being much  higher than average incomes. Because of the lack of affordable housing, many have criticised the government's Right to Buy scheme – which concentrates on helping people get a bigger mortgage rather than deal with disequilibrium of supply and demand.
UK nominal house prices since 2002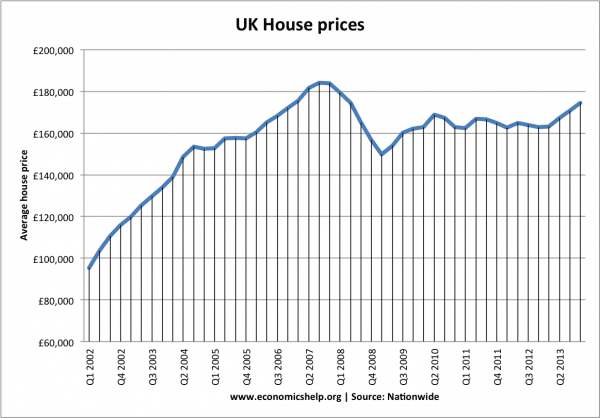 Mortgage payments as % of income
One useful measure of housing affordability is to look at  mortgage payments as a percentage of income. In this regard, it doesn't look too bad.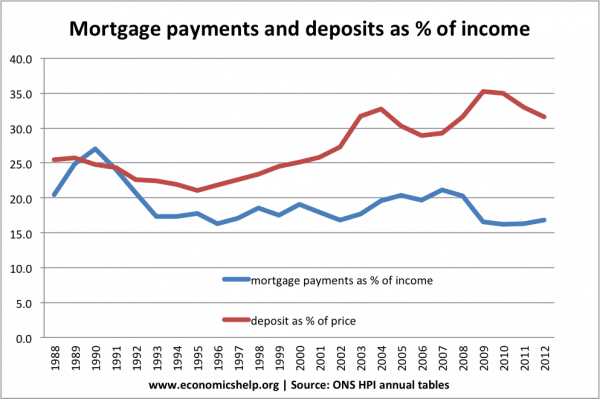 ONS house price index Nov, 2013
Since interest rates were cut in 2009, mortgage payments have fallen to a near 20 year low of just 16% of income.
However, when interest rates rise, many homeowners will see a nasty shock of rapidly rising mortgage payments.
Also, rising house prices have required a bigger deposit. This means many who might be able to afford mortgage payments are unable to get a mortgage in the first place
Deposits required for first time buyers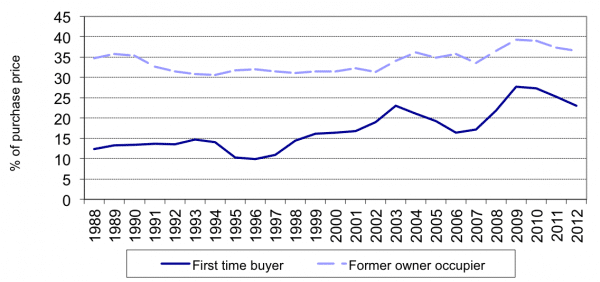 The deposit required has risen particularly for first time buyers. from 10% of purchase price in 1995 to 23% in 2012.
Ratio of house prices to income
Another way to examine the affordability of house prices is to look at the ratio of house prices to income.
This ignores the unusually low interest rates affecting cost of mortgage payments and gives an indication of long term trends.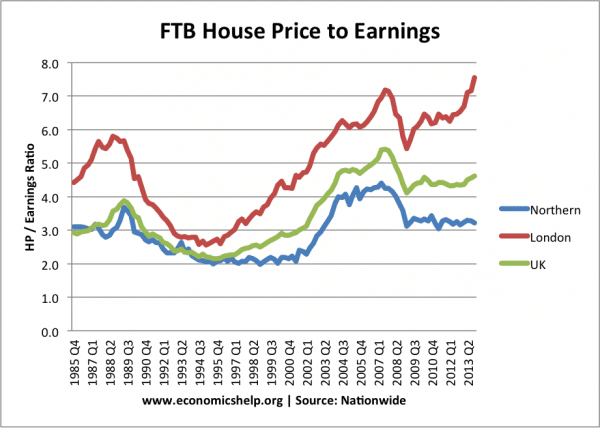 Source: Nationwide
Firstly, there is a big regional disparity. First time buyers in London are seeing house prices at a record 7.5 times average earnings. For the UK as a whole, the ratio of 4.3 is still above long term trends. It is a higher ratio than the end of the 1980s housing boom.
Mortgage payments as a % of take home pay for first time buyers
For first time buyers taking on large mortgages, the mortgage payments are still taking up a big % of take home pay – despite the low interest rates. The average mortgage payments is lower for average homeowners because many householders took out a mortgage when house prices were cheaper.