Monopoly Graph P=MC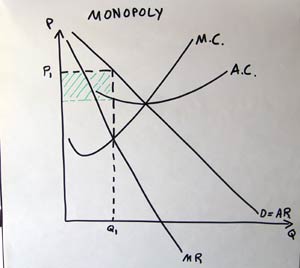 A simple Monopoly Diagram.
Profit Maximisation will occur where Marginal Revenue MR = Marginal Cost MC.
The Green shaded area is the level of supernormal Profits (AR-AC) Q
More on
Monopoly
This is a photo of a diagram I drew on a white board. Much easier using a digital camera than using word and lots of lines. It will make it much easier to add diagrams to
Economics Help
.
Soon I hope to put up my Economics Revision Guide. It is more professional than the current notes. I think it will be very helpful for students and it will be free! (not for resale of course)
I also have many model Economics essays which will go up at some time.
Monopoly
Tutor 2U
Labels: economics explained, monopoly
Perma Link
| By: T Pettinger |
Wednesday, March 28, 2007
Subscribe
to future posts