Predictions for Pound Sterling to Euro
(updated: December 2008 the exchange rate has edged towards 1 Euro to 1 Pound)


Readers Question: I read a lot about the Dollar/Pound relationship but I want to know what the forecast is going to be for Euro/Pound. The Pound has lost again against the Euro and I don't understand why as the UK economy is not doing too badly. Is the Pound going to be even less worth against the Euro say in three months? What is the factor that drives the value of the Pound down against the Euro?



Graph showing Value of Euro to Pound 1999-2008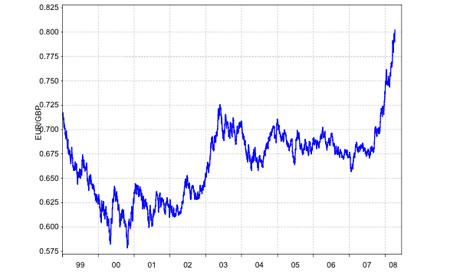 Reasons Why the Pound has Devalued against the Euro
UK Economy in steepest recession.

The UK economy experienced negative growth in Q3 2008 and is now facing steepest recession since Second World War. (industrial output collapses) Because of sharp slowdown interest rates have fallen sharply from 5.25% to 2% (and will probably go lower)


Graph UK Interest rates




Lower interest rates are very important for weakening a currency. Lower UK interest rates make it less attractive to buy Sterling and save money in the UK. Therefore, there are less hot money flows and a weaker value of Pound.

Housing Market

. The UK Housing Market plays a crucial role in determining consumer confidence, spending and economic growth. Recently the rate of house price falls has accelerated and some people predict house price falls of upto 30%. If house prices fell by another 15%, growth would slow down alot in the coming months. Again, this would lead to lower interest rates and a lower exchange rate. The markets are anticipating lower interest rates in the UK.

Credit Crisis.

The UK is heavily exposed to the credit crisis because mortgage lending accounts for a high % of disposable income. Mortgage lending is more important in the UK than the Eurozone where mortgage payments account for a smaller % of disposable income. With less mortgages becoming available, demand for housing is falling. Also those with existing mortgages are seeing the cost of remortgaging increase. This is putting pressure on the Bank of England to reduce base rates to compensate for the increased bank rates. As they explained the recent interest rate cut:

"The disruption in financial markets could lead to a slowdown in the economy that was sufficiently sharp to pull inflation below the target."



The Euro is slowly becoming the World's Reserve Currency

. With the Dollar in long term decline (and with good reason) government's and investment bankers are looking for an alternative to holding currency in the dollar; the main alternative is the Euro.
However, it is worth noting the Pound has recently been weak against the Dollar as well, suggesting problems facing Sterling in particular.

UK Current account deficit

. Relative to the EU, the UK is running a current account deficit, which puts downward pressure on sterling because of the outflow of foreign currency.

Large Rise in Government Borrowing for 2009.

With government bailouts, fiscal expansion and tax cuts, government borrowing will be over £115bn or 8% of GDP. This causes lower confidence in the UK economy to pay off debt (though UK public sector debt is still lower than many of our European counterparts)

Predictions for Pound vs Euro in Next Few Months.
Now that the pound has fallen to £1 = 1 Euro, it is hard to see it falling much further. Some foreign currency dealers are still pessimistic about the Pound, so in the short term this may continue to push the pound lower. But, it should not be forgotten that the Eurozone is also in recession, so we are likely to see lower EU interest rates in 2009
The strength of the Euro is also causing problems for EU exporters.
Conclusion
The Pound has fallen on the back of depressing economic statistics. The whole Global economy is likely to experience recession, but, the UK recession has been deeper than most. Against this backdrop the pound has been weaker.
Related:
Reference
Picture from :
Guardian - Pound falls to record low
Perma Link
| By: T Pettinger |
Sunday, December 14, 2008
Subscribe
to future posts