There are different ways of measuring average incomes in the UK.
Average Household Incomes – combined income of a family. This may include 2 or 3 salaries
Average Individual Incomes – average income of individual earner.
Gross Income – Original income before tax and benefits
Disposable Income – Final income after subtracting tax and adding benefits.
Median Average Incomes
Mean Average Incomes
Graph Showing Inequality in Average Income
The graph below shows the distribution of average incomes. The top 20% households earn 16 times more than the bottom 20%, although this is significantly lessened by the impact of the tax and benefit system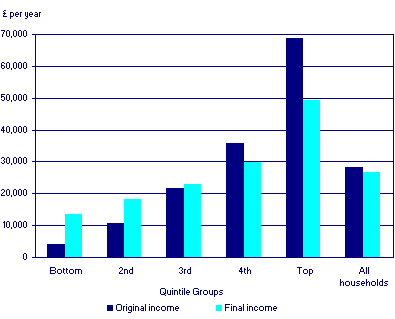 Source: ONS
This shows average incomes in the UK were just under £30,000 in 2006.
Average Weekly Pay
According to National Statistics the median weekly pay was £457 in April 2007. This gives an average yearly salary of £23,764
The highest weekly pay, was unsurprisingly in London £581, compared to £402 in Northern Ireland.
The best paid professions are Health professionals', (median pay of full-time employees of £1,019 a week),
followed by 'Corporate managers' (£702) and
'Science and technology professionals' (£670).
The lowest paid of all full-time employees were 'Sales occupations', at £264 a week.
Source: National Statistics Online
Regional Disparities in Average Incomes
Average Household Incomes in London exceed £100,000 [1 BBC] Most of the top 20 earning regions are in the South East, with parts of Greater London, seeing average house hold incomes exceed £100,000. There are said to be 1 million households with an average income of greater than £100,000 in the UK.
 See also: