Earlier today, I wrote about the effect of the stock market on the economy. One thing I forgot to mention is the effect of the stock market on Central Bankers.
The Federal Reserve were supposed to meet on January 29th, where markets expected a 0.5% cut. However, the Fed decided to have an unscheduled meeting and cut interest rates by 0.75%.
Graph of US Interest Rates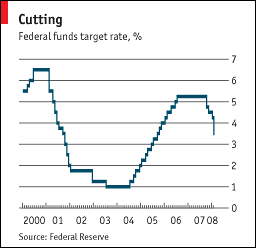 It appears the main motivation behind this 'panic' measure is to prop up falling stock markets.
However, with market sentiments pessimistic, this cut to boost confidence may misfire. Firstly, was it really necessary to bring the rate cut forward by one week? Why were interest rates cut by 0.75%? A suspicious Wall Street may ask do the Fed know something we don't know? (Wall Street fell by 400 points after the announcement)
I wrote some of the economic effects of this recent rate cut on the US economy here
Although the Housing market is creating serious economic problems, the Fed have a reputation for over reacting to stock market concerns. It will be interesting to see whether they can get it right this time.
Problems of Cutting Interest Rates