Post War Economic Growth in UK.
This shows the change in real GDP.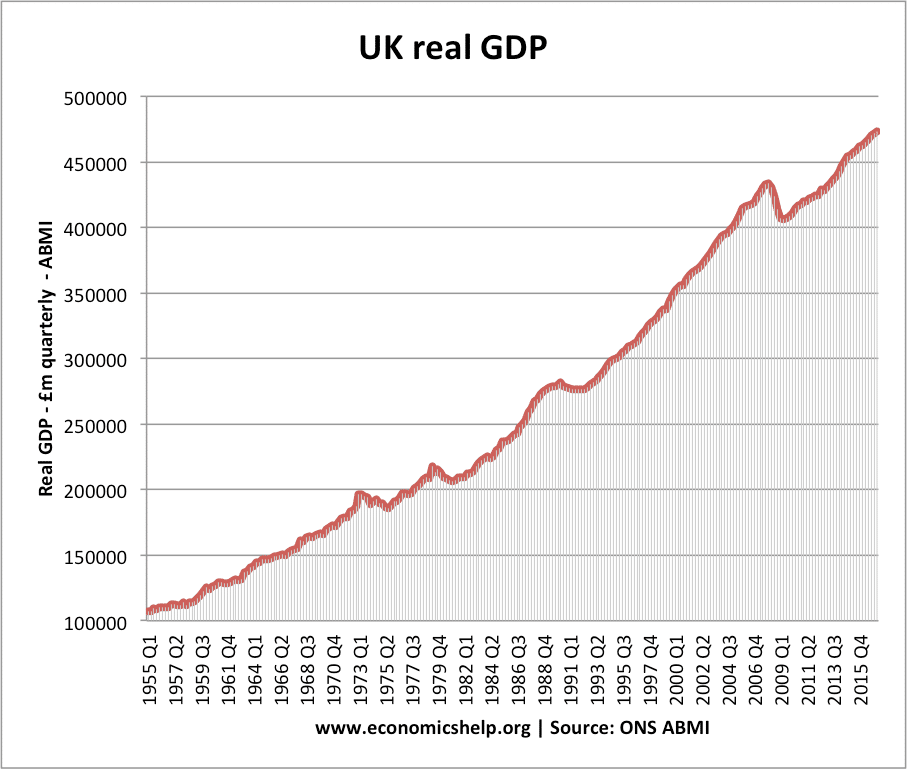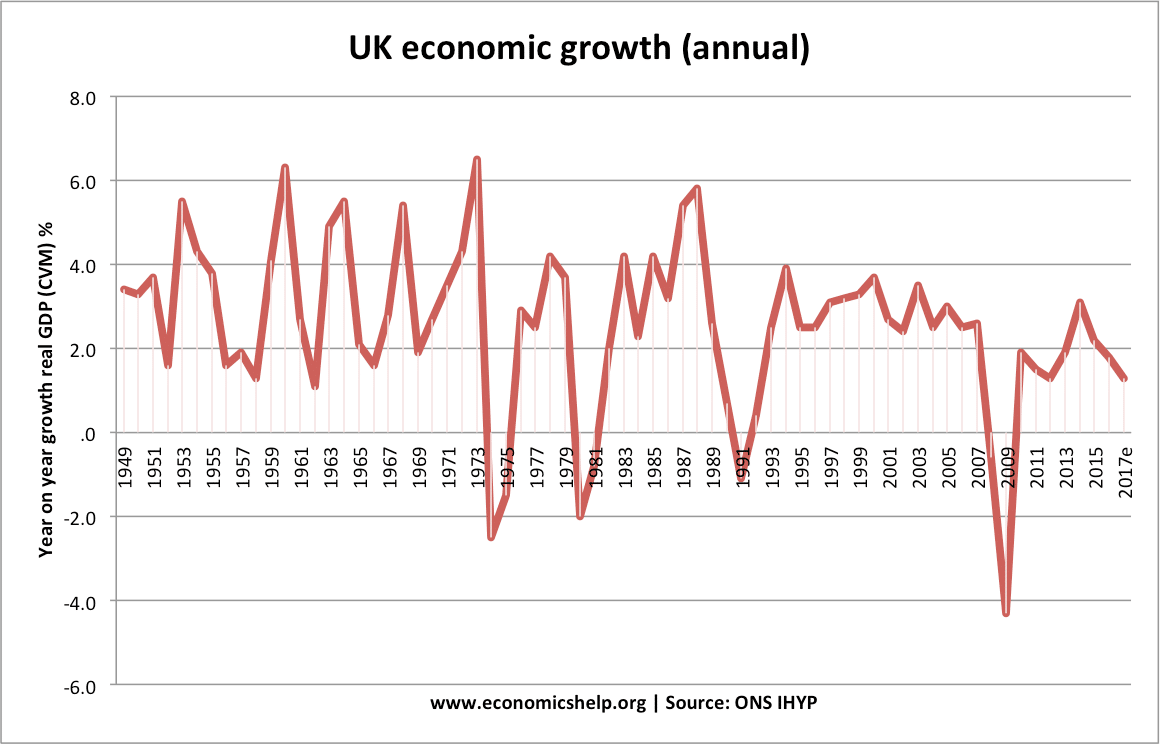 Economic Growth in past two decades.
This shows figures for quarterly growth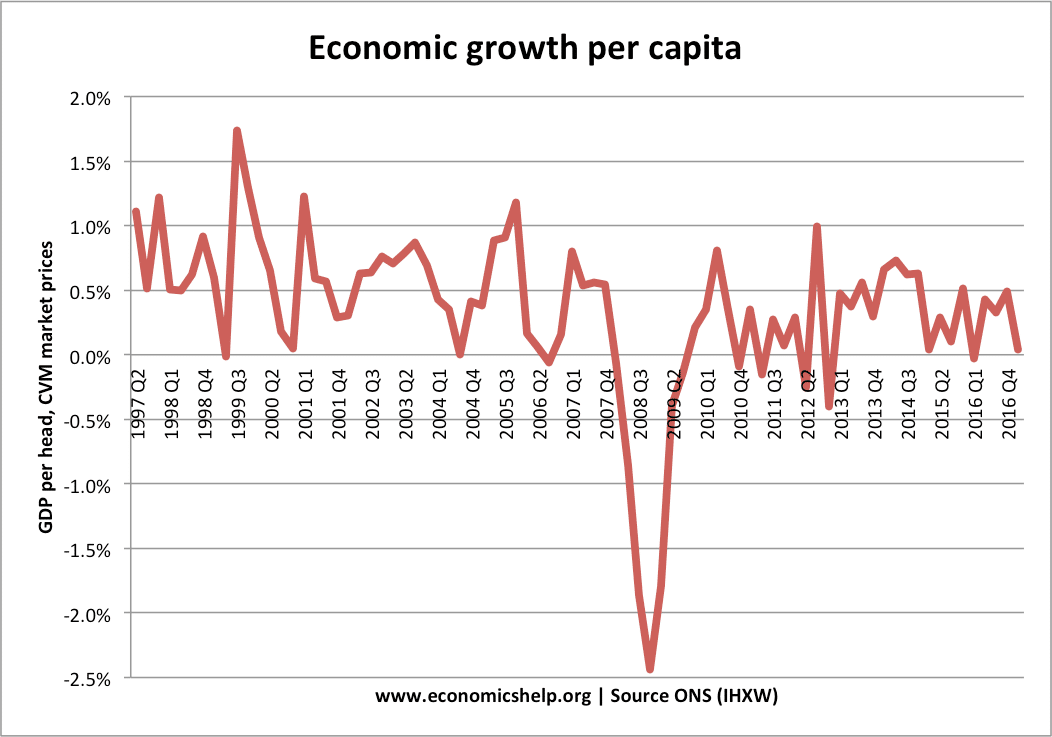 The two recessions of 1991 and 2009. The last quarter of 2010 showed a 'double dip decline in output' with negative growth of -0.6%.
The period of growth from 1992 to 1997 was known as the 'great moderation' the longest period of unbroken economic growth on record. The growth also occurred with low inflation, though it masked a bubble in asset and financial markets.
The highest growth occurred in the Lawson boom of the late 1980s.
Economic Growth vs Inflation
Using figures for annual growth rates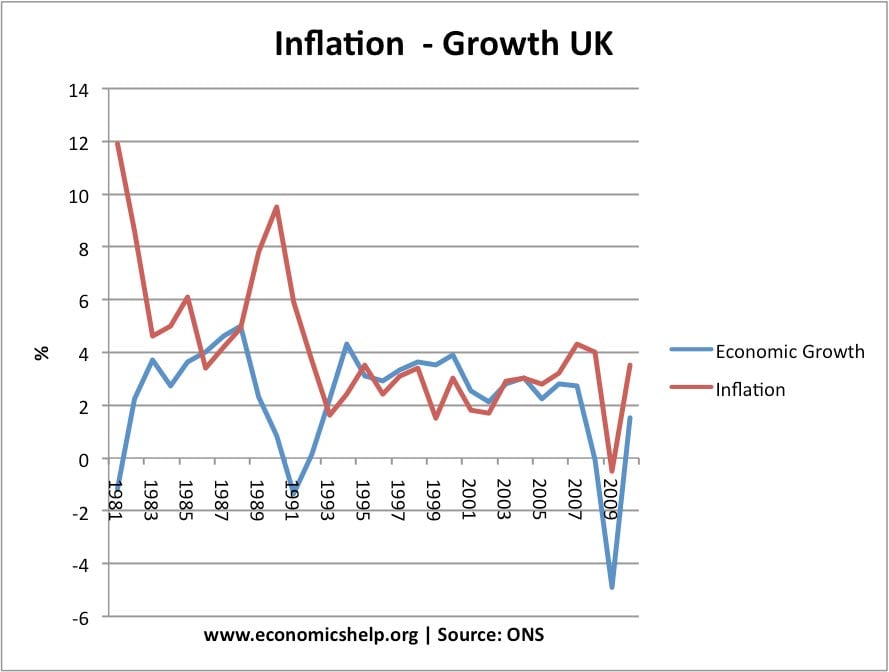 Annual Growth rates vs Quarterly Growth Rates.
Statistics are published for annual growth rates (growth rate in 12 months of year) and quarterly growth rates (growth rates for 3 months)
Quarterly growth rates are more volatile. If we have a quarterly growth rates of 1.2%, we might see this is equal to an annualised growth rate of 1.2% * 4 = 4.8%
Data for Economic Growth
| | |
| --- | --- |
| Year | Growth |
| 1949 | 3.3 |
| 1950 | 3.2 |
| 1951 | 2.7 |
| 1952 | 0.1 |
| 1953 | 3.8 |
| 1954 | 4.1 |
| 1955 | 3.5 |
| 1956 | 0.9 |
| 1957 | 1.7 |
| 1958 | 0.3 |
| 1959 | 4.3 |
| 1960 | 5.3 |
| 1961 | 2.3 |
| 1962 | 1.1 |
| 1963 | 4.3 |
| 1964 | 5.5 |
| 1965 | 2.2 |
| 1966 | 1.9 |
| 1967 | 2.5 |
| 1968 | 4.2 |
| 1969 | 2.1 |
| 1970 | 2.2 |
| 1971 | 2.1 |
| 1972 | 3.7 |
| 1973 | 7.2 |
| 1974 | -1.3 |
| 1975 | -0.6 |
| 1976 | 2.6 |
| 1977 | 2.4 |
| 1978 | 3.2 |
| 1979 | 2.7 |
| 1980 | -2 |
| 1981 | -1.2 |
| 1982 | 2.2 |
| 1983 | 3.7 |
| 1984 | 2.7 |
| 1985 | 3.6 |
| 1986 | 4 |
| 1987 | 4.6 |
| 1988 | 5 |
| 1989 | 2.3 |
| 1990 | 0.8 |
| 1991 | -1.4 |
| 1992 | 0.1 |
| 1993 | 2.2 |
| 1994 | 4.3 |
| 1995 | 3.1 |
| 1996 | 2.9 |
| 1997 | 3.3 |
| 1998 | 3.6 |
| 1999 | 3.5 |
| 2000 | 3.9 |
| 2001 | 2.5 |
| 2002 | 2.1 |
| 2003 | 2.8 |
| 2004 | 3 |
| 2005 | 2.2 |
| 2006 | 2.8 |
| 2007 | 2.7 |
| 2008 | -0.1 |
| 2009 | -4.9 |
| 2010 | 1.5 |
Data on Economic growth from ONS was hard to find. But, the ONS did help me out. Go to UK national income accounts time series data. X13 offers economic growth rates. (ONS Link)