A list of CO2 Emissions by Major Countries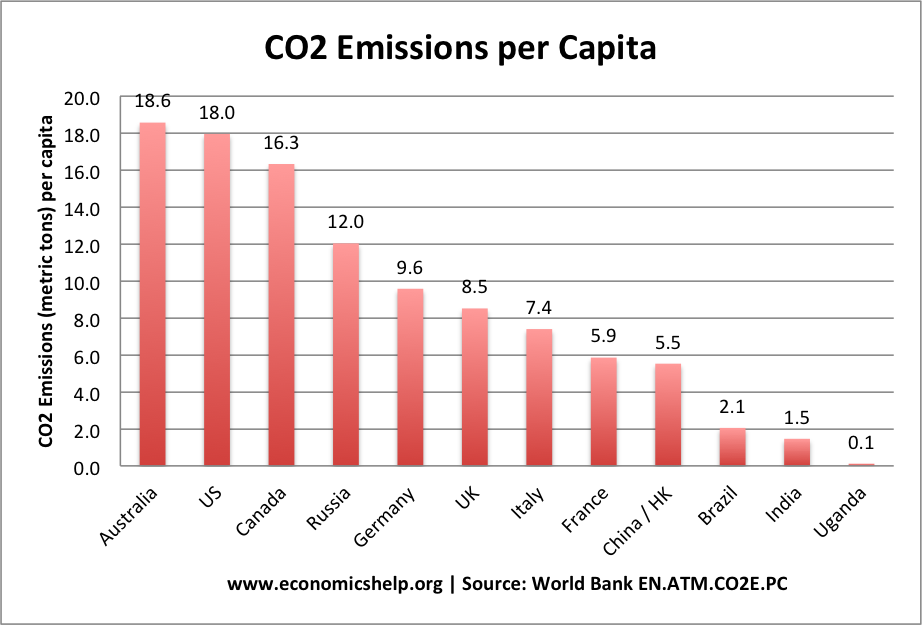 CO2 emissions are widely considered to play a significant role in contributing to global warming.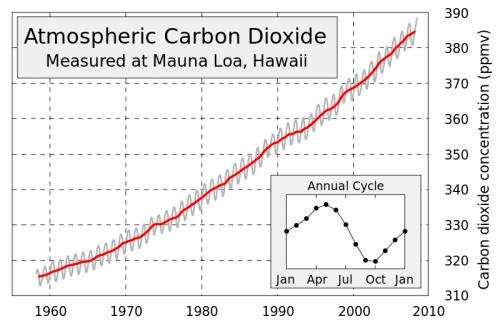 Over the past few decades, the level of CO2 in the atmosphere have continued to rise. Scientists say this increase in CO2 has contributed to global warming.
Global warming has potentially damaging economic consequences with increased weather variability and loss of bio-diversity.
At Kyoto countries made commitments to target lower CO2 emissions, but these targets have rarely been met. At negotiations, countries  collectively agreed to reduce their greenhouse gas emissions (which includes Carbon dioxide) by 5.2% on average for the period 2008-2012.
Change in CO2 Emissions per Capita in past two decades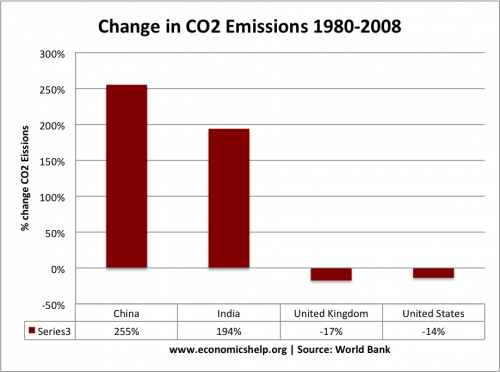 The biggest challenge to limit carbon dioxide  is faced by developing economies with rapid economic growth. Due to rapid growth, there is a tendency to see quicker increases in CO2 use, e.g. as people can afford cars and production increases.
List of Countries CO2 Emissions per capita
| | | |
| --- | --- | --- |
| 1 | Qatar | 49.05 |
| 2 | Trinidad and Tobago | 37.39 |
| 3 | Kuwait | 30.11 |
| 4 | Brunei Darussalam | 27.54 |
| 5 | United Arab Emirates | 24.98 |
| 6 | Aruba | 21.68 |
| 7 | Luxembourg | 21.49 |
| 8 | Bahrain | 21.36 |
| 9 | Australia | 18.57 |
| 10 | United States | 17.96 |
| 11 | Oman | 17.35 |
| 12 | Saudi Arabia | 16.57 |
| 13 | Canada | 16.33 |
| 14 | Kazakhstan | 15.12 |
| 15 | Faeroe Islands | 14.56 |
| 16 | Estonia | 13.64 |
| 17 | New Caledonia | 12.91 |
| 18 | Russian Federation | 12.04 |
| 19 | Czech Republic | 11.22 |
| 20 | Finland | 10.64 |
| 21 | Netherlands | 10.57 |
| 22 | Palau | 10.51 |
| 23 | Norway | 10.48 |
| 24 | Korea, Rep. | 10.40 |
| 25 | Greenland | 10.22 |
| 26 | Cayman Islands | 10.08 |
| 27 | Ireland | 9.85 |
| 28 | Belgium | 9.79 |
| 29 | Turkmenistan | 9.73 |
| 30 | Germany | 9.58 |
| 31 | Libya | 9.49 |
| 32 | Japan | 9.46 |
| 33 | South Africa | 8.93 |
| 34 | Greece | 8.70 |
| 35 | United Kingdom | 8.52 |
| 36 | Slovenia | 8.49 |
| 37 | Denmark | 8.38 |
| 38 | Poland | 8.29 |
| 39 | Bosnia and Herzegovina | 8.29 |
| 40 | Austria | 8.12 |
| 41 | Cyprus | 7.94 |
| 42 | Seychelles | 7.84 |
| 43 | New Zealand | 7.75 |
| 44 | Malaysia | 7.57 |
| 45 | Iran, Islamic Rep. | 7.45 |
| 46 | Italy | 7.44 |
| 47 | Equatorial Guinea | 7.27 |
| 48 | Spain | 7.23 |
| 49 | Iceland | 7.02 |
| 50 | Ukraine | 6.99 |
| 51 | Slovak Republic | 6.95 |
| 52 | Serbia | 6.79 |
| 53 | Singapore | 6.67 |
| 54 | Bulgaria | 6.63 |
| 55 | Belarus | 6.54 |
| 56 | Andorra | 6.53 |
| 57 | Bahamas, The | 6.46 |
| 58 | Malta | 6.21 |
| 59 | Venezuela, RB | 6.07 |
| 60 | Bermuda | 6.05 |
| 61 | France | 5.86 |
| 62 | Macedonia, FYR | 5.76 |
| 63 | Hong Kong SAR, China | 5.53 |
| 64 | Hungary | 5.44 |
| 65 | Azerbaijan | 5.38 |
| 66 | Sweden | 5.32 |
| 67 | China | 5.31 |
| 68 | Portugal | 5.30 |
| 69 | Switzerland | 5.28 |
| 70 | Croatia | 5.26 |
| 71 | Israel | 5.15 |
| 72 | Antigua and Barbuda | 5.15 |
| 73 | Barbados | 4.97 |
| 74 | St. Kitts and Nevis | 4.88 |
| 75 | Argentina | 4.84 |
| 76 | World | 4.76 |
| 77 | Suriname | 4.73 |
| 78 | Uzbekistan | 4.57 |
| 79 | Jamaica | 4.54 |
| 80 | Lithuania | 4.51 |
| 81 | Romania | 4.40 |
| 82 | Turks and Caicos Islands | 4.38 |
| 83 | Chile | 4.35 |
| 84 | Mexico | 4.30 |
| 85 | Thailand | 4.19 |
| 86 | Lebanon | 4.10 |
| 87 | Mongolia | 4.08 |
| 88 | Turkey | 4.00 |
| 89 | Jordan | 3.69 |
| 90 | Syrian Arab Republic | 3.65 |
| 91 | Iraq | 3.41 |
| 92 | French Polynesia | 3.37 |
| 93 | Latvia | 3.35 |
| 94 | Korea, Dem. Rep. | 3.25 |
| 95 | Algeria | 3.23 |
| 96 | Mauritius | 3.12 |
| 97 | Montenegro | 3.10 |
| 98 | Maldives | 2.99 |
| 99 | Cuba | 2.79 |
| 100 | Egypt, Arab Rep. | 2.69 |
| 101 | Macao SAR, China | 2.57 |
| 102 | Uruguay | 2.50 |
| 103 | Botswana | 2.48 |
| 104 | Tunisia | 2.42 |
| 105 | Grenada | 2.37 |
| 106 | St. Lucia | 2.33 |
| 107 | Dominican Republic | 2.24 |
| 108 | Brazil | 2.05 |
| 109 | Guyana | 2.03 |
| 110 | Panama | 2.03 |
| 111 | Ecuador | 1.91 |
| 112 | Dominica | 1.88 |
| 113 | Marshall Islands | 1.87 |
| 114 | St. Vincent and the Grenadines | 1.85 |
| 115 | Namibia | 1.80 |
| 116 | Armenia | 1.80 |
| 117 | Costa Rica | 1.77 |
| 118 | Indonesia | 1.73 |
| 119 | Tonga | 1.71 |
| 120 | Gabon | 1.70 |
| 121 | Morocco | 1.53 |
| 122 | Colombia | 1.50 |
| 123 | Vietnam | 1.50 |
| 124 | Fiji | 1.49 |
| 125 | India | 1.46 |
| 126 | Peru | 1.42 |
| 127 | Angola | 1.35 |
| 128 | Moldova | 1.34 |
| 129 | Bolivia | 1.33 |
| 130 | Belize | 1.32 |
| 131 | Albania | 1.31 |
| 132 | Honduras | 1.19 |
| 133 | Georgia | 1.19 |
| 134 | Kyrgyz Republic | 1.17 |
| 135 | Swaziland | 1.06 |
| 136 | Bhutan | 1.05 |
| 137 | Yemen, Rep. | 1.03 |
| 138 | El Salvador | 1.00 |
| 139 | Pakistan | 0.97 |
| 140 | Philippines | 0.92 |
| 141 | Samoa | 0.89 |
| 142 | Guatemala | 0.87 |
| 143 | Sao Tome and Principe | 0.80 |
| 144 | Nicaragua | 0.77 |
| 145 | Zimbabwe | 0.73 |
| 146 | Paraguay | 0.66 |
| 147 | Nigeria | 0.64 |
| 148 | Cape Verde | 0.63 |
| 149 | Djibouti | 0.61 |
| 150 | Mauritania | 0.61 |
| 151 | Sri Lanka | 0.58 |
| 152 | Micronesia, Fed. Sts. | 0.56 |
| 153 | West Bank and Gaza | 0.52 |
| 154 | Congo, Rep. | 0.50 |
| 155 | Benin | 0.49 |
| 156 | Tajikistan | 0.47 |
| 157 | Senegal | 0.42 |
| 158 | Vanuatu | 0.40 |
| 159 | Solomon Islands | 0.39 |
| 160 | Cote d'Ivoire | 0.37 |
| 161 | Ghana | 0.37 |
| 162 | Sudan | 0.34 |
| 163 | Cambodia | 0.33 |
| 164 | Papua New Guinea | 0.32 |
| 165 | Bangladesh | 0.32 |
| 166 | Kiribati | 0.30 |
| 167 | Cameroon | 0.28 |
| 168 | Myanmar | 0.27 |
| 169 | Kenya | 0.27 |
| 170 | Lao PDR | 0.25 |
| 171 | Gambia, The | 0.25 |
| 172 | Haiti | 0.25 |
| 173 | Togo | 0.25 |
| 174 | Sierra Leone | 0.24 |
| 175 | Guinea-Bissau | 0.19 |
| 176 | Comoros | 0.18 |
| 177 | Timor-Leste | 0.18 |
| 178 | Liberia | 0.17 |
| 179 | Tanzania | 0.15 |
| 180 | Zambia | 0.15 |
| 181 | Guinea | 0.15 |
| 182 | Nepal | 0.12 |
| 183 | Burkina Faso | 0.12 |
| 184 | Uganda | 0.12 |
| 185 | Mozambique | 0.10 |
| 186 | Madagascar | 0.10 |
| 187 | Ethiopia | 0.09 |
| 188 | Malawi | 0.09 |
| 189 | Eritrea | 0.08 |
| 190 | Somalia | 0.07 |
| 191 | Rwanda | 0.07 |
| 192 | Central African Republic | 0.06 |
| 193 | Niger | 0.06 |
| 194 | Chad | 0.05 |
| 195 | Congo, Dem. Rep. | 0.05 |
| 196 | Mali | 0.04 |
| 197 | Afghanistan | 0.03 |
| 198 | Burundi | 0.02 |
Related
Source: