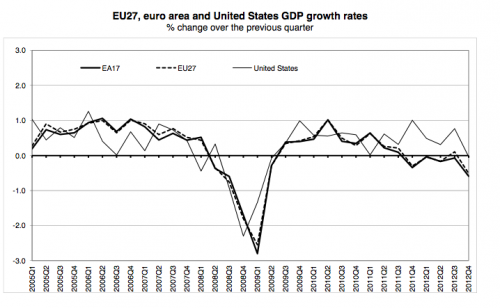 Source: EU GDP
GDP fell by 0.6% in the euro area (EA17) and by 0.5% in the EU27 during the fourth quarter of 2012.
Over the whole year 2012 GDP fell by 0.5% in the euro area and by 0.3% in the EU27
In the fourth quarter, even Germany saw negative growth with -0.6%
Compared with the same quarter in the previous year, some countries saw significant drops in GDP.
Italy GDP fell -2.7% in past 12 months
Greece -6.0%
Portugal – 3.8%
Spain – -1.8%
France – 0.3%
UK 0.0%
Germany 0.4%
US 1.5%
The fall in EU GDP is bad news, especially because it's hard to be optimistic about the prospects for recovery in the EU. It is a reminder that bond yields are only a side show in the real test of the EU economy.
Link to extent of austerity in the EU at FT
EU Unemployment