Pareto Efficiency
Definition of Pareto Efficiency
Pareto efficiency is said to occur when it is impossible to make one party better off without making someone worse off. It is an economic state where resources are distributed in the most efficient way.
Pareto efficiency will occur on a production possibility frontier. When an economy is operating on a simple production possibility frontier, (e.g. at Point A) it is not possible to increase output of Goods without reducing output of Services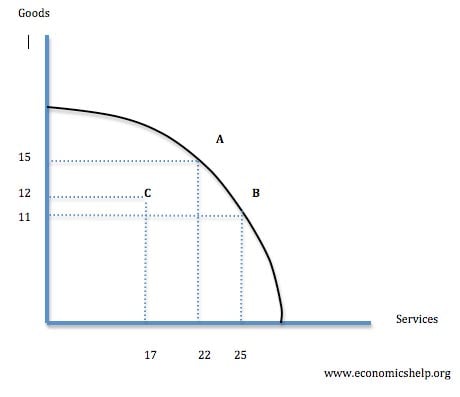 However, at Point C (12 goods and 17 services) It is possible to increase either without leading to a decline in the output of the other. Thus to be at point C would be classed as Pareto inefficient, and this is generally considered to be bad for the economy.
Pareto efficiency is related to the concept of productive efficiency. Productive efficiency is concerned with the optimal production of goods which occurs at the lowest point on the short run average cost curve and occurs on a PPF.
Pareto efficiency is also concerned with allocative efficiency. To be pareto efficiency the distribution of resources needs to be at a point where it is impossible to make someone better off without making someone worse off.

Examples of Pareto Efficiency
To build a new airport may lead to a greater increase in social benefit than social cost. Therefore, there is a net gain to society. However, those people living near the new airport will lost out. Therefore this is not a pareto improvement. However, if the people living nearby were compensated for extra noise, then it is possible to have a pareto improvement.
In practise there are often practical difficulties and high frictional costs in compensating losers from a particular project.
Pareto Improvement
A pareto improvement means that there is a net gain in economic welfare, and no one is made worse off by the decision.
For example, technologicial improvements may increase economic welfare, but make some people lose their jobs. This is not a pareto improvement.
However, if those who lose their jobs are compensated with welfare benefits. Then it is possible for society to benefit from the technological improvements and make sure no-one is worse off. (e.g. see: Luddite Fallacy)
Pareto Efficiency and Equity
An outcome may be seen as a pareto improvement, but, it doesn't mean this is a satisfactory outcome or fair. There could still be inequality after a pareto improvement. For example, building an airport may lead to higher profits for a monopolist, but those living nearby and workers are compensated just enough to stay the same. This therefore, increases the gap between rich and poor.
Related
Related Essays and Revision Notes
Economics Revision Guides
Economics Dictionary