Resources for those looking to understand economics. Essays, e-books, blog posts and latest developments on the UK and global economy.
Sections
A-level Revision Products | Glossary of terms |Microeconomics | Macroeconomics | Recent Articles
---
Popular Revision e-books
Macro Economics Revision Notes
Micro Economics Revision Notes
Latest Blog Posts
In 2016, the UK voted to leave the EU. Before, 2016, Eurosceptics would talk in admiring terms of Norway and Switzerland. Countries outside the EU, but with most of the economic benefits. The problem is that after the simplicity of a campaign to leave the EU, the question of what came next was surprisingly tricky.…

In the past few decades, the European economy has fallen behind. Whilst the US economy booms, Europe struggles to avoid recession. In dollar terms, in 2008, the EU was 90% the size of the US, today it is 65%. As a share of world GDP, Europe is declining, overtaken by China and in the future…

In the post-war period, the UK economy grow at 2.5% a year, but since great financial crisis, growth has slowed down markedly. The OECD report that since 2010, the UK has seen growth of just 0.1% in average wages, significantly lower than the majority of our main competitors. If current trends of growth are maintained,…
---
Reviews
The A-level essays I bought from your website are really helpful in improving my writing. Also I'm always interested in the writings on your economics blog, they are clear & concise while able to describe complicated economics theories applied to the real world." – Ian
Read more reviews about Economicshelp.org products
Books by Tejvan Pettinger
An easy to read an overview of economics. 'Cracking Economics' gives explanations of main topics with images and diagrams to bring economics to life.
The book is aimed at anyone with a general interest in economics but would like a better understanding. Available in hardback at major bookshops and online. Read More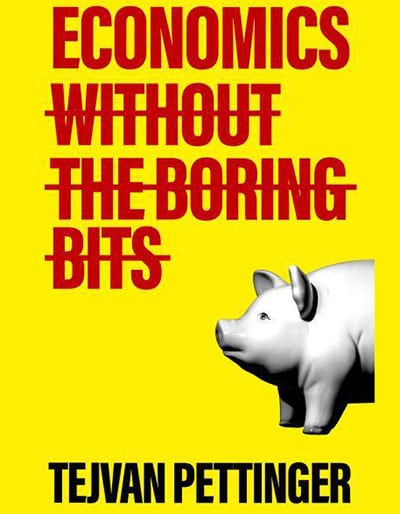 Economics without the Boring bits
An Enlightening Guide to the Dismal Science – published by Wellbeck.
It includes topics such as common economic fallacies, middlemen, recycling, debt, finance, trade, money, taxation and why some people get rich and others don't.
---
Selection of videos explaining economics