The capital account measures transfer in assets and liabilities. For example, this may involve a Japanese firm building a factory in the UK. This is counted as a credit on the UK Capital Account. The Capital account can also involve the purchase of securities and liabilities, for example, a Japanese Banker buying UK Government securities.
Note in the UK the official name for the capital account is now the financial account.
If a country has a current account deficit then, assuming exchange rates are floating, it will have an equivalent capital account surplus. This is necessary to finance a current account deficit.
Some people worry about a current account deficit. But, if it is financed by a capital account surplus e.g. investment then this can be beneficial.
Components of Financial Account
The UK Balance of Payments at ONS
Direct investment (building factories)
Portfolio investment (saving money in pension funds/investment trusts)
Financial derivatives (net) (CDOs, options e.t.c)
Other investment (e.g. housing)
Reserve assets
 Components of UK balance of payments 2012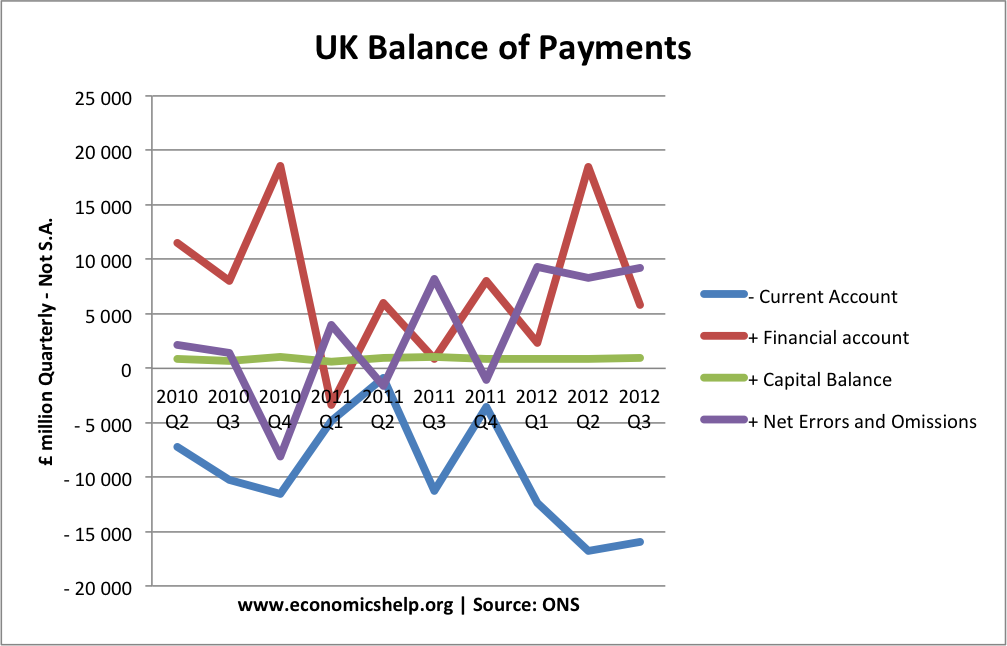 In Q2 2012, the main components of the balance of payments were:
Current Account: £ -15,962m
Financial Account: + £ 5,785m
Capital Account + £1,000 m
net errors and omissions + £9177 m
net balance = £0 m
These stats show a large amount to account for net errors and omissions – showing the difficulty of collecting statistics but, roughly a current account deficit is mirrored by a surplus on the financial/capital account.
Related