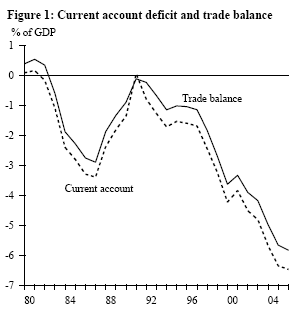 This graph shows the rapid deterioration in the current account deficit in the US in the boom period.
In 2006, the US current account deficit was 6% of GDP or $811bn
In 2007, the deficit was 5.3%
In 2008, the deficit was 4.3% or $614 bn
Source: IMF
This graph shows the cyclical nature of the current account deficit.
What Causes a current Account deficit to Increase?
Rise in domestic consumption. As consumption rises, US consumers buy more imports. This rise in consumption often mirrors a decline in saving rates. For example in 1996, US gross savings rates were 15%, by 2004, this had fallen to 11%
Capital Flows. To finance a current account deficit of $800bn, the US needed to attract capital flows equivalent to $4bn a day. Without these capital flows, the US could not finance the deficit and it would cause a depreciation in the dollar. One reason why US current account deficit has persisted is because Japan and China have large currency surpluses and so are looking to buy up US capital (e.g. Treasury bills)
Decline in competitiveness. A decline in relative competitiveness and productivity would cause a decrease in demand for US exports.
Overvalued exchange Rate. If the dollar was overvalued this would make US exports more expensive. However, on purchasing power parity, this is not really the case.