Readers Question: Why is it that when there is low economic growth, unemployment rises?
A low rate of economic growth can cause higher unemployment. Though it is not always the case. During 2010-13 the UK experienced a slow rate of economic growth, but unexpectedly unemployment fell.
If there is negative economic growth (recession) we would definitely expect unemployment to rise. This is because:
If there is less demand for goods, firms will produce less and so will need less workers.
In a recession, some firms will go bankrupt making many people redundant.
Firms will be reluctant to hire workers, when there is uncertainty and negative growth
Why unemployment can rise even with positive but a low rate of economic growth?
In many cases, we may see a rise in unemployment, even if there is positive, but low economic growth. One reason is that economic growth may be lower than improvements in productivity growth.
Suppose, an economy like the UK has a long run trend rate of 2.5%. This means productive capacity tends to rise by an average of 2.5% a year. This growth in productivity comes from improvements in technology and improvements in labour productivity. It means that firms can produce more goods and services from the same number of workers.
However, suppose that the rate of economic growth was 0.5%. This means demand in the economy is only growing by 0.5% a year. This means that supply would be increasing faster than demand. Therefore, firms may have to lay off workers because there is insufficient demand.
In this situation, we will see a negative output gap (spare capacity)
In the above example, we have positive economic growth, but AS (Productive capacity) is increasing faster than AD. Therefore, there is a bigger negative output gap (the difference between actual GDP and potential GDP (Yf). Therefore, in this case the rise in spare capacity leads to unemployment.
China and unemployment
A good example of this is the case of China. It is estimated that if economic growth in China slips under 7% a year, then unemployment will rise. This is because China is making rapid productivity gains. Old inefficient state owned business are being privatised and there are easy efficiency gains to make. Workers who were unproductive are being made redundant from these state owned industries. Therefore, China needs rapid economic growth to absorb this growing supply of labour.
Technology and structural unemployment
If there is rapid technological and structural change in the economy, this can cause unemployment despite economic growth. For example, rapid improvements in technology can create increased output, but certain workers may have insufficient skills to take the new high-tech jobs. Therefore, we can see a rise in structural / technological unemployment in the period of economic growth.
Low Growth and falling unemployment
There is no guarantee that low growth will cause higher unemployment. It is quite possible for unemployment to fall, despite a period of low growth.
If we look at the UK, unemployment fell from 2011 to 2013 – despite low growth, and also the expectation that unemployment would lag behind the recession.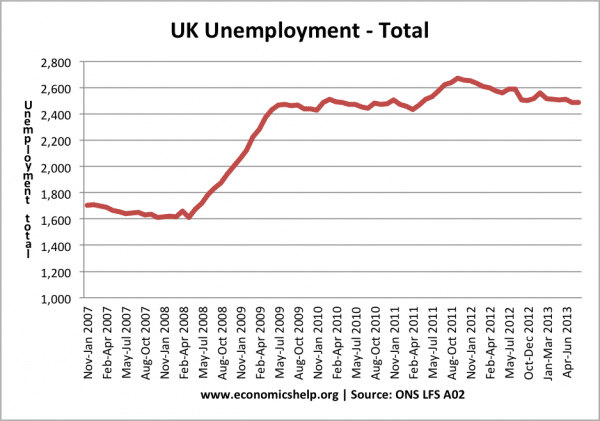 Reasons for this fall in UK unemployment during this period include:
Poor productivity growth. Labour productivity has been low during this period. Therefore, firms still need to employ workers, despite limited growth in output.
Rise in part-time and temporary work. The unemployment figures have been helped by a rise in under-employment, people accepting lower hours than they would like.
Low wage growth. Low wage growth means labour is relatively more attractive than you might expect.
See: more at UK Unemployment mystery
Related