Readers Question I realise that at the maximum wage, (minimum wage) for labour – Qty supplied would exceed quantity demanded. Therefore, from the labour market diagram there is an obvious fall in Qty of labour, given that there would be an unwillingness to supply labour at the lower wage rate.
Diagram showing minimum wage above the equilibrium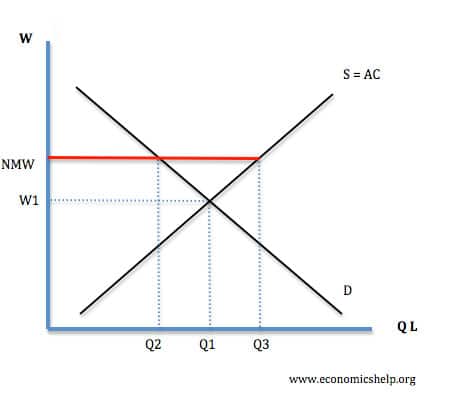 I think you mean minimum wage. It is a minimum wage that causes excess supply of labour and lower demand.
If labour markets are perfectly competitive and if there is a national minimum wage (NMW) above the equilibrium wage, you would expect a fall in demand for labour (Q1 to Q2) and therefore, there would be excess supply of labour (Q3-Q1) (Known as real wage unemployment)
My question is how would I show this impact on an Aggregate demand and Aggregate supply (AD AS) diagram?
If we assume labour markets are competitive and if we assume that a minimum wage does cause lower employment, the most likely scenario is a negative impact on aggregate demand. People who become unemployed would spend less, leading to lower aggregate demand. To some extent, this would be counter-balanced by some workers having higher wages, leading to more consumer spending. But, I think the unemployment effect would be greater than the higher wages effect.
From the firms perspective, they would have higher costs, which could be passed onto consumers, higher wage costs could see SRAS shift to the left, leading to higher prices and slightly lower real GDP.
That is most likely analysis of AD/AS
Real World Analysis
In the real world, I think a minimum wage would have only a marginal impact on AD/AS analysis.
Firstly, a minimum wage may not cause any unemployment. Labour markets may not be competitive, but monopsonistic.
Demand for labour may be wage inelastic. Firms just pay higher wages and there is little fall in demand.
Only a small percentage of workers are affected by a minimum wage.
If anything, I would expect a minimum wage to increase AD. I'm doubtful UK Minimum wage causes any significant levels of unemployment. But, with a higher NMW some workers would receive higher real income and spending would rise. (Low income workers tend to have higher marginal propensity to consume / low propensity to save)
It is possible a rise in minimum wags could cause inflation due to two factors
- higher spending by workers (demand pull inflation)
- higher costs for firms, leading to wage push inflation.
But, overall, the effect on inflation would be fairly limited because a minimum wage would only alter AD by a small amount.
Essentially a minimum wage has little macro-economic effects (unless, it was a really big increase in the minimum wage)
Related
Maximum wage
If you did mean a maximum wage, the analysis for maximum wage is entirely different, I will do a post on maximum wages next.
But, demand for labour may fall. Firms may have lower costs, but some workers would have lower wages.
Maximum wages are rarely talked about. I can only think of professional footballers having a maximum wage until 1960s.