A mansion tax (or property tax) would be an annual progressive charged that would be paid by homeowners. It is effectively a tax on housing wealth. The Labour party has suggested implementing a property tax on homes worth over £2 million. Exact details have not been confirmed, but the suggestion is that it will be a progressive tax meaning the greater the value of the homes, the more the annual tax will be.
In 2010, the Lib Dems proposed a mansion tax based on 1% of a property's value above £2m. This threshold would also rise in line with increasing house prices. In this case a property worth £2.5 million would pay an annual tax of £5,000 a year.
Proponents of the tax argue that it will help raise revenue, cool a booming property market and help to redistribute the great increase in wealth inequality that we have seen within the UK.
Critics argue that it could lead to people who are property rich, but income poor, struggling to pay the annual charge.
Benefits of a Mansion Tax
In recent decades, the UK has seen a dramatic increase in wealth inequality. House prices have risen above the rate of inflation making many homeowners much better off. But, those who cannot get on the property ladder are struggling with very high rents and an inability to get on the property ladder.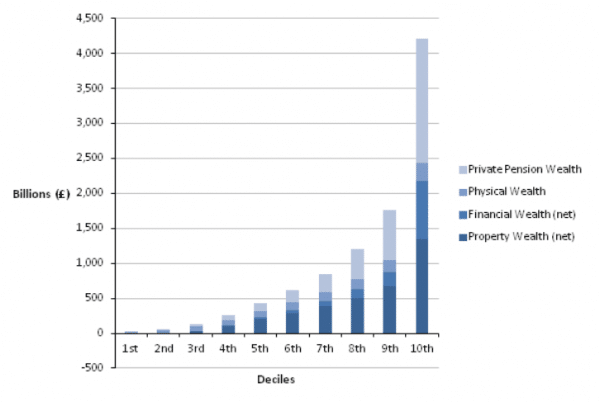 Source: Wealth and Assets Survey – Office for National Statistics
A report by the ONS shows that there is considerable wealth inequality within the UK.