Causes of Economic Growth
Economic growth means an increase in Real GDP. Economic growth means there is an increase in national output and national income.
Economic growth is caused by two main factors:

an increase in aggregate demand
an increase in aggregate supply (productive capacity)
Economic Growth in UK
See latest stats on economic growth
Demand Side Causes
In the short term, economic growth is caused by an increase in aggregate demand (AD). If there is spare capacity in the economy then an increase in AD will cause a higher level of real GDP.
AD= C + I + G + X- M
C= Consumer spending
I = Investment
G = Government spending
X = Exports
M = Imports
Graph Showing Increase in AD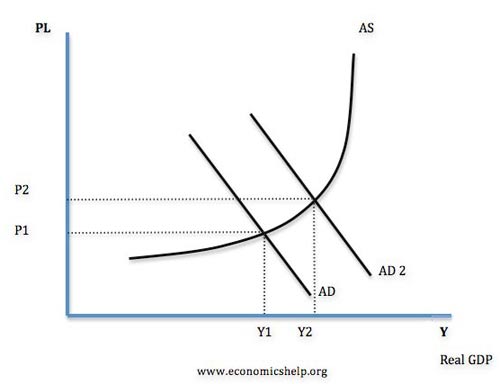 AD can increase for the following reasons:
Lower interest rates – Lower interest rates reduce the cost of borrowing and so encourages spending and investment.
In 2008, base rates were cut to 0.5% to try and stimulate economic growth.
Increased wages. Higher real wages increase disposable income and encourages consumer spending.

Increased government spending (G).
Fall in value of sterling which makes exports cheaper and increases quantity of exports(X).
Increased consumer confidence, which encourages spending (C).
Lower income tax which increases disposable income of consumers and increases consumer spending (C).
Rising house prices, which create a positive wealth effect and encourages homeowners to spend more.

2. Long Term Economic Growth.
This requires an increase in the long run aggregate supply (productive capacity) as well as AD.
Diagram showing Long Run Economic Growth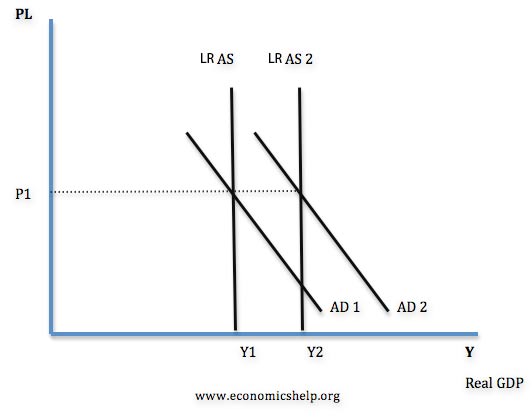 LRAS or potential growth can increase for the following reasons:
Increased capital. e.g. investment in new factories or investment in infrastructure, such as roads and telephones.
Increase in working population, e.g. through immigration, higher birth rate.
Increase in Labour productivity, through better education and training or improved technology.


more on labour productivity
Discovering new raw materials.
Technological improvements to improve the productivity of capital and labour e.g. Microcomputers and the internet have both contributed to increased economic growth.
 Graph Showing Annual Growth in UK
In 2009, the sharp fall in Real GDP (negative economic growth) was caused by:
Higher oil prices reducing living standards.
Global credit crunch leading to a fall in bank lending and investment.
Fall in house prices causing lower wealth and spending.
Fall in consumer confidence related to banking crisis.
See also: Factors affecting Economic Growth in UK
Different Views on Economic Growth
Classical Economists argue that an increase in AD will only increase Real GDP in the short term. They argue that the LRAS is inelastic therefore higher AD only causes inflation. Classical economists stress the role of supply side policies in increasing economic growth.

This is disputed by Keynesians. They believe the LRAS can be elastic, e.g. in a recession and therefore increasing AD may be quite important..
Related
Essays and Revision Notes on Economic Growth