UK International Competitiveness
The UK's international competitiveness measures the relative cost of British exports. If UK goods and services become more expensive than our competitors, then we see a decline in competitiveness.
The increasing importance of trade to the UK economy means that our international competitiveness is very important.
Benefits of Improving International Competitiveness
Exports relatively cheaper leading to higher demand for exports.
Higher exports will help increase aggregate demand and economic growth
Improved competitiveness will help improve the UK's current account deficit.
Lower Economic growth and living standards, (negative multiplier effect)
Create jobs in the export sector
Help to reduce inflation in the economy.
Measuring International Competitiveness
Relative Export Prices
If UK exports become more expensive than other countries, this is a decline in competitiveness.
Terms of Trade measures index of Export Prices
index of Import Prices
more on: terms of trade
2. Productivity and Unit Costs of Production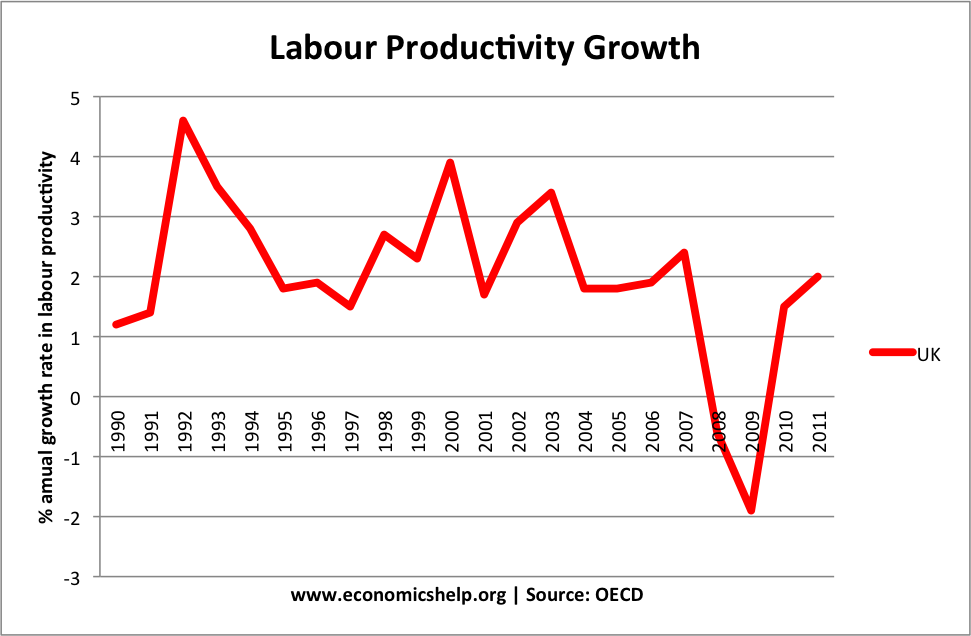 Annual growth in UK labour productivity.
If there is an increase in relative productivity, meaning industry can produce more with lower costs then UK will become more competitive.
This graph shows that between 1990 and 2005, UK labour productivity increased at a faster rate than the UK. This helped the UK to improve their relative competitiveness.
Current account / Balance Of Payments
This is a rough guide to international competitiveness. If the current account improves then the value of exports has increased faster than imports, suggesting an improvement in competitiveness.
The persistent UK current account deficit, suggests a decline in competitiveness.
However, the current account is also affected by the demand for imports.
Factors That Determine Competitiveness
Relative inflation rates
Labour productivity growth
Levels of infrastructure / e.g transports
Cost of business - levels of regulation
Exchange Rate
See more detail on factors that determine international competitiveness
Revision Notes and Essays on International Trade
Effects Globalisation on UK Economy
Govt policies to increase competitiveness