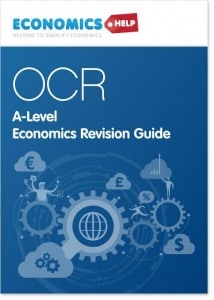 I have spent past few weeks working on the new OCR A Level in economics revision guide. (H460)
First teaching from Sept 2015. First A level exam Summer 2017.
On the positive side, the syllabus is very detailed. OCR are very clear on what you need to cover.
After doing AQA and Edexcel revision guides, I thought (perhaps hoped!) that OCR would be quite quick. It wasn't. The OCR syllabus did seem to go on for a long time! Part of this is the detail of the syllabus, part of this is due to an element of repetition. But, OCR economics also includes concepts not required in any other exam board. For example, in macro economics, knowledge is needed of:
Liquidity preference theory
Loanable funds theory
Heckscher-Ohlin theory of trade
Austrian economics
Symmetric inflation targets
Asymmetric inflation targets
Kuznets environmental curve
Genuine progress indicator (GPI)
It's only a very minor complaint. I don't think it will affect students. But, I was hopeful that Ofqual would try ensure greater compatibility between exam boards.
It is available as single user license. (£9.50) Also, available as network license £95.00 – allowing unlimited use for an educational establishment
It's been a long summer, but here it is OCR Revision guide