The claimant count records the number of people receiving unemployment benefits from the government. In the UK, the claimant count currently measures everyone who receives Job Seekers Allowance (JSA). To receive JSA, the applicant must be actively seeking work and provide evidence and commitment of efforts to find work.
The claimant count method is one of two main measures of unemployment. The other method is the ILO Labour Force survey of unemployment.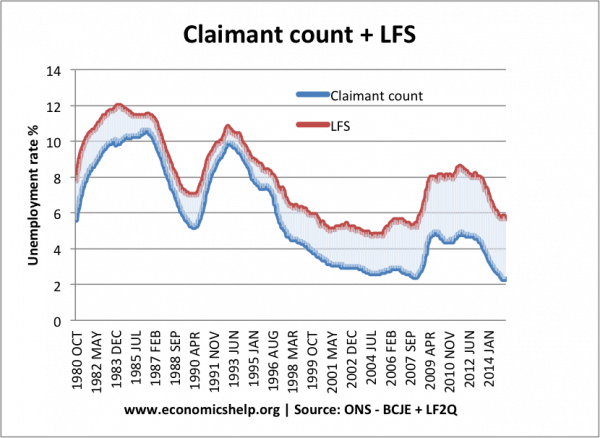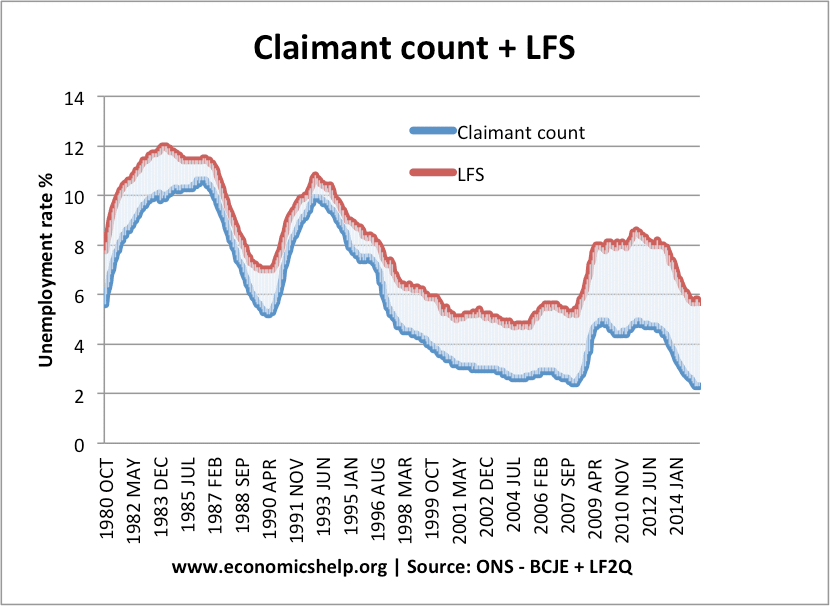 July 2015-  Claimant count 2.3%. ILO Labour force survey 5.5% – ONS BCJE

In recent decades, the gap between the claimant count method and the Labour Force method has widened. This reflects the fact that it has become more difficult to receive Jobseekers allowance (JSA.
Therefore, people may be classed as unemployed (actively seeking work), but not entitled to JSA.
The claimant count method excludes
People who are only looking for part-time work
People who are not able/willing to visit the local job centre every week and meet criteria for actively seeking work.
People who left their previous job voluntarily.
People who are on training schemes.
Students looking for vacation work.
Income-based JSA is means tested. People with savings of over £16,000 or cash income can be denied means-tested JSA. Income-based JSA includes examining the income of parents if you are under 24 and live with parents.
Contribution-based JSA is dependent on whether you have paid enough class I NI contributions in the previous two years. If you have not paid enough NI, you will not be entitled to this.
People who chose not to apply for benefits and sign up to the JSA commitment.
People under 18
Problems with claimant count
In July 2015, UK claimant count was 2.3% – yet, the UK economy is far from full employment – given interest rates at 0.5% and CPI inflation of 0.5%.
The claimant count method is under-estimating the true level of unemployment because many people are actively seeking a job, are not eligible or do not feel it is worth doing.
Changes to benefit criteria can lead to fluctuations in the rate, not related to changes in unemployment. Since 1991, the gap between the Labour Force Survey and the claimant count rate has widened due to changes in the criteria for receiving unemployment.
Cost of unemployment benefits
In 2014 the public expenditure survey, the total cost of unemployment benefit payments fell from £5.5 bn to £4.9 bn
Unemployment benefit spending compared to social security spending.
Unemployment benefit is now dwarfed by housing benefit
Fraudulent Unemployment benefit claims
It is possible that the claimant count could overstate the level of unemployment because people could collect JSA while also having a job.
However, the levels of estimated benefit fraud are quite low.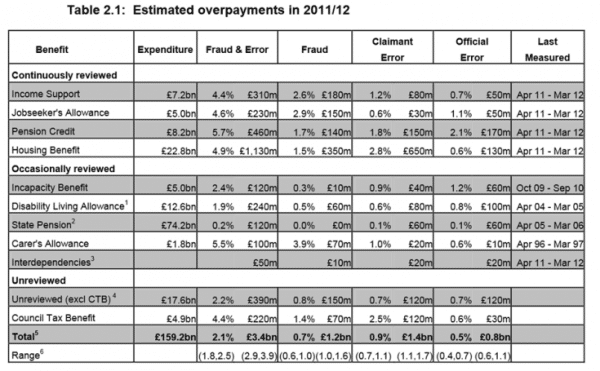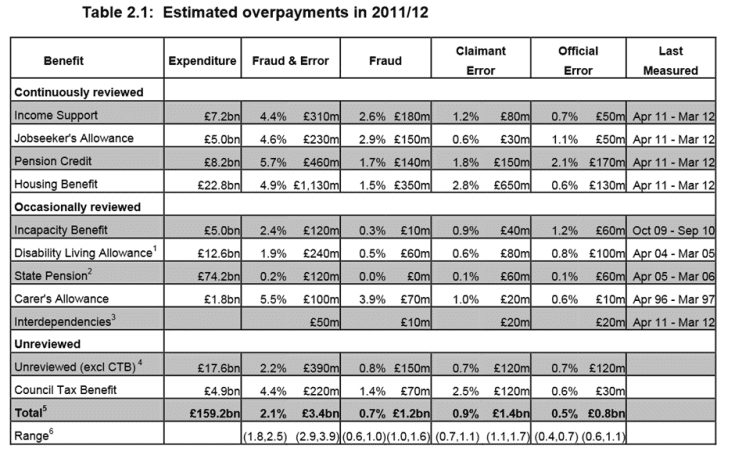 According to gov.uk, in 2012/13, 4.6% of unemployment benefit was estimated to be overpaid or £230m out of total cost of £5bn
Source: DWP 2012/23 | Via blog at LSE
Total claimant count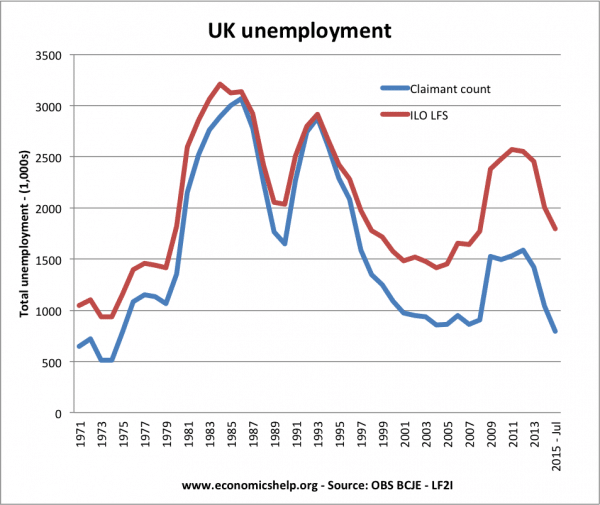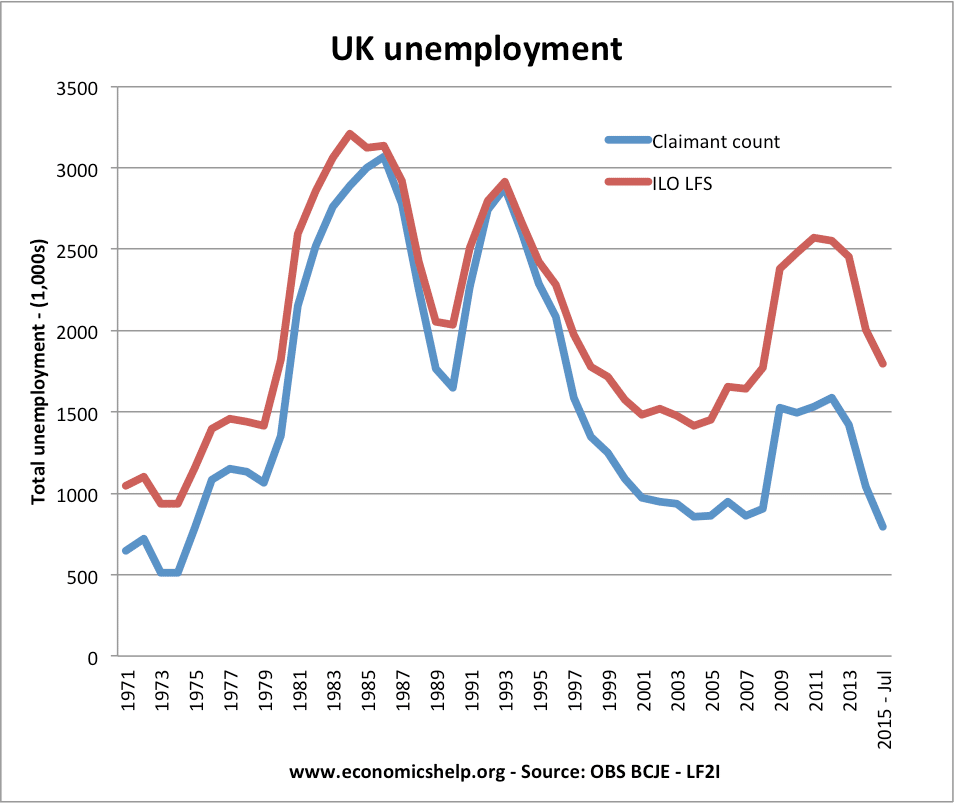 791,700 claiming JSA in July 2015
Total unemployment since 1971
 Year
BCJE – Claimant count

'000s


LF2I – Labour force survey – '000s
1971
649
1045
1972
719.3
1103
1973
511.3
933
1974
514.1
935
1975
789.5
1160
1976
1081.9
1399
1977
1150.4
1455
1978
1133.2
1438
1979
1063.7
1414
1980
1351
1819
1981
2152.4
2596
1982
2521.9
2861
1983
2761.9
3064
1984
2887.8
3212
1985
2997.2
3121
1986
3066.6
3135
1987
2779.6
2919
1988
2253.1
2422
1989
1768
2054
1990
1648.1
2033
1991
2267.8
2508
1992
2741.6
2799
1993
2876.6
2912
1994
2598.6
2660
1995
2289.7
2421
1996
2087.5
2280
1997
1584.5
1974
1998
1347.8
1776
1999
1248.1
1716
2000
1088.4
1577
2001
969.9
1480
2002
946.6
1518
2003
933
1476
2004
853.3
1412
2005
861.8
1451
2006
945
1657
2007
864.5
1642
2008
906.1
1771
2009
1527.7
2381
2010
1496.4
2476
2011
1534.4
2570
2012
1585.6
2549
2013
1421.9
2452
2014
1037.6
2004
2015 – Jul
791.7
1799
Related
External links