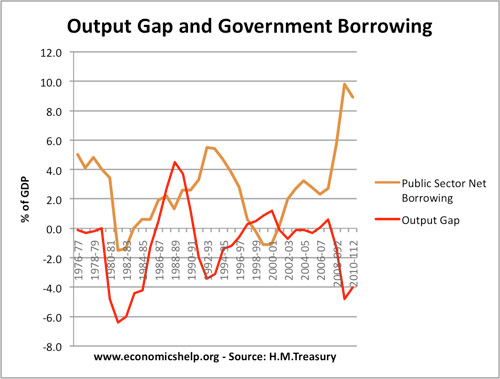 An interesting graph showing relationship between the output gap and levels of government borrowing.
A negative output gap indicates GDP is below full capacity and there is unemployed resources. Therefore, in a deep recession, like 2009, the output gap will rise.
In a boom, we will have a positive output gap as firms struggle to keep up with orders and demand.
As we would expect, the current recession, has led to a sharp rise in government borrowing. In fact, the rise has been unusually steep. This is because:
The recession has hit many good sources of tax revenue like stamp duty and income tax from city workers.
bank bailouts
Underlying structural deficit from higher spending plans
It is a similar story in the 1992 recession. A negative output gap leading to higher borrowing.
But, the interesting case is the 1981 recession. Firstly, the negative output gap was very high – over 6% of GDP. But, as output fell – so did government borrowing.
This was because the tightening of fiscal policy – higher taxes and lower spending was a cause of the recession. The Thatcher government of 1979, pursued an aggressive combination of fiscal and monetary policy to reduce inflation. They were successful in causing a reduction in inflation, but, it led to a deep recession. However, the output gap soon reversed as we entered into the Lawson boom of the 1980s.
Related