Definition
Joint demand occurs when demand for two goods is interdependent. For example, it is no good having a printer without the ink to go with it. Similarly, ink cartridges are no use without a printer. Another example could be a razor and razor blades.
Basically, the definition of joint demand is when you need two goods to go together.
If two goods are in joint demand they will have a high and negative cross elasticity of demand. – A fall in the price of ink will lead to an increase in demand for printers.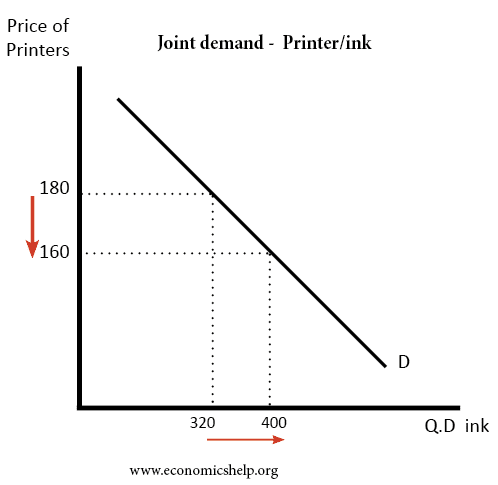 If a consumer keeps a printer for three years, then he may buy 10 or 20 ink cartridges. If these ink cartridges are around £10, then ink cartridges could be quite profitable. Therefore, it could make sense for a company to sell a printer at a loss in order to encourage people to buy the printer. Once they have a particular brand of printer, they can make a high profit margin on selling compatible inks.
Some print companies go to great lengths to prevent other firms selling compatible inks. (e.g. electronic chips). This is because once you have bought a printer for £50. You will have to keep buying ink which goes with the printer.
Joint demand – two related markets
A fall in the price of printers will cause higher demand. but, will also cause higher demand for ink which is demanded jointly.
This practice is really anti-competitive. The market for printer ink should be investigated by the OFT. I have had personal experiences of buying a printer for £50 – thinking I had a good deal until I realised how expensive the ink was.
Sometimes this is known as 'complementary demand' e.g. Strawberries and cream are complements and so they are often bought together.
It is also related to the principle of derived demand. E.g. if the demand for economics lessons there will be an increase in demand for economic tutors.
Related
Composite Demand – when a good is demanded for two or more different uses. For example, you may want a sheep to provide mutton and wool.