Readers Questions: hi would you please describe the current state of the UK Economy.
The UK economy is undergoing a serious recession. These are the main macro economic indicators
1. Economic Growth.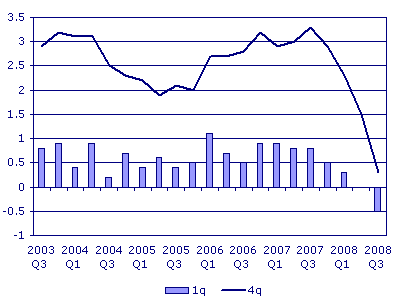 source: ONS
In the last quarter (Q3 2008), GDP fell 0.5%. GDP is also forecast to fall this quarter. The UK economy is currently in an official recession. In 2009, the UK economy is predicted to stay in recession, hopefully recovering in the last 2 quarters.
2. Inflation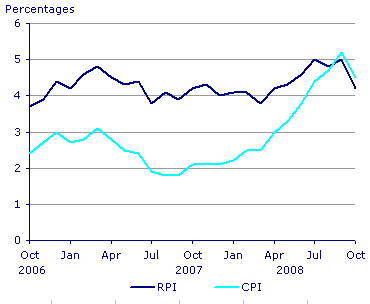 Source: ONS
After being above target for 2008, UK inflation will fall sharply in 2009. (see: inflation) The MPC now worry that inflation could fall below their lower target of CPI 1%. If the recession is deeper than anticipated there is a danger of deflation.
3. Unemployment
Unemployment has started to rise. Unemployment often lags changes in the economy. Therefore, unemployment is likely to rise to close to 3 million by the end of 2009, even if the economy recovers in the last half of the year. Jobs are being lost in a range of different sectors, from manufacturing to retail and finance. However, the hardest hit sectors are finance, construction, estate agents. Unemployment in UK
4. Balance of Payments
The UK continues to run a large current account deficit. (over 3% of GDP) – despite a fall in sterling and economic slowdown. However, 2009, should see a narrowing in the current account deficit as the effects of a lower pound and lower consumer spending take hold.
5. Interest Rates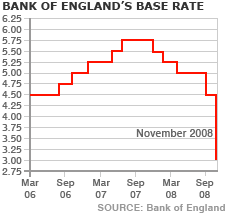 Interest rates have fallen significantly in 2008. 2009, is likely to see even lower rates, as the MPC try to avoid inflation slipping below their inflation target of 1-3%. Base Interest rates could fall to 1.5% in 2009. [desperate times call for drastic measures] However, it is not just the base rate that is important. It is also important to know whether commercial banks actually pass these lower base rates onto consumers. There has been a marked divergence between the base rate and libor rate [Base Rates and bank rates]
6. House Prices
House prices continue to fall, well below their 2007 peak. This graph shows the sharp reversal in the state of the UK housing market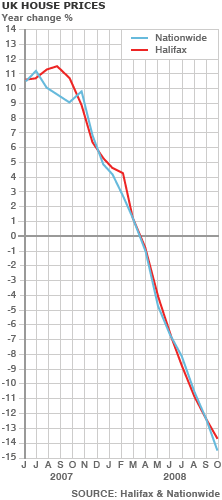 6. Government Borrowing.
Source: ONS
Government borrowing in 2009, is forecast to be a dire £120bn or 8% of GDP. This is a record level of government borrowing reflecting – the recession, nationalisation of banks and expansionary fiscal policy. It will increase UK National Debt
7. Savings Ratio. The UK Savings ratio fell to 1% in October 2008. The savings ratio will rise during the recession, but, the Government is trying to maintain spending through tax cuts and the MPC cutting interest rates. UK Savings Ratio
8. Consumer Debt.Consumer debt levels in the UK reached record levels in 2008 – Consumer debt
Longer Term Problems
The Good News for 2009?
Well Llandudno Pier is probably going cheap
Recessions Don't last for ever
The UK downturn reflects a global downturn. 2009, will probably see a weaker Euro as the Euro slips into recession
House prices are cheaper for first time buyers (even if they can't get a deposit)
National debt isn't as high as some countries.