Economic development implies an improvement in economic welfare through higher real GDP, but also through an improvement in other economic indicators, such as improved literacy, better infrastructure, reduced poverty and improved healthcare standards.
Policies for economic development could involve:
Improved macroeconomic conditions (create stable economic climate of low inflation and positive economic growth)
Free market supply-side policies – privatisation, deregulation, lower taxes, less regulation to stimulate private sector investment.
Government interventionist supply-side policies – increased spending on 'public goods' such as education, public transport and healthcare.
For developing economies, other issues could involve:
Export oriented Development – Reduction in tariff barriers and promoting free trade as a way to improve economic development.
Diversification away from agriculture to manufacturing as a way to promote economic development.
Policies for Economic Development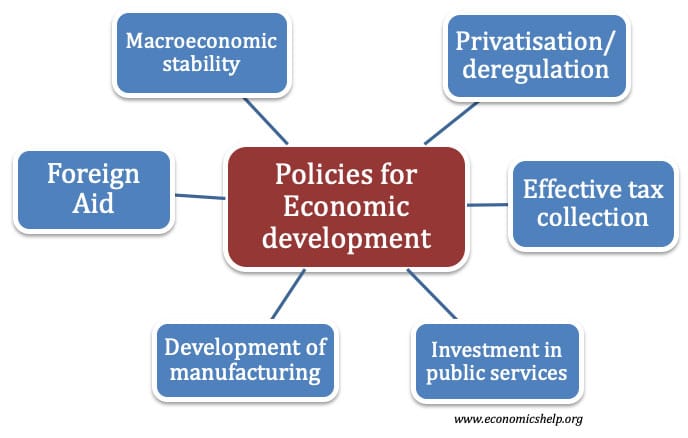 Macroeconomic Stability
Macroeconomic stability would involve a commitment to low inflation. Low inflation creates a climate where foreign investors have more confidence to invest in that country. High inflation can lead to devaluation of the currency and discourage foreign investment. To create a low inflationary framework, it requires:
Effective monetary policy. E.g. given a Central Bank independence to control inflation through using monetary policy.
Disciplined Fiscal Policy – i.e. avoid large budget deficits.
For example, if you look at the current situation of China and India – they both have high rates of economic growth, but the concern is that their economies could easily 'overheat' and cause inflationary pressures. Therefore, to keep a lid on inflation is an important underlying factor in sustainable economic development.
A potential problem of macroeconomic stability is that in the pursuit of low inflation, higher interest rates can conflict with lower economic growth – at least in the short term. Sometimes, countries have pursued low inflation with great vigour, but at a cost of recession and higher unemployment. This creates a constraint to economic development. The ideal is to pursue a combination of low inflation and sustainable economic growth.