Readers Question: What is the elasticity, if demand is perfectly elastic?
Diagram of Elastic Demand
If demand is perfectly elastic, it means that at a certain price demand is infinite (A good with a very high elasticity of demand). In other words if a firm increased price by 1%, it would see all its demand evaporate.
If demand is perfectly elastic, then demand will be horizontal.
Diagram of Perfect Competition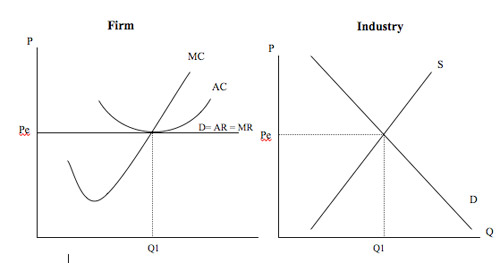 In a perfectly competitive market it is assumed a firm would have a perfectly elastic demand. This is because if they increased the price, the consumers with perfect information would switch to other firms who offer the identical product.
In perfect competition, we say a firm is a price taker. This means it's demand curve is perfectly elastic, it has to accept the market price.
Examples of Perfectly Elastic Demand
Foreign currency exchange. If you are buying foreign currency, it is likely to exhibit the features of perfect competition. A buyer could choose from many different sellers. The product (e.g. dollars) is identical. Perfect information about cheapest would be easy to find.
Therefore, if one firm increased the price of dollars, above market equilibrium – no one would buy from that firm. They would buy from cheaper alternatives.
Similarly if you are buying potatoes from Covent garden, it is easy to check prices. Therefore, if a farmer increases price above the equilibrium demand will fall significantly, meaning demand is very elastic.