Definition of a Veblen Good. A Veblen good is a good where demand rises as price rises because people feel its higher price reflects greater status.
Readers Question: I once ran across a term and now can't find it. It's the economic theory that consumers will purchase a product or service which cost more money for the sole believe that it's of higher quality due to its higher price. Is there a designated term for this?
Why might people buy more as price increases?
In the case of a Veblen good it is because people think more expensive goods are better quality, and so some people may buy more. Studies suggest people do get more satisfaction from receiving expensive goods. It is possible that designer clothes or luxury cars may sometimes meet the criteria of Veblen goods. This is often termed the snob effect – people equate price to quantity.
If Veblen goods do exist the demand curve would slope the opposite way.
Veblen goods were suggested by Thorstein Veblen, an unorthodox economist who identified 'conspicuous consumption' in The Theory of the Leisure Class (1899) Veblen noted that a motivation for buying goods was showing off to others in society.
There can also be other factors behind Veblen goods
Examples of Veblen goods
Vintage wine. In a posh restaurant, diners may avoid purchasing the cheapest wine – because it indicates poor taste. If the wine is increased in price, then it may sell more.
Modern art. If art is sold at £1, people may not value it, but if the same pieces are sold for £100, unsuspecting buyers may feel it is better. Art may be subject to the bandwagon effect – if an artist becomes in vogue, people want to be part of it.
Designer clothes. Some clothing retailers have found increasing the price of luxury 'branded' items can sometimes increase sales, e.g. branded jeans.
Diagram for Veblen Good
Veblen goods contradict basic law of demand.
Shift in demand
Though it could also be that with Veblen goods, demand is shifting to the right. WIth higher price – people believe it reflects an increase in quantity so, with a higher price, the demand curve is actually shifting to the right.
Some Veblen goods may have normal demand curve at low prices, but above a certain price start to have 'snob value' so demand curve starts sloping the other way. Above P1, this good behaves like a Veblen good.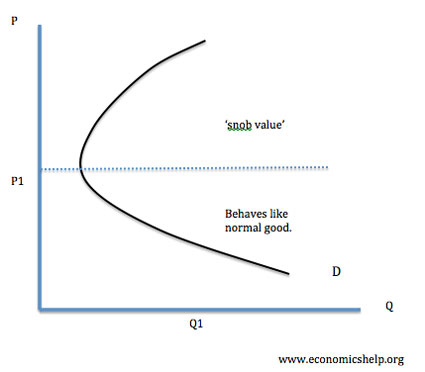 In recession and periods of frugality, there are few Veblen goods, but possible many counter-Veblen goods – where lower price makes demand increase more than proportional.
Related Concepts
Positional Goods. These are goods which tend to be very scarce and are desired for their ability to show success over other people. For example, getting into the best university, moving in highest social circles. If a good help to illustrate your position in society.
Conspicuous Goods – goods people like to buy to show social status or success. Designer clothes and fashionable art can fall into this category. The idea is that people want to buy goods which convey their success. This could explain why as price rises, people want to buy more
Perfectly Inelastic Demand. If demand is perfectly inelastic, it means an increase in price doesn't cause any fall in demand. People are willing to pay whatever price charged, e.g. price of a diamond wedding ring.
Giffen Good. Higher price leads to higher demand but for a different reason to Veblen goods. Demand rises with a higher price because the income effect of higher price outweighs the substitution effect. Giffen Good
Rising house prices and rising demand
With house prices and the law of demand, we looked at why rising house prices caused a rise in demand. Here it is not the snob effect at work, but maybe a bandwagon effect or asset bubble effect. Where people buy because prices are rising and therefore they expect them to keep rising.
Related