Many young people will understandably be hoping and praying that there is a substantial fall in UK house prices to make them affordable and escape the broken rental sector. However, if there is a serious house price fall, there is a real danger this would push the UK economy deeper into recession.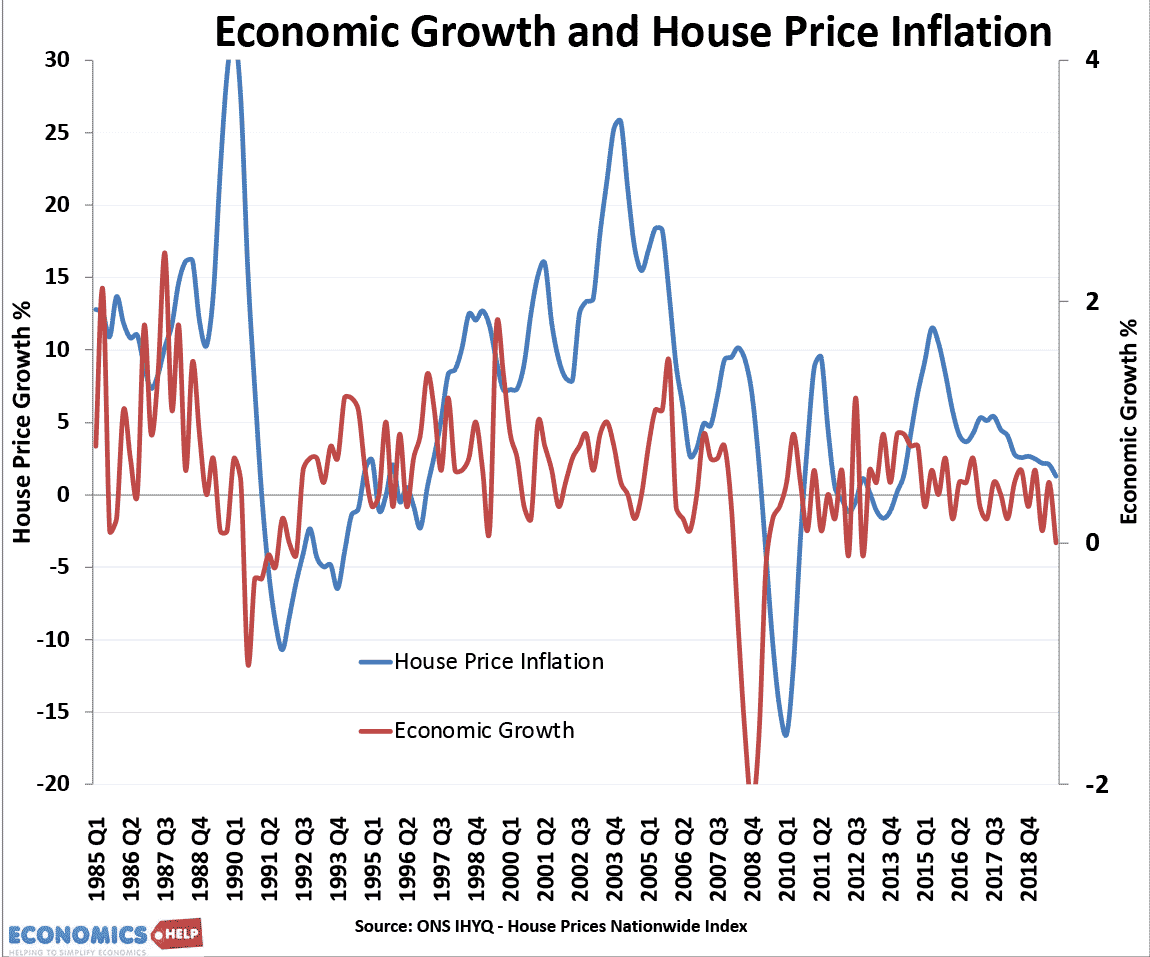 In the last recession of 2008, house prices fell 20% and GDP fell 6%. In the 1990s recession, a house price fall of 19% was a significant factor leaving many with negative equity and contributing to economic misery. In the United States, 9 out of the last 11 recessions have been preceded by turmoil in the housing market, leading economist Edward Leamer to claim "housing is the business cycle."
How does Housing Market Affect the economy in Short-Term?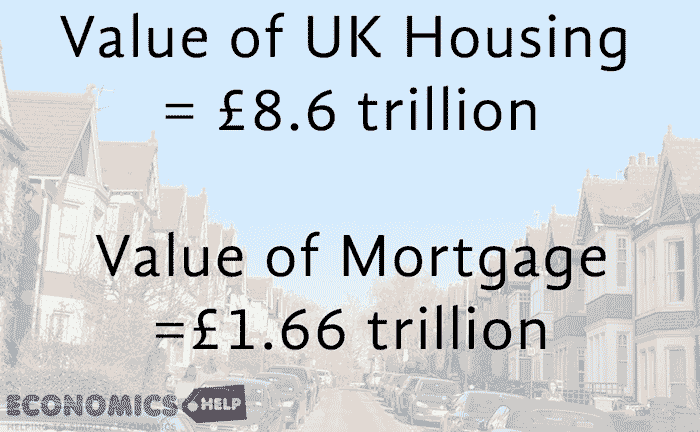 In the UK, Housing has become the biggest form of wealth. The total value of housing wealth stands at £8.6 trillion which is more than 3 times UK total GDP of £2.6 Trillion. In recent years, we have become better at growing wealth than income. But, if there is a fall in house prices, it creates a negative wealth effect.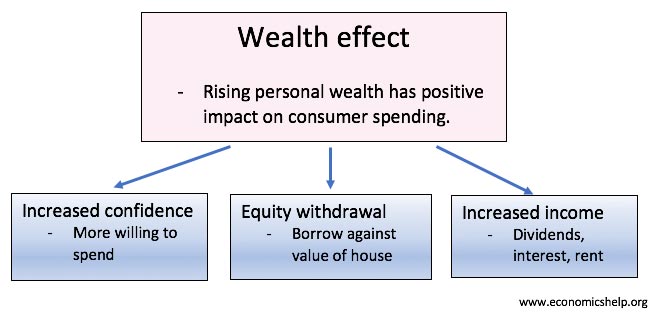 Firstly Homeowners feel less confident as they see their wealth decline, Secondly some could face negative equity, which will reduce spending. In the boom years of the early 2000s, rising house prices caused equity withdrawal. This is when people remortgage to get cash out of the increased value of the house. It can finance a range of spending from school fees to new cars.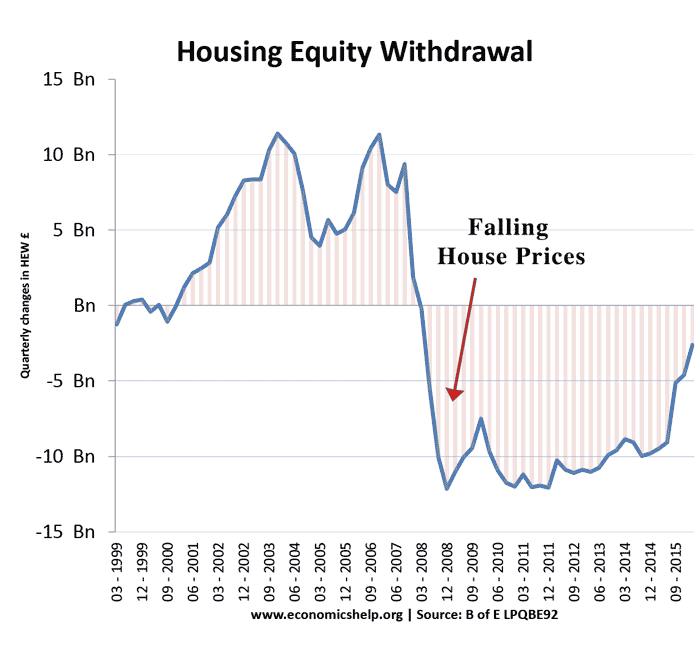 However, as soon as house prices fell in 2007, equity withdrawal went into reverse, with people trying to pay off their mortgage and cutting back on spending.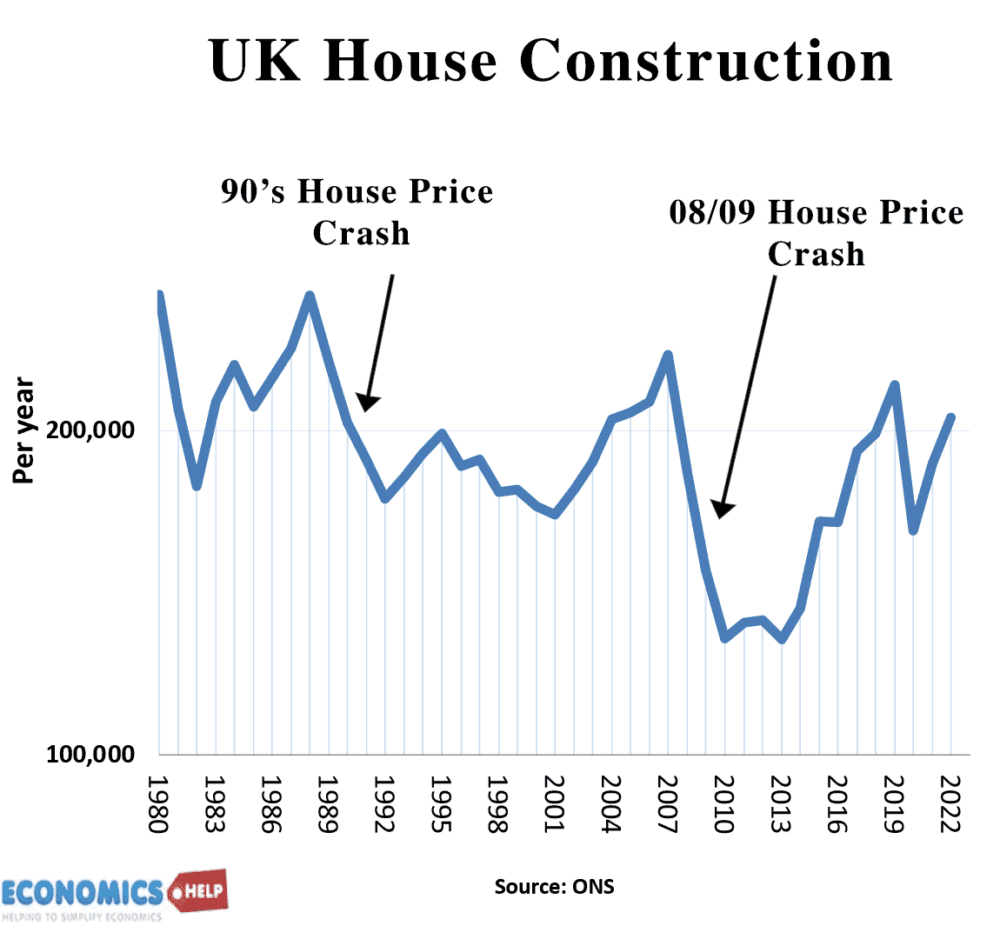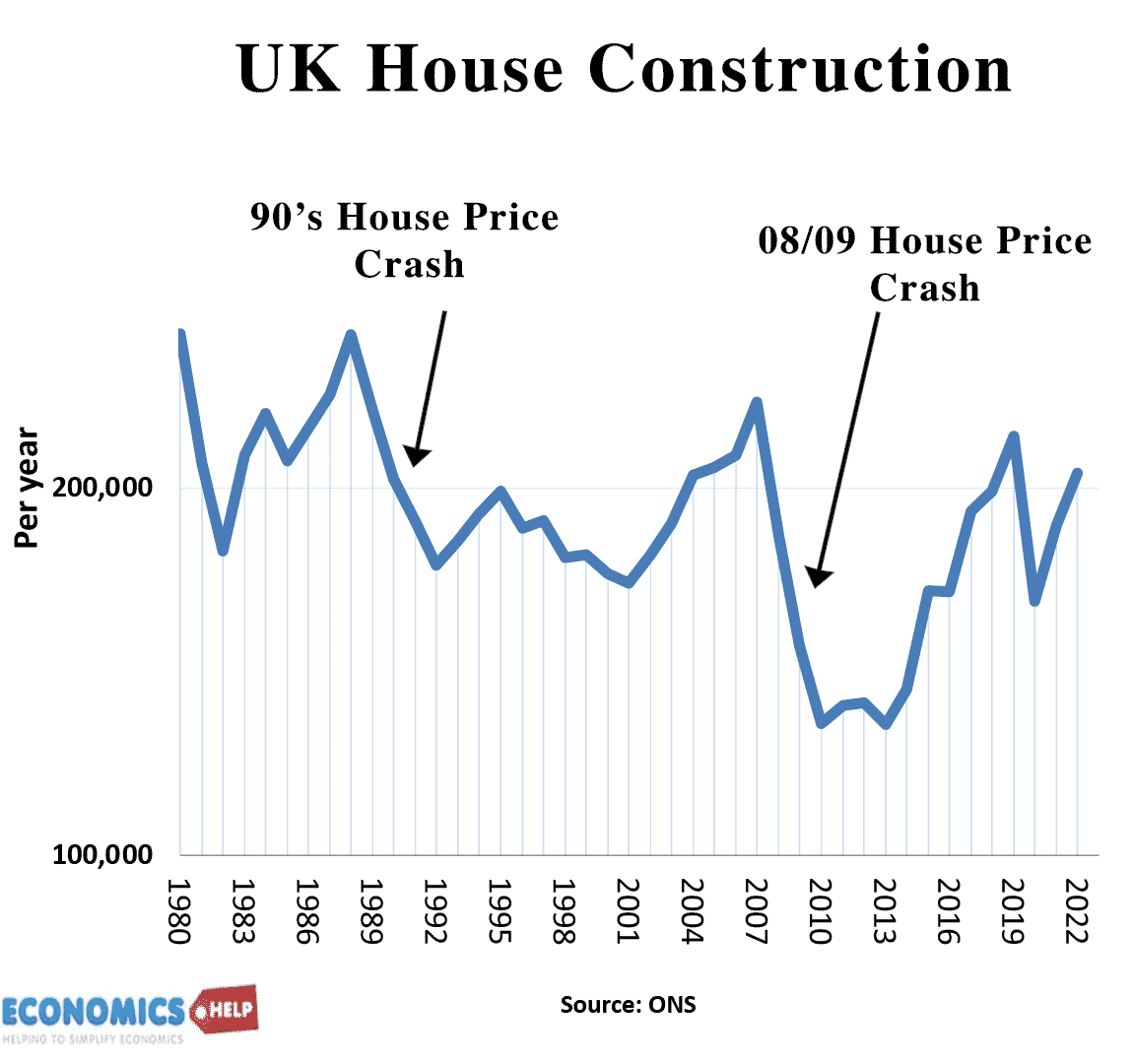 A fall in house prices will also cause a decline in home construction an important part of the economy. There was a strong decline in house building during the 2008 and 1991 crash. A fall in home building also has knock on effects with less demand for plumbers, white goods and related infrastructure. All these factors contribute to less demand in the economy.
However, the story doesn't stop there. It is not just this negative wealth effect but, because of soaring prices, housing has outgrown its original purpose often becoming a surrogate for investment and pensions. This is true story, when I bought a house in 2005, the price was roughly seven times my annual salary, and the mortgage payments around 45% of income. The first thing I did was to stop my private pension. If you can own a house rather than rent, the need for a pension felt much reduced. I should add this is not financial advice! If house prices were to fall, it would affect the expected value of investments and pension planning, and contribute to more cautious spending as we feel worse off. And of course, any negative wealth effect will be magnified because of very poor income growth in recent years.
A good question to ask is will not falling prices make first time buyers better off. And yes it is true some will benefit from falling prices (though higher interest rates will outweigh lower prices) But, overall homeowners are a bigger segment of the population than first time buyers. 63% of households in England are homeowners (around 14.6 million households) compared to around 0.4 million first time buyers per year. So overall the negative wealth effect is more important from a macro perspective.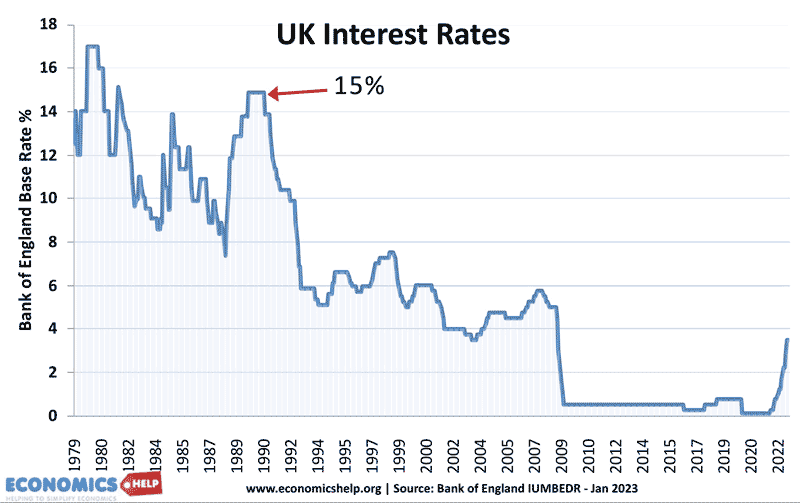 Of course, there are many other factors to consider. In particular, we have to take into account interest rates. In the early 90s, crash it was interest rates of 15%, which were a major cause of both falling house prices and the recession.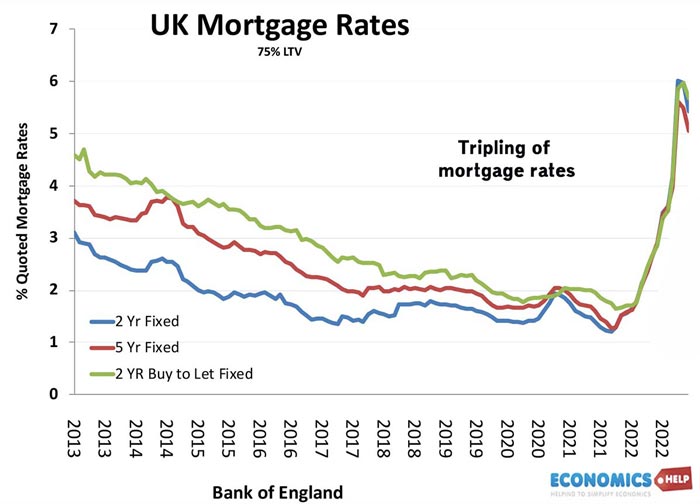 In 2023, again we again have rising interest rates which increase the cost of mortgages and put downward pressure on house prices and reduce economic growth. Mortgage rates of 5% may seem very low compared to the 90s. But, we cannot directly compare. House prices are now much higher.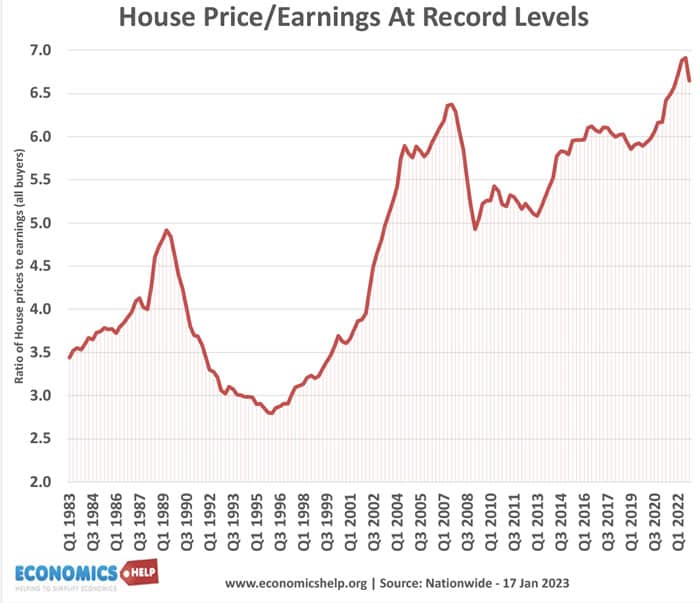 Price-to-income ratios have soared since even the 90s peak. Moderate interest rates rises will have a big effect on reducing affordability.
A good question to ask – is are things now not different to 1991 and 2007? In 2007, the last housing crash and recession were primarily caused by the credit crunch and shortage of lending. Despite many economic problems we don't currently have anything like a credit crunch, mortgage arears are relatively low. Secondly, in recent years, homeownership rates have declined as many people have been priced out of the market. Also, more property owners now own their homes outright. The period of low-interest rates and high prices have enabled people to pay off more of their mortgage. And finally compared to before 2007, there has been no surge in equity withdrawal in the 2000s.
The effect means in 2023 fewer people will be exposed to negative equity than in 2007 and 1990.  So falling house prices may be less damaging to the economy than in the past but on the other hand some things are worse in 2023.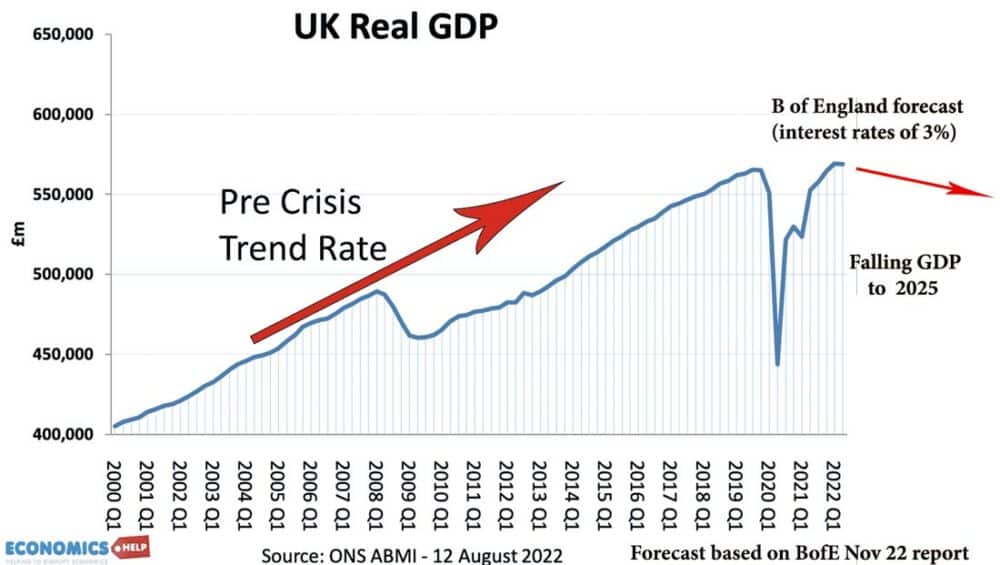 Underlying inflation is more of a problem and the UK economy has a host of long-term problems such as low productivity growth, Brexit, and a decline in investment. The cost of living crisis means the UK economy was on verge of recession, even before the effect of higher interest rates and falling house prices started to be felt. Yet, if prices were to fall significantly over next 12 months, it would be another heavy weight on UK economy.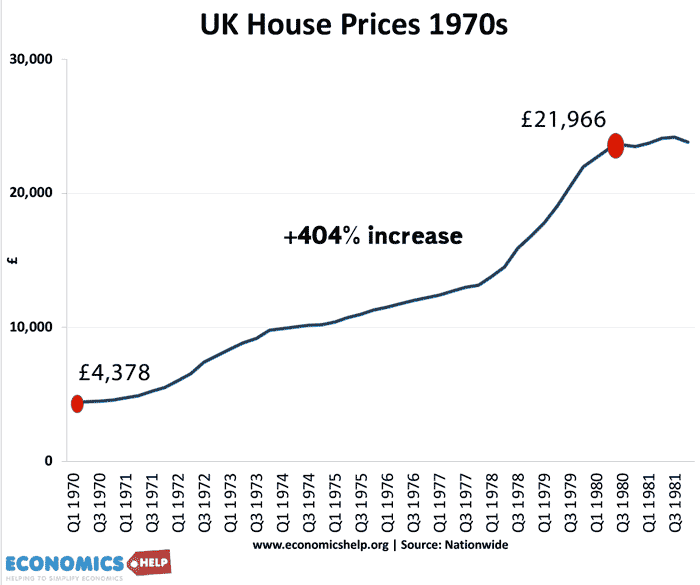 The 1970s is also an interesting case study because the deep recession around 1974 had a similar cause – a surge in oil prices and high inflation. In fact, house prices soared during the 1970s by 400%.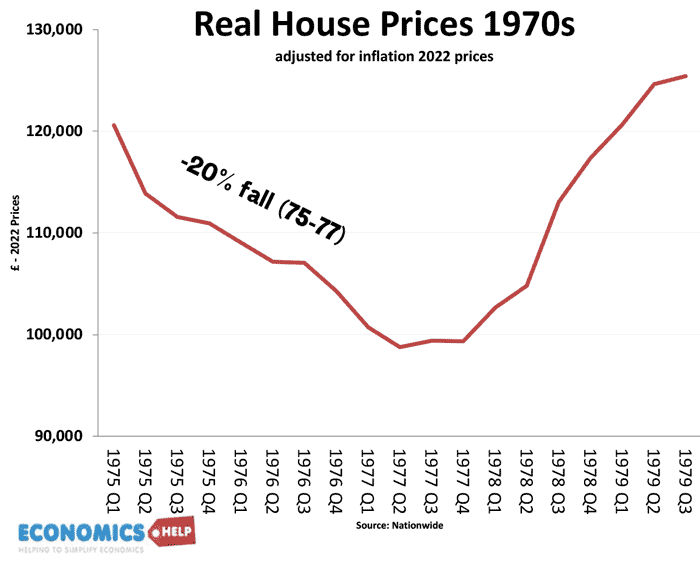 With house price inflation was running at up to 40% a year. During the 1974 recession, house prices were still rising. But one major cause of rising house prices in the 1970s was inflation and rapid wage growth. If we look at real house prices (adjusted for inflation) prices fell after 1975 by 20%.  Due to high inflation, this is relevant today. If we look at real house prices, they have already fallen 10%.
Benefits of Falling House Prices
Finally, what about all the benefits of falling house prices? In the short term, there may be bad effects on growth. But, in long-term It will improve inequality and intergenerational equality. It would go some way to improve the prospects for young people. It would also help improve labour mobility and help people move around the country.
But, the big question is will house prices really crash like 2007 and 1991. Another possibility, is whether the UK housing market is heading for more of a stagnation than a massive crash. Stagnation here means a fall in transactions, and perhaps moderate price declines. But, as prices fall, they are bought up by big investors who can pay outright rather than traditional mortgage buyers. In this case, the negative effect on the economy will be less, but we will be left with growing inequality and more young buyers permanently priced out of the market.
However, there are many signs suggesting we will get a substantial price correction.
Further reading