Johann Hari wrote a piece on 'The biggest lie in UK Politics'
Let's start with a fact that should be on billboards across the land. As a proportion of GDP, Britain's national debt has been higher than it is now for 200 of the past 250 years. Read that sentence again. Check it on any graph by any historian. Since 1750, there have only been two brief 30-year periods when our debt has been lower than it is now. So we can afford to run a deficit, if that has a positive effect – which we'll get to in a minute. If we are "bust" today, as George Osborne has claimed, then we have almost always been bust. We were bust when we pioneered the Industrial Revolution. We were bust when we ruled a quarter of the world. We were bust when we beat the Nazis. We were bust when we built the NHS. Or is it George Osborne's economics that are bust?

Our debt is not high by historical standards, and it is not high by international standards. For example, Japan's national debt is three times bigger than ours, and they are still borrowing at good rates. (March, 2011)
To what extent is this view of UK debt correct?
1. National Debt as a % of GDP is low by historical standards.
Firstly, using the ONS statistics for Public sector debt, it is correct.
The article was written in 2011 – which was UK public sector debt has been much higher in the past.
2. Some countries do Have Higher National Debt without causing problems to bond markets. Japan does have a seemingly very large national debt at over 220% of GDP.
Other Factors
3. The UK has a longer maturity date on Bonds. What this means is that the average date until maturation is longer in the UK. This means there is less pressure to refinance UK debt.
…So assuming a 100 basis point rise in yields along the curve, you get 32 per cent of outstanding UK gilts maturing by 2015. Fifty-nine per cent of outstanding US Treasuries will have done the same. (The importance of debt maturity at FT)
Low bond yields
High levels of borrowing – did not cause bond yields to rise – in fact, they fell.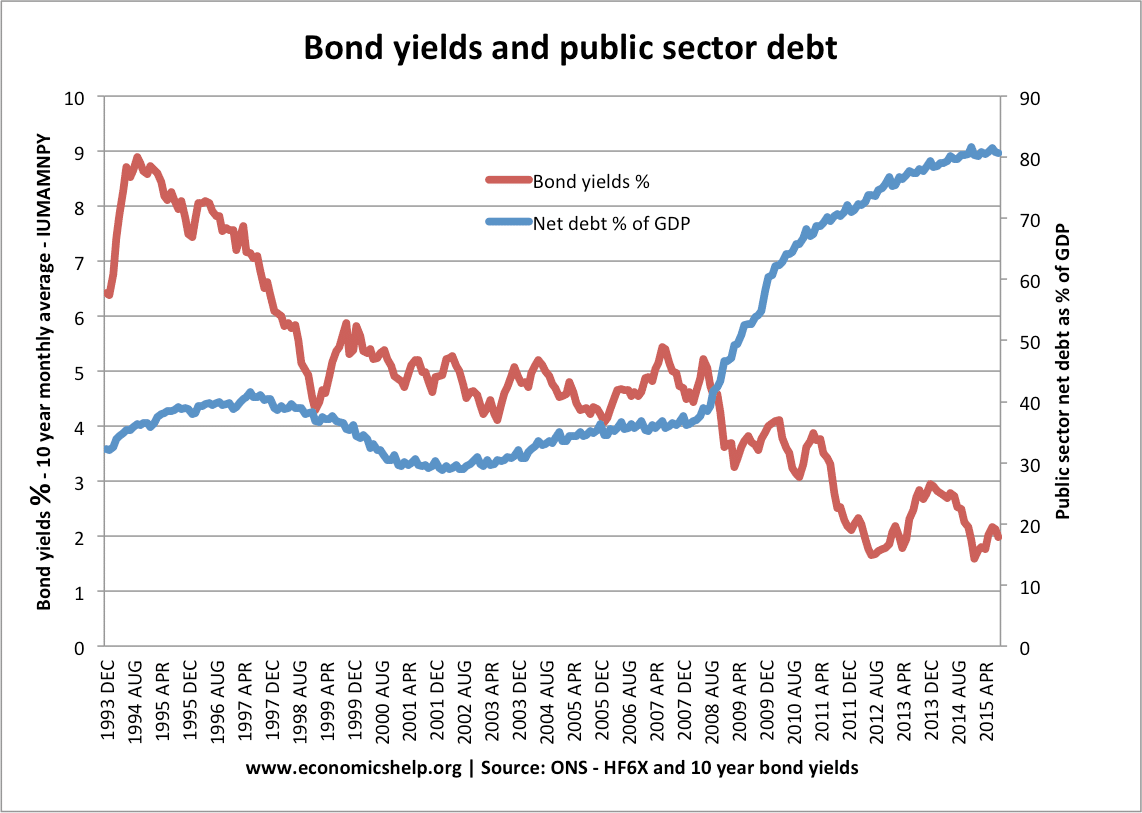 Reasons to be less Cheerful
1. Deficit v Debt
When considering the fiscal position of the government, it is not just a matter of total public sector debt. It is also important to consider the annual budget deficit. (think of it like the amount national debt increases by each year). Thus, although total debt is relatively low, the annual budget deficit is high (around 11% of GDP). This is the highest peacetime level in government borrowing. Markets will be more worried because the rate of increase in national debt is fast. This will tend to make markets more nervous of future UK prospects.
See: Deficit vs Debt
2. Other Considerations in UK Public Sector Debt
The headline figure of 58% of GDP, masks some other issues. Firstly, it excludes financial sector intervention. With financial sector intervention, the level of public sector debt is 149% (UK Debt) This sounds bad, but the banks have shown an increase in profitability and their shares have improved as a result. There is a good chance the government will recover all the bank bailouts. They could even make a profit on this.
3. Future Pension Liabilities
The centre for fiscal policy studies suggests real national debt is actually 240% of GDP. They calculate future pension liabilities as being part of national debt. But, to me, that is not real national debt. It is future costs and not costs the government have to pay. It includes future costs but makes no allowance for future revenues / economic growth. Also, plans to raise retirement age could change future pension costs. (PDF at Centre for Fiscal studies) In the post-war period, the UK has always had pension liabilities so if you start including pension liabilities all past levels of debt would have to be changed too.
4. International Market
The European bond market is nervous. This could make it more difficult for the UK to borrow heavily. Though the Difficulties of the Eurozone stem from the lack of Central Bank willing to intervene in bond market.
5. Historical Comparisons not Perfect.
It is true the UK borrowed over 200% of GDP in the late 1940s. However, this was helped by:
Patriotic duty to buy war bonds,
Relatively high level of private sector saving
Loan fro the US
Therefore I feel it would be more difficult to borrow post-war levels in the current economic climate.
Summary
The UK debt crisis is definitely exaggerated. Yet, there also has been a sharp deterioration in public finances which is due to both structural and cyclical factors. These need long term solutions to reduce structural deficit. It is a simplification to say debt is only 58% of GDP and this is only issue. The government do the right thing to borrow more in a recession. It is textbook Keynesian economics – austerity damages prospects for growth. If growth is sluggish or low, it will be much more difficult to reduce debt to GDP ratio (see: Ireland and Greece). High growth will make any debt reduction plan much easier. The irony is that sharp spending cuts to tackle the deficit can lead to fall in GDP and increase debt to GDP ratio.
Originally published 14 April 2011. Updated 12 January 2018.
Related