Readers Question: 1. I read somewhere that accommodative monetary policy (in other words, quantitative easing) does not automatically result in higher inflation. For higher inflation to occur, the output gap must be crossed. i.e. idle factories back in business, unemployment rates down, etc. However, I don't think the hyperinflation in Zimbabwe was preceded by increasing productivity or employment. Can you please explain this concept?
Summary
Increasing money supply through quantitative easing doesn't necessarily cause inflation. This is because in a recession, people want to save, so don't use the increase in the monetary base. If the economy is close to full capacity, increasing the money supply will invariably cause inflation.
Hyperinflation in Zimbabwe was caused by the decision to print more money. The hyperinflation and uncertainty in the economy caused lower output. Also, in Zimbabwe, the scale of printing money was much greater than our modest efforts at quantitative easing.
Even in a recession and liquidity trap, we could cause inflation if we really wanted to. If the Central Bank literally doubled the amount of cash in the economy, it would see prices go up. It is also a question of scale.
Why quantitative easing (increasing monetary base) does not automatically result in higher inflation. (see also: Money supply and inflation)
For example, quantitative easing involves the Central Bank purchasing bonds from commercial banks. By selling bonds, the commercial banks see an increase in their cash balances.
If the economy was growing strongly, they would have the confidence to lend these extra bank balances out to firms. This could cause inflation if demand grew faster than supply.
However, in a recession, when there is spare capacity and lower output, banks will not want to lend these extra money deposits. Firms will also be reluctant to borrow because they are not optimistic about the future.
Therefore, although the Central Bank increases the monetary base, this is basically saved rather than spent. Therefore, there is little inflationary pressure. – At least whilst the economy remains in recession and liquidity trap. Data from the US shows you can increase monetary base but have little or no inflation.
UK Experience of Quantitative easing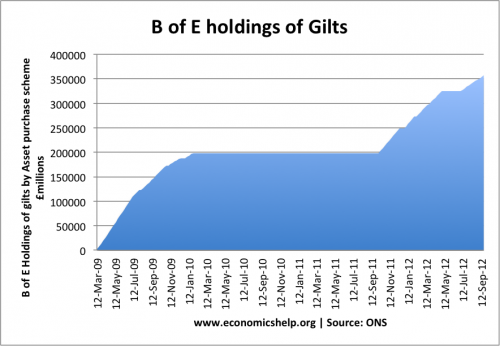 The Bank of England were authorised to create £375bn of new money to buy gilts. This aimed to reduce long-term interest rates and boost the money supply. But, M4 and M4 lending fell, despite quantitative easing.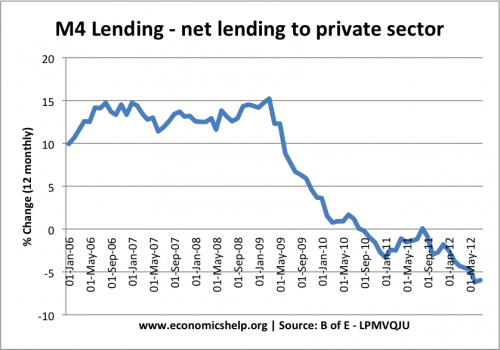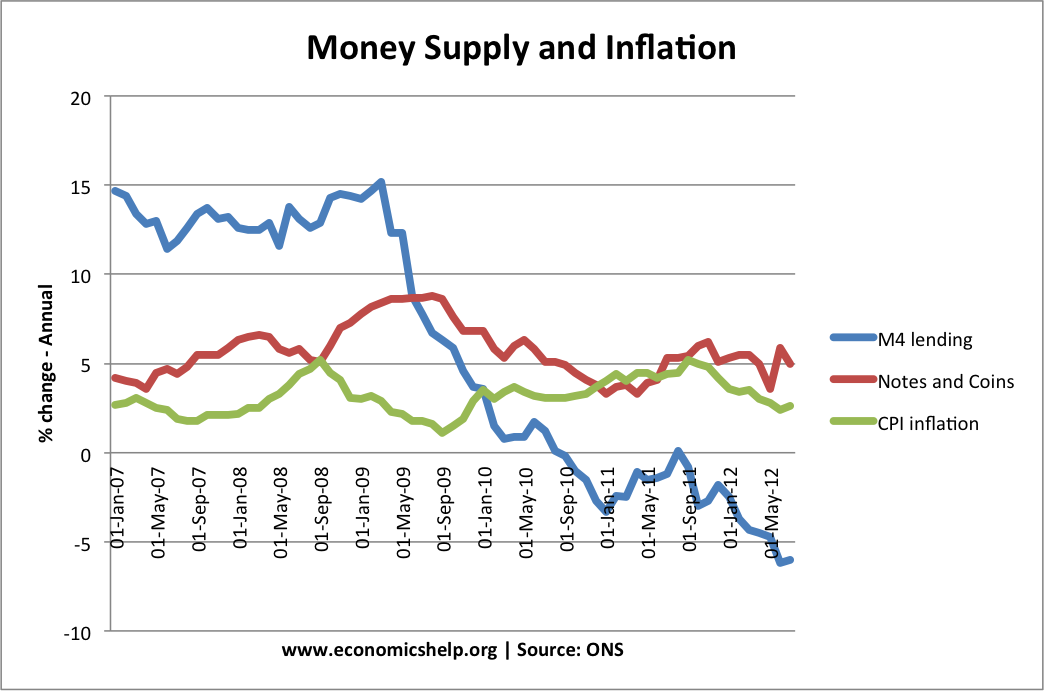 To confuse matters, inflation may occur due to factors other than quantitative easing. For example, in 2011, the UK experienced cost-push inflation caused by rising taxes, rising oil prices and the impact of devaluation. But, this rise in CPI inflation proved temporary.
Hyperinflation in Zimbabwe
With the case of Zimbabwe, the hyperinflation was caused by a decision of the government to print more money. They printed more money to deal with their growing budget deficit. The government needed to pay public sector workers pay increases and it didn't have sufficient funds so the Mugabe government made the Central Bank print more money. This rapid increase in the amount of Zimbabwean currency led to rising prices.
To control inflation, the government tried to set fixed prices, but this was unpractical for traders and actually led to a decline in output. (there was no incentive to produce for the fixed prices). Therefore, you had a situation of more Zimbabwean currency being printed to meet a falling output. This combination led to inflation.
The difference is that Zimbabwe was printing money at a rate well above their own inflation rate, so this always caused more inflation.
With quantitative easing, the Central Banks were increasing monetary base in a controlled way which only led to a moderate increase in lending because of the state of the economy.
Related