Between 1999 and 2008, there was a rapid growth in public sector employment in the UK. This mirrored a sharp increase in government spending (see: post on spending under labour.)
The justification for the increased public sector employment was to deliver better service in the NHS. However, critics argue that the increase in public sector employment reflected growing bloat in the civil service and management divisions of the NHS.
Since 2009, shortly after the recession began, public sector employment has fallen quite considerably as the government have looked for spending cuts and trimming back previous excesses. Critics of these austerity measures argue that to reduce government employment in the middle of a recession, with falling output and confidence has  made the recession worse and prevented unemployment from coming down. However, others point to the (relatively small) growth of private sector employment as a justification for cutting surplus government jobs.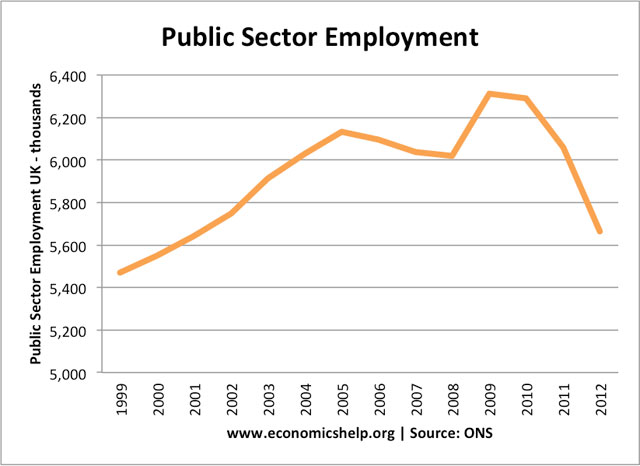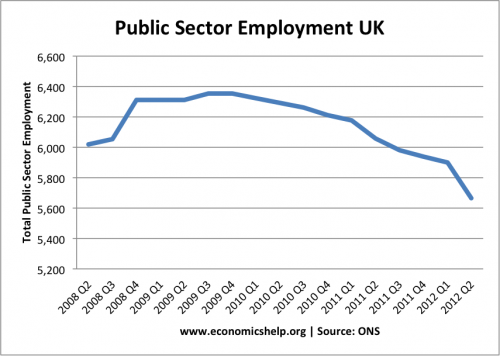 Public sector employment at ONS
The Office for National Statistics said part of the recent fall in public sector employment followed a decision to reclassify 196,000 further education and sixth-form teachers as private sector employees. However, despite this, there is still a significant downward trend, especially in local authorities and the civil service. Government austerity measures are a key factor in reducing the numbers of public sector employees.
This fall in public sector employment came at a very bad time for the UK.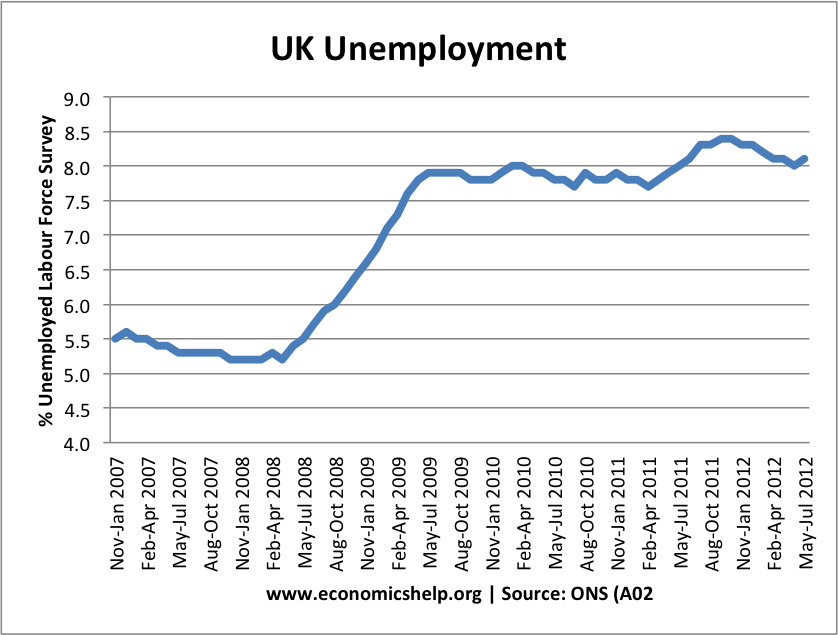 Unemployment ONS AO2
On the positive side, UK unemployment is lower than we might expect compared to the depth of the recession. In the past ten quarters, private sector employment has increased 275,000 (excluding reclassification of college lecturers) This shows the economy has been able to create new private sector jobs, but it is not enough to reduce the unemployment rate significantly.
However, there is also a growing problem of long-term unemployment, the Institute for Public Policy Research stated that the number of people out of work for more than a year – is up by 22,000 to 904,000 in the latest figures. This represents more than a third of the total number of unemployed people.
Related
Government spending under labour – An increase in real spending on the NHS and other areas of government spending were a factor behind growth of public sector employment up to 2008.