USA's trade deficit with China was $201.6 billion in 2005, an all-time high for a trade deficit with any country. Explain some possible causes of a balance of trade deficit and consider if the USA should be concerned over its trade deficit with China.
Reasons for Balance of Trade Deficit Between US and China
1.Undervalued Yuan
According to the Big Mac index compiled by the Economist, the Chinese Yuan is 49% undervalued against the Dollar. This is partly because the Chinese Government seek to keep the Yuan undervalued by restricting currency flows. The Chinese have also been buying significant quantities of US assets (e.g. Treasury bills). This keeps the Chinese currency undervalued.
The undervalued Yuan gives a competitive advantage to Chinese exporters relative to US exporters.
2. Changing Comparative Advantage
China is becoming more competitive because it has:
Low labour costs, elastic supply of labour
Growing skills base
In manufactured goods, China has a clear comparative advantage; it's greater competitiveness has contributed to US deficit.
3. Higher Savings Ratio in China
The past decade has seen a very low level of savings in the US, but much higher in China. A low saving ratios mean that levels of consumption are higher in US. China's high saving ratios mean that consumer spending on imports is relatively lower. Instead China use their savings to invest and purchase capital flows from abroad. (It is these capital flows which help to finance current account deficit.)
4. General Trade Deficit.
The US has a large trade deficit with a range of countries, not just China. China accounts for 30% of US trade deficit.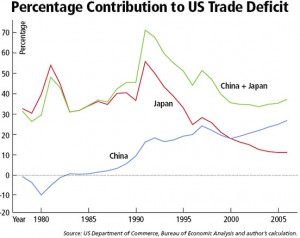 See also: Reasons for Current account deficit
Why US current account deficit exists
Should US be Concerned Over Trade Deficit?
Loss of output and jobs. Because China is more competitive, it means there is a relatively higher demand in China than US. US manufacturers claim that they have lost out, leading to lower employment levels.
One advantage of the trade deficit is that it is financed by capital flows from China to US. China has bought significant quantities of US Treasury bills, which has helped keep bond yields low.