The Chinese government have been criticised for the 'manipulation' of their currency. They would prefer not to use the word 'manipulation' perhaps they have an unofficial exchange rate target to keep Chinese currency undervalued to promote growth and exports. At the moment China only pegs its currency against the dollar and not a wider basket of currencies.When the UK was in the Exchange Rate Mechanism, we were trying to target a semi-fixed exchange rate. Though in 1992, we had to work hard to keep the Pound above its market value, whereas the Chinese are working to keep it lower.
Q. What does it Mean that the Chinese Currency is Undervalued?
An undervalued currency suggests that agents (i.e. Government) are keeping the currency below it's 'fair' market equilibrium price by currency controls and intervention buying.
Many analysts argue that in a free market, the Chinese Yuan would appreciate because of the strong demand for Chinese goods and the large Chinese Current Account Surplus. However, the Chinese government is trying to prevent the currency rising. Essentially, the Chinese Central Bank is buying Dollar assets which increase the value of the US dollar relative to the Chinese currency.
This policy of buying foreign assets has led China to accumulate $2.4 trillion of foreign currency reserves. (China's Foreign Currency Reserves)
Why is China Pursuing this Policy?
China is pursuing a policy of reducing the value of its currency to try and boost growth, especially in its key exporting industries. Chinese growth is very high by western standards. However, China needs a high rate of growth to absorb labour that is made unemployed from the agricultural sector. Because China doesn't have much in the way of social welfare payments, it is concerned that without job creation in the manufacturing sector they could face high unemployment and social unrest. Therefore, keeping a weak currency helps to boost demand for Chinese exports and therefore Chinese jobs.
Why is US Unhappy at Situation?
By keeping the dollar strong, US exports become less competitive. Also by keeping the dollar strong to the Chinese Yuan, it makes Chinese imports relatively more attractive, increasing foreign demand at the expense of domestic producers. The US argues this loss of Demand and jobs is something it can't afford at its particular stage in the economic cycle.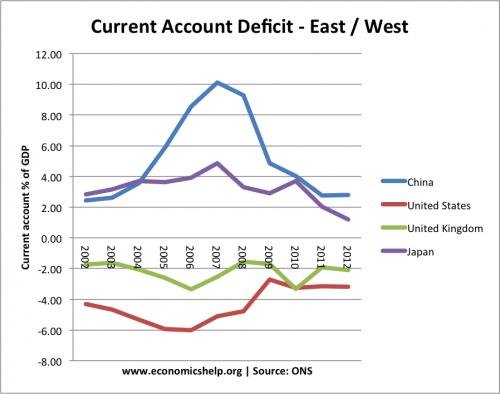 Large current account surplus is an indication that China's currency is undervalued. Though this current account surplus has been decreasing in recent years.
Related