The UK construction sector remains largely depressed with construction volumes still below pre-recession levels.
In headline figures produced by the ONS, the estimated level of the total volume of construction output in the third quarter of 2012 was the lowest since the second quarter of 1999.
The construction sector is one of the most volatile sectors in the economy, and can be seen as a barometer for the wider economy and economic performance. Although there are signs of some recovery in infrastructure investment, the current outlook looks pessimistic for future economic recovery.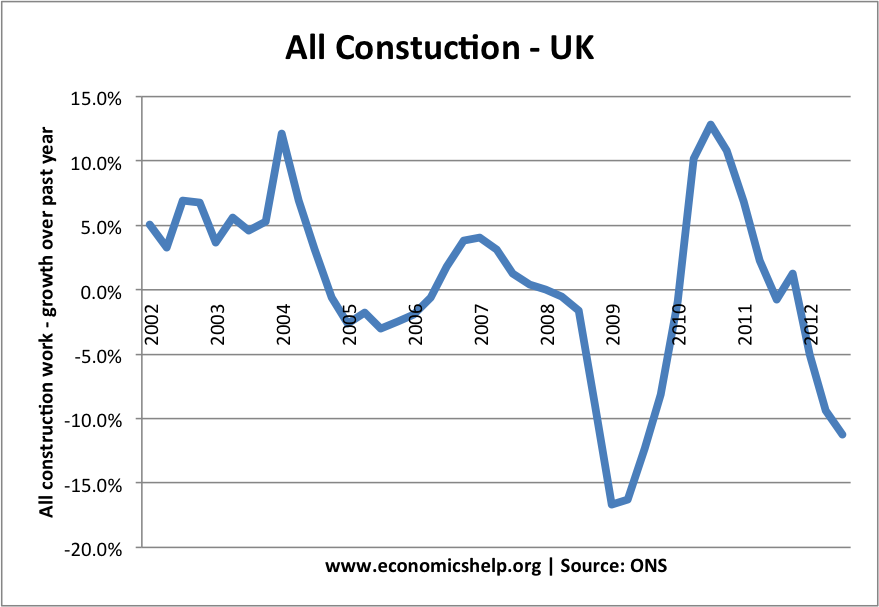 The annual growth of construction volumes mirrors the double dip recession. (economic growth)
The fall in construction during the 2008/09 recession was greater than the previous recession during 1991. Note the boom in construction during the late 1980s was much greater than the limited growth between 2005-08.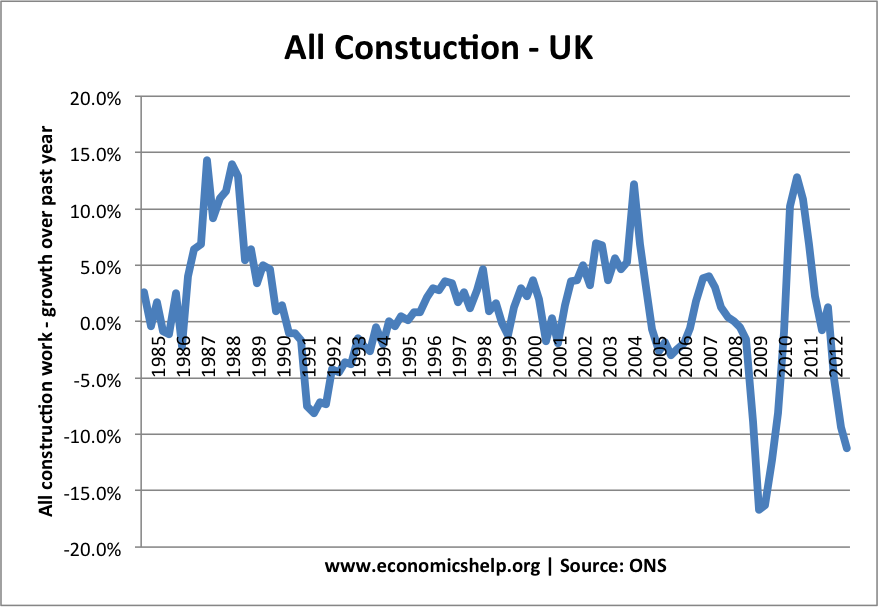 Recently, the biggest falls have been in the private industrial and private commercial sectors of construction.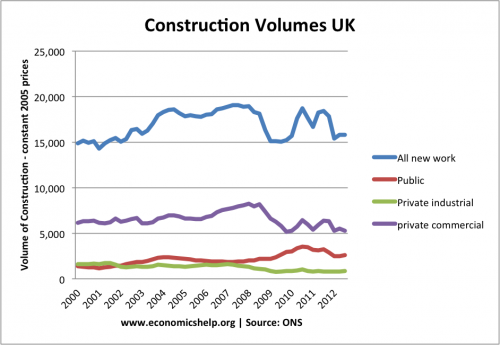 The private commercial sector provides the largest contribution to the decline in the third quarter of 2012, but is offset somewhat by an increase in new infrastructure work.
Housing Construction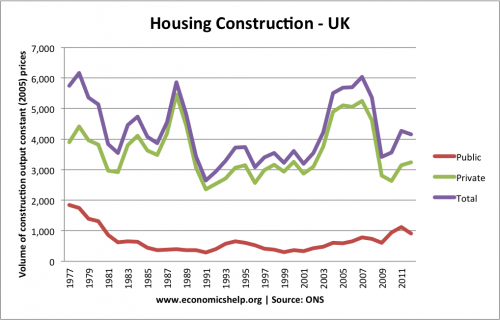 Housing construction also remains depressed in the aftermath of the fall in house prices and fragile housing market.
The Markit/CIPS Construction Purchasing Managers' Index rose to 50.9 from 49.5 in September, just above the 50 mark that separates growth from contraction. But, Markit economist Tim Moore said "The bigger picture remains bleak,"
Difficulties Facing Construction Sector
Weak demand due to slow economic recovery.
Difficulty in accessing finance for investment due to ongoing conservatism of banks in aftermath of credit crunch.
Low confidence in future economic prospects meaning many risky investment projects have been shelved.
Rising energy prices leading to higher costs and lower profit margins.
Excess supply in industry leading to over suppl.
Future government budget cuts, could lead to further weak construction output from the public sector.
Importance of UK Construction Sector
The UK construction industry consists of over 300 000 firms employing over 2 million people in a multitude of roles.
The UK construction sector contributed 8.3% of the nations GVA (Gross Value Added) in 2008.
Construction Sector also includes related service industries, such as construction materials and products; suppliers and producers; building services manufacturers, providers and installers; contractors, sub-contractors, professionals, advisors and construction clients and those organisations that are relevant to the design, build, operation and refurbishment of buildings. (BIS)
Important for determining supply side growth and preventing future bottlenecks.
Shortage of housing construction can put upward pressure on house-prices due to supply constraints.
Related