The mobile phone market is a good example of how to explain some basic concepts of supply and demand. For example, it shows how improved technology and increased supply – can reduce price, even as demand rises.
According to Evalueserve – Nokia, one of the world's largest mobile manufacturer, recorded an approximately 39 per cent fall in its average selling price (ASP) between 2005 and 2009.
The good news for users is that over the next five or ten years, the price of mobile phones is forecast to fall. This is primarily due to the increased competition and increased supply from major producers. As markets reach saturation point, demand will increase at a slower rate. (5% a year until 2015)
Supply and Demand Diagram for Falling Mobile Phone Prices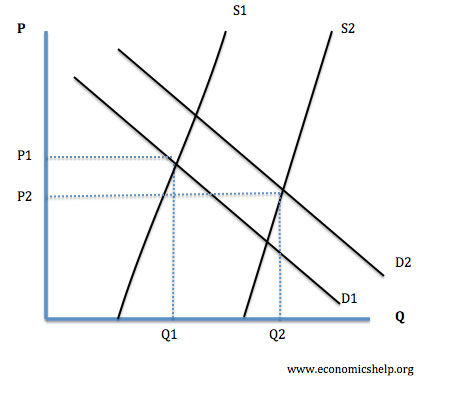 This article, suggests that a key factor in reducing prices will be the growth of markets in developing economies, such as India and China. Typically, these economies have smaller disposable income, so there will be greater pressure for manufacturers to price competitively. Combined with improvements in technology, and greater competition, prices could fall up to 70 per cent (4.8 billion of active mobile phones across the globe are below USD 100 by 2015), according to a recent study.
Mobile Phones in UK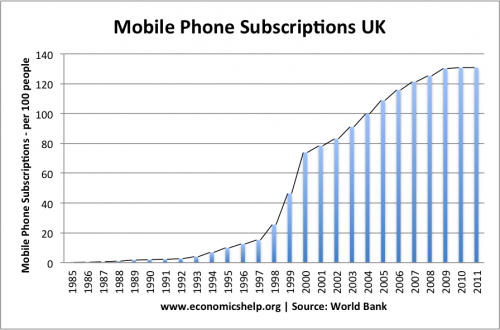 Mobile phone subscriptions have reached saturation point in UK. But, supply continues to increase as firms report high levels of inventories (stocks of phones).
Another factor that helped reduce the price of mobile phones is that telecommunication firms have often subsidised mobile phone handsets to lock customers into profitable contracts. Firms are happy to make a loss on selling a mobile phone, if they can capture the customers cost of paying telephone calls. [1]
History of Mobile Phone Prices