Universal credit is a new means-tested benefit, which, in October 2013, will replace several different means-tested benefits, such as:
income-based Jobseeker's Allowance
income-related Employment and Support Allowance
Income Support
Child Tax Credits
Working Tax Credits
Housing Benefit.
The aim of universal credit is to provide a simplified means-tested benefits system, which provides income to those out of work and those on low incomes. The universal credit will be made up of a standard allowance, plus there will also be possible supplementary elements to the claim:
Child Element / Disabled Child Additions
Childcare Element – (limits on the number of hours worked to be eligible will be removed.)
Carer Element
Limited Capability for Work Element
Housing Element.
It is designed to be graduated so that as income increases, some benefits are still received. The idea is to avoid the poverty trap – where there is a disincentive to work longer hours because the person loses all benefits, pays higher taxes and ends up without any increase in discretionary income.
Previous benefits like income support had a 100% withdrawal rate. But, under universal credit, financial support will be reduced at a steady rate offering a transition period where benefits are still paid in a new job.
To be eligible for universal credit, the recipient must be willing to accept a 'claimant commitment'. This includes a willingness to take a job offered, a willingness to provide a CV and attend any relevant training or job interviews.
Other features
It is expected most people will apply online and manage claim through online account. The idea is that it will be more responsive and people will be able to see how much income they will get if they get a job or work longer hours. However, in 2011, an early day motion in the House of Commons noted only 15% of people in deprived areas had visited a government website in the past year. This motion noted that it might be difficult to process claims online, and there may be a need for greater face to face interaction.
Support for housing costs goes direct into the monthly universal credit payment.
There will be a benefit cap. This aim to prevent people receiving more benefits than the average weekly wage after tax and NI.

For couples and lone parent households, the cap will be £500 a week
For single adults, the cap will be £350 a week
Universal credit will not replace these benefits:
 Carer's allowance
 Child benefit
 Council tax benefit (will be abolished in April 2013 and replaced by a system of localised support)
Disability living allowance (will be replaced by Personal Independence Payment from 2013)
 Maternity allowance
 Parts of the social fund
 Contributory Employment and support allowance
 Contributory jobseeker's allowance
 Industrial injuries disablement benefit
 Pension credit
 Personal independence payment
 Statutory maternity pay
 Statutory sick pay
 War pensions
Criticisms/concerns of universal credit
Benefit cap could harm large families and people living in expensive areas like London, where rents are very high.
People may be reluctant to pursue an online application and update changes in their circumstances.
Concerns that people may be declared fit to work, when they have less visible problems, such as mental instability or depression.
The 'claimant commitment' means people have to take any job offered, including the 'workfare' schemes where people may have to work for 6 months unpaid. Firms may exploit this opportunity to gain 'free labour' and mean real jobs are not created.
Many people on a low income are used to weekly income. Getting paid monthly may lead to people short of cash at the end of the month. This may lead to even higher demand for pay day loans and loan sharks – creating problems of debt with high interest.
Cap on housing benefit may force people to move to poorer areas, causing increasing the phenomena of low-income  'ghettos'.
Concern the administration procedure is not ready to deal with the applications and payments. (Universal credit in meltdown)
Evaluation of universal credits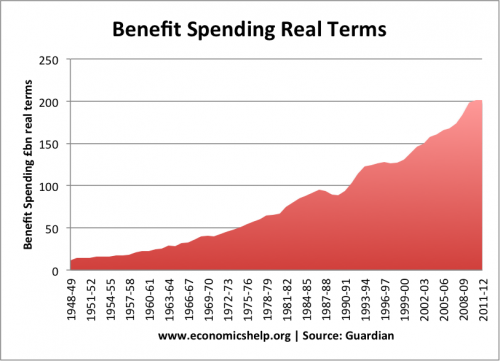 The welfare bill for the UK has been increasing exponentially. In real terms, it is twelve times greater than the initial bill for the welfare state. Reforms are necessary to prevent the welfare bill growing more rapidly than the taxpayers capacity to pay. The hope is that the government's welfare reforms will bring welfare spending under control, and make a contribution to reducing the national debt.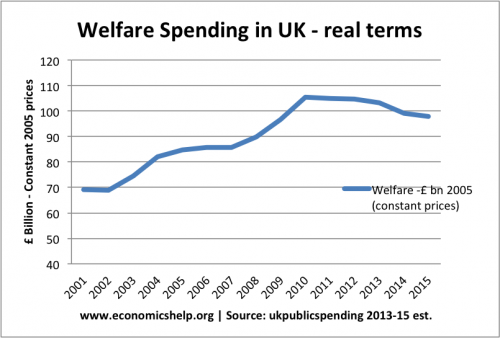 A lot depends on how it is administered and whether there is sufficient flexibility, e.g. alternatives to applying online.
It depends on how strict/fair administrators are in deciding whether people are 'unreasonably' refusing to take jobs.
Many of the issues around universal credit, such as workfare scheme and determining eligibility are already issues – whatever the benefit is called.
Related