Readers question. Recent data suggests an increase in the current account deficit – is the depreciation of the UK pound ineffective or is it just a blip in exports that will resolve itself next quarter?
The UK has experienced a persistent current account deficit since the mid 1980s (see: UK current account for more graphs)
Initially, the current account improved at the start of the recession, but there has been a widening of the deficit in recent quarters.
In the last Q2 2013, the current account 'improved' from a deficit of 5.5% to 3.2% of GDP. But, the overall picture shows the UK has had a surprisingly large current account deficit since the end of 2011. This is more than a blip. The hope is that the UK current account will continue to improve. But, in the past few quarters, most analysts have been surprised by the size of the UK current account deficit.
The size of the current account deficit is unexpected given the fact:
The exchange rate has depreciated 20% since 2007
Domestic demand is still weak and the economy just recovering from recession
Shouldn't a depreciation in the currency improve current account?
Economic theory, suggests that a depreciation should improve the current account. This is because after a depreciation:
Imports become more expensive, and exports more competitive. If demand is relatively elastic, this should cause an increase in the value of export and a decrease in the value of imports.
See also: Exchange rate and current account
However, the effect of the depreciation has been limited by these factors
Demand for UK exports appears to be highly price inelastic (at least in short term). The fall in price has only caused a modest increase in demand.
Evidence that UK firms have not been passing the full price effect of the depreciation onto export customers. (firms have preferred to have a bigger profit margin)
EU recession has led to very weak export demand from our main trading partners. Although UK exports are more price competitive, the demand isn't there.
Import demand has remained strong despite economic weakness.
Export demand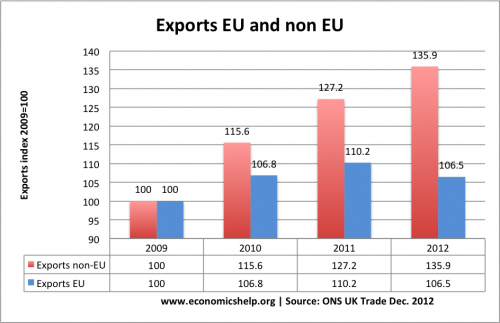 Exports to non-EU countries have increased much more than exports to the EU. However, exports to emerging markets (BRIC) countries like Brazil, India and China are relatively small % of GDP.
What explains size of UK current account deficit in aftermath of recession and depreciation?
I don't have time to make detailed investigation. But, I could speculate these factors are a cause:
Relative weakness in UK manufacturing sector which has been a feature of past few decades.
Relatively low saving ratio and high marginal propensity to spend on imports.
Although the UK economy is slowly emerging from recession, the EU recession has been slightly deeper depressing demand for UK exports.
Demand for exports price inelastic, so depreciation has had little effect on boosting demand.
Financial flows into UK help finance a current account deficit.
Related