We tend to consider the impact of immigration on our own country. – How do immigrants affect UK unemployment? UK housing? UK labour markets? and GDP (e.g. economic impact of immigration). However, the flip side of the coin, is how does migration affect developing economies? Recently, the World Bank reported that migrants working in developed economies sent a record breaking level of remittances back to the developing world.
In 2012, the World Bank estimates that migrant workers sent $406 billion in savings to their families in developing countries. (World Bank blog)
The World Bank expects this to reach $534 billion by 2015.
Remittances sent to all countries in 2012 (developing and high income) was $534 billion.
These remittances were three times greater than aid budgets to the developing world.
The figures for remittances underestimate the actual total because they only include money sent through official channels.
The World Bank state that banks and transfer unions are taking an unfairly high commission (up to 20%) with the average transfer fee being 9%. Sub Saharan Africa has one of highest costs of sending money to. Reducing commission fees would substantially improve the benefit of remittances.
Remittances and other Transfer Flows to Developing Economies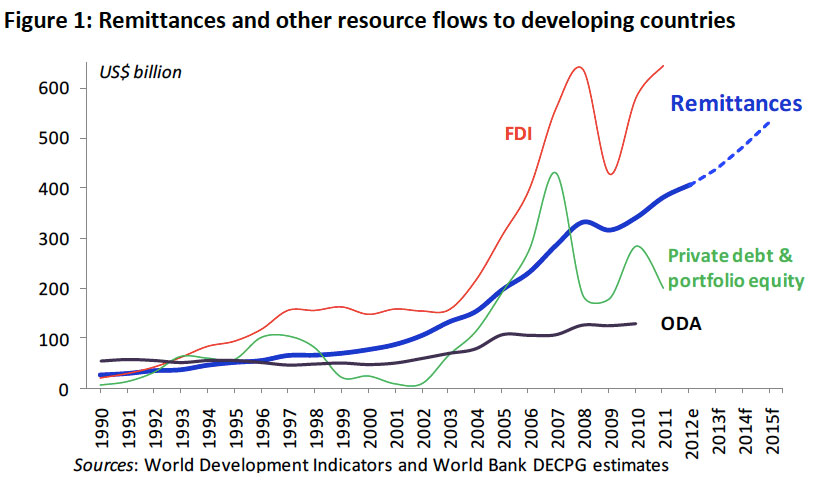 source: World Bank Migration and Development Brief, pdf
Remittances growing faster than overseas development aid ODA. Remittances are less cyclical volatile than FDI (Foreign Direct Investment) and portfolio equity.
Top Recipients of Remittances
India ($70 billion)
China ($66 billion),
Philippines ($24 billion)
Mexico ($24 billion)
Nigeria ($21 billion)