Following on from a recent post about companies who avoid paying tax. It's interesting to try and understand why some companies have been much more vulnerable to protest about the issue – but some companies seem almost insulated from protest.
For examples, Starbucks has been hit by high profile boycott. Protesters from UK Uncut have been making their voice heard both outside and inside Starbucks across the country. (It has proved good news for Costa, who have recorded a record jump in sales over recent weeks – Costa attract 4m customers a week at Guardian)
It seems there is a certain receptivity to boycotting a high street coffee shop like Starbucks. In Oxford, if you don't want to go to Starbucks, there are three Costas all within a couple of minutes walk. As a result of the furore over tax payments, Starbucks brand image has definitely  been adversely affected. According to Market research, Starbucks is now less trusted than Parliament (link) and only slightly  more than News International.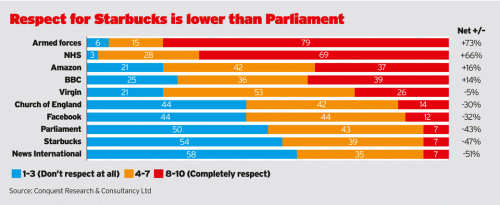 However, interestingly, Amazon has been much less affected by the fallout than Starbucks. It's much harder to organise a boycott of online companies. It's more fulfilling to go on the high street and offer a physical protest. As a customer, there is a strong incentive to join in the boycott.
But, while we are happy to walk a few extra metres to buy a different coffee,  when it comes to the new monopoly Goliath's of the modern age – Amazon and Google, would people feel strong enough about tax avoidance to look for alternatives?