Readers Question: Which is more useful for determining living standards – GDP/capita and GDP/working hour
GDP per capita measures national income per population
GDP per working hour measures national income / total hours worked in the economy.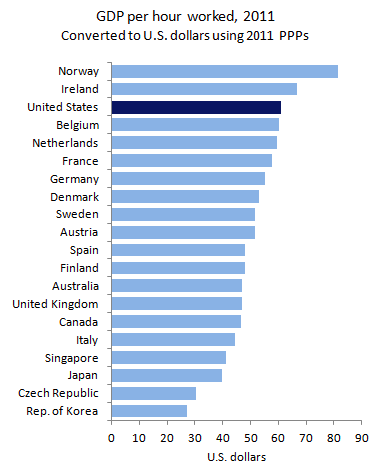 source: US Bureau of labour statistics
GDP per capita would probably be the first measure to look at. It is the most obvious reflection of national income per person.
GDP per hours worked is also useful for determining the productivity of an economy. Though it depends what determines the number of hours worked – For example, is a low number of hours (and high GDP per hours worked) due to unemployment or greater efficiency leaving more time for leisure?
GDP / working hour could be inflated if there is a rapid drop in employment and hours worked. For example, if unemployment increased by 1 million because firms became much more strict in getting rid of surplus labour (causing structural unemployment), this would cause an increase in labour productivity and higher GDP per working hour. But, the rise in unemployment is a clear drop in living standards.