This privatization was left to the last for a number of reasons
Loss-making nature of British Rail
Heavy dependence on external subsidies for rural and provincial services
The need to see safety as an overriding priority
Positive externalities of railways, – taking traffic off congested roads
BR was an integrated national network with a complex system of fares and railcards.
Railways had an extensive national infrastructure
Privatised Rail Structure
Railtrack – privatized in 1996. Railtrack is responsible for maintenance and investing in the infrastructure. It sets charges for the TOCs and organizing the national timetable. After a series of financial difficulties, the private company of Railtrack closed down. The management of rail infrastructure and stations past to the state-owned National Rail.
Train Operating Companies (TOC). These are the private companies who have the right to run rail franchises on part of the national network. In 2018, there are 12 major companies, such as Virgin West Coast managed by (Virgin Group 51% and Stagecoach 49%)
Freight Operating Companies (FOC) Companies such as Freightliner transport goods and freight across the national network.
Rolling Stock companies (ROSCOS) Three companies own all of the passenger locomotives and rolling stock this is leased to the TOCs
Office of Road and Rail Regulator (ORR) – principal function is to safeguard interests of passengers while ensuring rules of competition between TOCs are fairly operated
Arguments for Rail Privatization
Private firms have the incentive to increase efficiency through reducing costs and cutting waste
Increased concern and responsiveness for consumer needs
In theory, should enables a reduction in subsidies to firms. In practice, the outcome has been mixed. Subsidies fell until Hatfield Railcrash of 2000. The subsidy per passenger is now £2 – less than the £4.50. However, this has been helped by the growing passenger numbers.
Some private companies have invested in improving services, offering more trains and even opening more rail-lines. A good example is Chiltern Railways which have pioneered new services from Birmingham to London (providing more competition) and also reopening a service from Oxford to Marylebone.
Traffic since privatisation has increased significantly.
Rail privatisation has seen a period of rising passenger numbers.
6. Rail Freight has grown and private companies have made the investment in new rail terminals. This growth has turned around many years of decline.
Arguments Against Rail Privatization
Rail is a natural Monopoly, therefore there is little scope for competition because duplication would lead to higher average costs and not be practical. With limited scope for competition, privatisation is, in effect, creating private monopolies which are not serving the interest of competition
Franchising has only little scope for competition because a contract is for 7-10 years. This gives firms a sense of security. There is need for regulation.
Public bailouts. Many private franchises have needed to be bailed out by the government. The frustration for users, is that when private firms are profitable, their shareholders benefit, but when they fail, the taxpayer has to bailout the service. For the East Coast mainline, taxpayers have had to bailout Virgin and Stagecoach
Lack of organization of the national network. E.G complications over tickets which use more than one TOC
It is not clear where responsibility for safety lies in a fragmented network. E.G Railtrack stated that it is impossible to lower prices, increase investment for improved safety and meet targets for improved punctuality
It has not been easy to cut subsidies, many argue the government needs to spend more subsidies to improve safety
Less profitable services are always under threat.
Rail fares have risen above the rate of inflation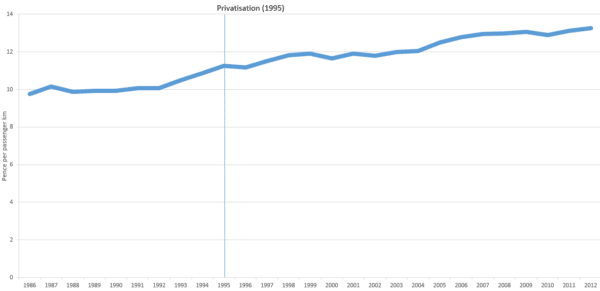 Key Words
Franchising
This involves companies making bids for the right to run a train service. E.g Virgin won the right to run cross country and West Coast Intercity services The company then has the right to run the service for a period of 7 yrs.
Related