The Balance of Payments is the record of a country's transactions / trade with the rest of the world.
The balance of payments consists of:
Current Account (trade in goods, services + investment incomes + transfers)
Capital Account / Financial Account (capital and financial flows, net investment, portfolio investment)
Errors and omissions. It is hard to collect all data so some is missed out.
In theory there should be a balancing between capital and current / financial account. If there is a current account deficit, there should be a surplus on the capital / financial account.
UK Current Account
The UK current account deficit was £13.0 billion in Q2 2013 (3.2% of GDP) at current market prices, down from 5.5% in Q1 2013. (page updated 2nd October, 2013)
In 2012, the UK's current account deficit was £59.8 billion.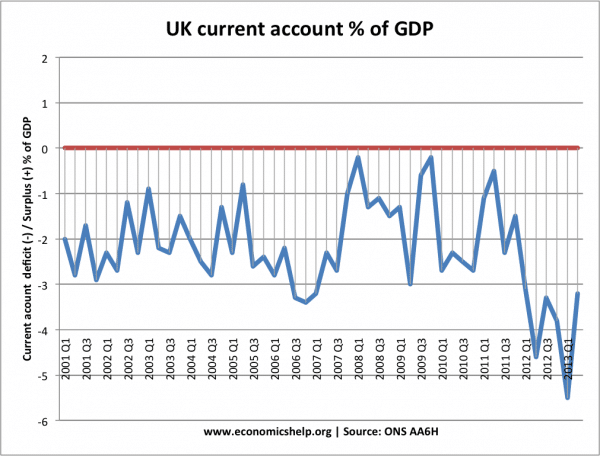 Source: ONS Balance of Payments  |  Current account as % of GDP
This shows a deterioration in the current account. The current account deficit for Q3 2012 was over £12bn (Seasonally adjusted measure). Q3 2012 as a % of GDP 3.2%