Readers Question: Why is public money (taxes) only 47% of the UK's GDP spent on public spending?, where is the rest of my money being spent. This is a genuine question from a 58 year old who has no real concept of how it all works,but has an innate understanding that I am being screwed.
GDP is total national income. This is also the same as the total national output. In the UK total GDP is around £1.6 trillion. The government spend around £700bn (2012/13) or 43% of GDP.  See: UK government spending
It means the rest 57% £900bn is spent by the private sector – business investment and consumer spending.
To answer the question. After you have paid all the taxes to the government, the rest of the money is being spent by yourself.
In a very simple model, assume the average income in society is £10,000. The government collect £4,300 from you in tax, and then the government spend £4,300 on health, education, welfare benefits e.t.c. The government is spending 43% of average income. It leaves you £5,700 to spend on consumer goods and services.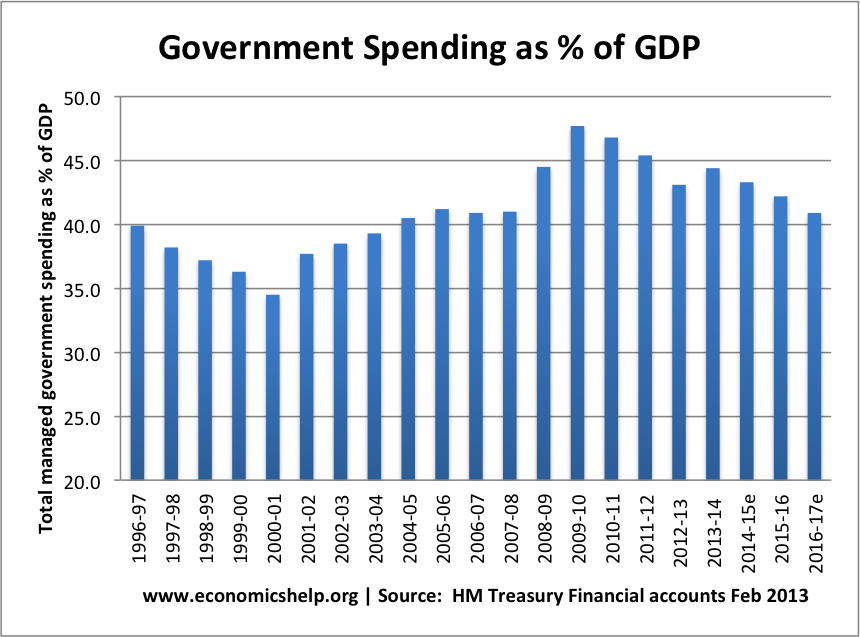 Government spending as a % of GDP has fluctuated around 40% of GDP since the mid 1960s.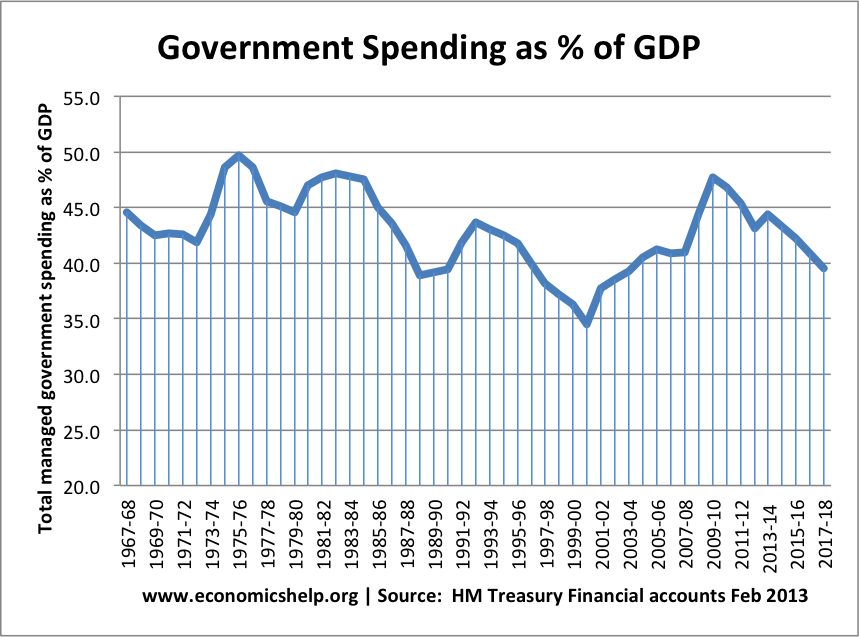 Government spending is financed by
Tax
Borrowing from the private sector – selling bonds to investment trusts e.t.c.
If government spending increases, it means they will have to finance it through higher taxes or borrowing.
Tax revenue as a % of GDP
Pre the First World War, government spending was a lower percentage of GDP. Perhaps around 10-15% around 1900. (this is a guess). In 1900, taxes were much lower. Income tax was relatively low and VAT hadn't been introduced. This meant the government had much lower revenue. But, also there were few public services. If you were unemployed, there were no benefits, but you were probably sent to the workhouse.
Government spending as a % of GDP varies around the world.
For example, US public spending is around 35% of GDP. This is lower than many Western European economies, e.g. France 52%. But, the downside is that in the US you will have to spend considerable sums on private health care.
(List of government spending by country)
It is debatable whether you are better off paying higher taxes to the government  -or paying lower taxes + high private health insurance premiums.
Government spending as a % of GDP is no guarantee as to whether you are being ripped off or not.
Related