In 2015/16 the UK government is forecast to spend a total of £753 billion.
Source: HMT public spending statistics (May 2017)
Also see: HM Treasury PESA (released 21 July annually
Real term trends in public spending
Source: HMT public spending statistics (May 2017)
   UK Pension spending
More details on pension spending.
Government spending as % of GDP
Years 2018/19/20, forecasts
Forecasts of Government spending from Autumn Statement of Dec. 2014
Source: OBR, Dec 2014
This is outdated, but I leave in because it illustrates how chancellor George Osborne hoped strong economic growth would enable government spending to fall to 35% of GDP by 2018/19. However, that will not happen because of lower than expected growth and unexpected government spending.
Government borrowing
Background to government spending
In 2000-01, several years of government spending restraint combined with rising economic growth, saw government spending shrink to under 35% of GDP. Between 2001 and 2007-08, spending rose to over 40% of GDP due to sustained increases in spending on health, education and welfare spending.
Between 2008-09 and 2009-10, the UK saw a large drop in real GDP of 6%, but due to automatic stabilisers government spending increased (e.g. higher unemployment benefits). This caused government spending as % of GDP to rise to 47%.
Government spending as % of GDP is forecast to fall closer to 40% of GDP by 2016-17 (if growth targets are met)
Historical government spending
Government spending in 1970s and 1980s. This graph shows real spending adjusted for inflation.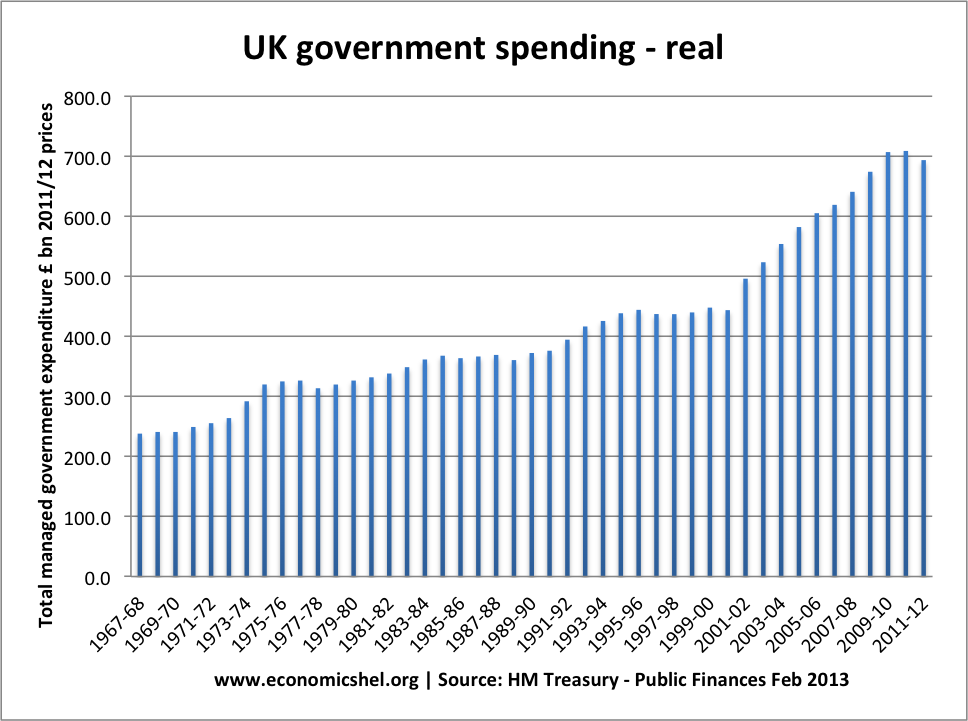 UK government spending as % of GDP since 1900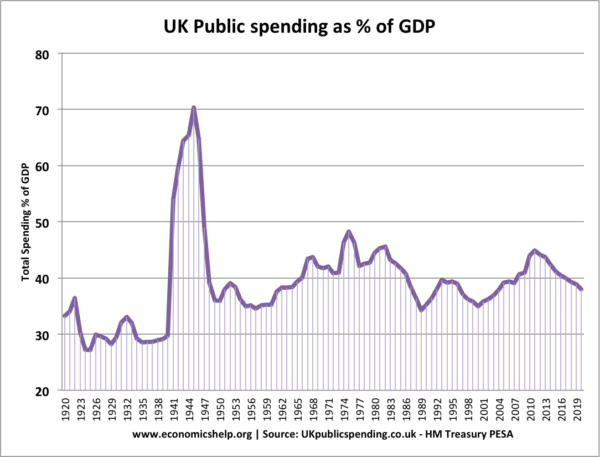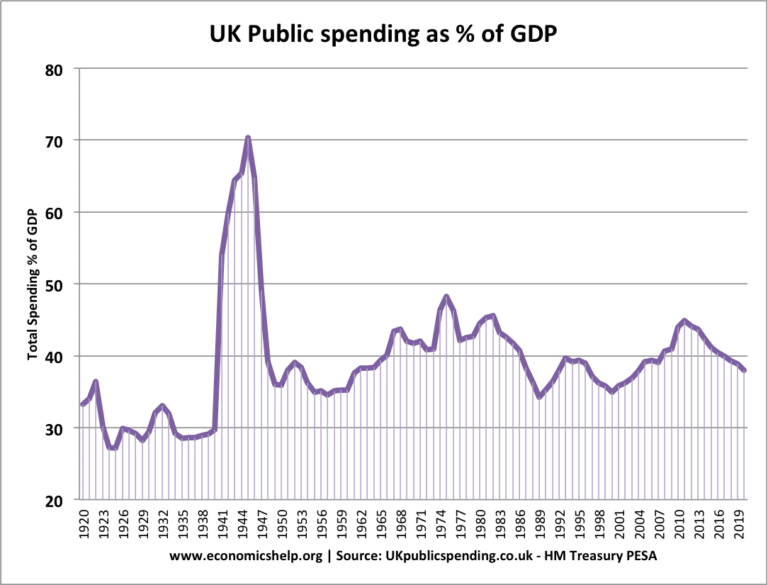 Between the late 1940s and 2000, government spending as a % of GDP has stayed around 40%.
But, actual real government spending triples from £100bn to £300bn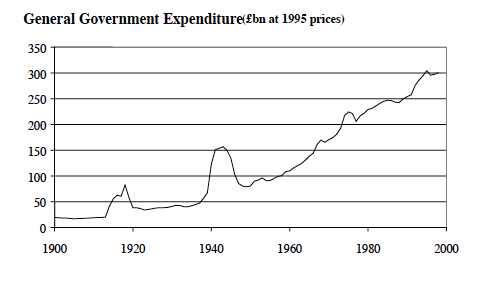 Government spending in real terms
(at 1995 prices means the actual spending is adjusted for inflation since 1995.
This is due to an increase in GDP. A similar tripling of real GDP from £4,000 per capita to over £12,000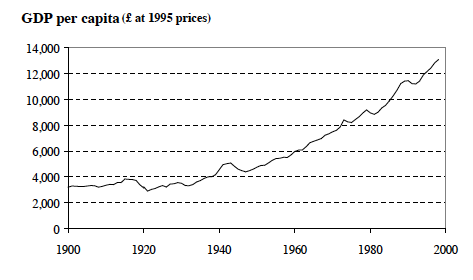 What does the Government spend its money on?
See posts on: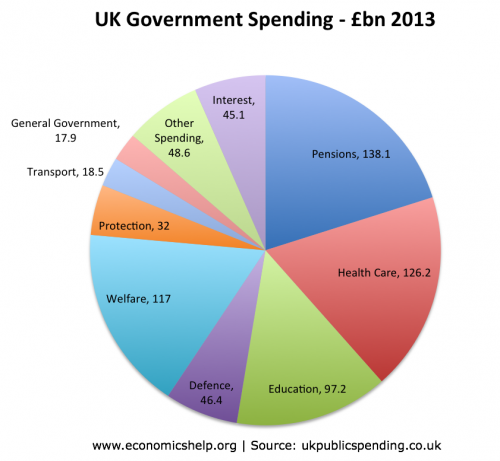 Further reading – What does the government spend its money on
Related issues Government Taxes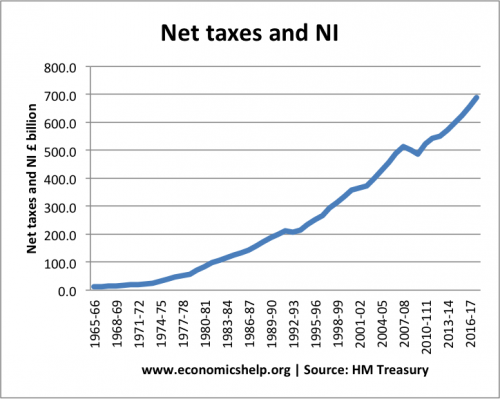 Government taxes as % of GDP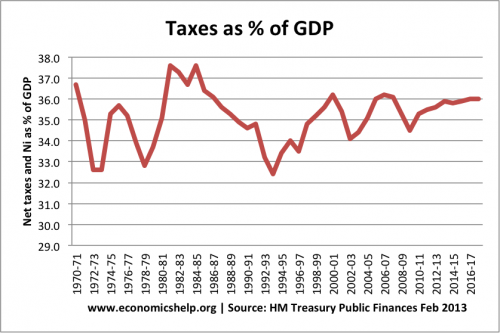 It is worth noting that net public sector receipts in 2011-12 were 36.9% of GDP – This is higher than total tax revenue of 35%. This is because the government can receive income from the proceeds of privatisation or selling mobile phone licenses.
Public sector debt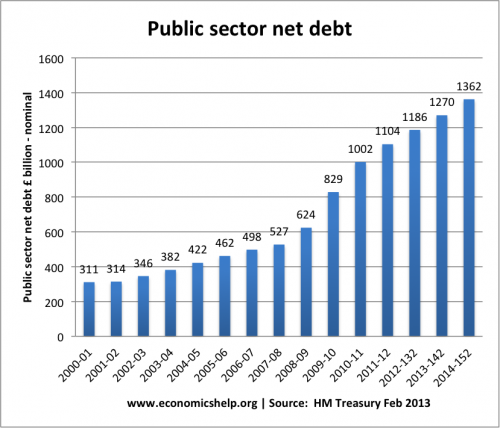 Public sector debt – nominal – more at UK National debt
Source of Data on government spending
Related Posts
Data Government Spending £ billion at 2010/11 Prices
| | |
| --- | --- |
| 1967-68 | 238.0 |
| 1968-69 | 240.8 |
| 1969-70 | 240.8 |
| 1970-71 | 249.1 |
| 1971-72 | 255.4 |
| 1972-73 | 263.9 |
| 1973-74 | 291.9 |
| 1974-75 | 319.9 |
| 1975-76 | 325.0 |
| 1976-77 | 326.4 |
| 1977-78 | 313.6 |
| 1978-79 | 319.8 |
| 1979-80 | 326.4 |
| 1980-81 | 331.8 |
| 1981-82 | 338.1 |
| 1982-83 | 348.7 |
| 1983-84 | 361.5 |
| 1984-85 | 367.8 |
| 1985-86 | 363.7 |
| 1986-87 | 366.5 |
| 1987-88 | 369.1 |
| 1988-89 | 360.5 |
| 1989-90 | 372.3 |
| 1990-91 | 376.1 |
| 1991-92 | 394.5 |
| 1992-93 | 416.5 |
| 1993-94 | 425.7 |
| 1994-95 | 438.5 |
| 1995-96 | 444.2 |
| 1996-97 | 437.2 |
| 1997-98 | 437.0 |
| 1998-99 | 439.9 |
| 1999-00 | 447.9 |
| 2000-01 | 443.7 |
| 2001-02 | 496.1 |
| 2002-03 | 523.5 |
| 2003-04 | 553.9 |
| 2004-05 | 582.1 |
| 2005-06 | 605.2 |
| 2006-07 | 619.1 |
| 2007-08 | 640.8 |
| 2008-09 | 674.2 |
| 2009-10 | 707.0 |
| 2010-11 | 708.9 |
| 2011-12 | 693.6 |
Government spending as % of GDP
| | |
| --- | --- |
| 1967-68 | 44.6 |
| 1968-69 | 43.4 |
| 1969-70 | 42.5 |
| 1970-71 | 42.7 |
| 1971-72 | 42.6 |
| 1972-73 | 41.9 |
| 1973-74 | 44.4 |
| 1974-75 | 48.6 |
| 1975-76 | 49.7 |
| 1976-77 | 48.6 |
| 1977-78 | 45.6 |
| 1978-79 | 45.1 |
| 1979-80 | 44.6 |
| 1980-81 | 47.0 |
| 1981-82 | 47.7 |
| 1982-83 | 48.1 |
| 1983-84 | 47.8 |
| 1984-85 | 47.5 |
| 1985-86 | 45.0 |
| 1986-87 | 43.6 |
| 1987-88 | 41.6 |
| 1988-89 | 38.9 |
| 1989-90 | 39.2 |
| 1990-91 | 39.4 |
| 1991-92 | 41.9 |
| 1992-93 | 43.7 |
| 1993-94 | 43.0 |
| 1994-95 | 42.5 |
| 1995-96 | 41.8 |
| 1996-97 | 39.9 |
| 1997-98 | 38.2 |
| 1998-99 | 37.2 |
| 1999-00 | 36.3 |
| 2000-01 | 34.5 |
| 2001-02 | 37.7 |
| 2002-03 | 38.5 |
| 2003-04 | 39.3 |
| 2004-05 | 40.5 |
| 2005-06 | 41.2 |
| 2006-07 | 40.9 |
| 2007-08 | 41.0 |
| 2008-09 | 44.5 |
| 2009-10 | 47.7 |
| 2010-11 | 46.8 |
| 2011-12 | 45.4 |
| 2012-13 | 43.1 |
| 2013-14 | 44.4 |
| 2014-15e | 43.3 |
| 2015-16 | 42.2 |
| 2016-17e | 40.9 |
| 2017-18 | 39.5 |