Readers Question: What does the Government spend its money on?
The government spends money for a variety of reasons:
Reduce inequality (welfare payments like unemployment benefit).
Provide public goods (fire, police, national defence)
Provide important public services like education and health (merit goods)
Debt interest payments.
Transport
Military spending
UK public sector spending 2023-24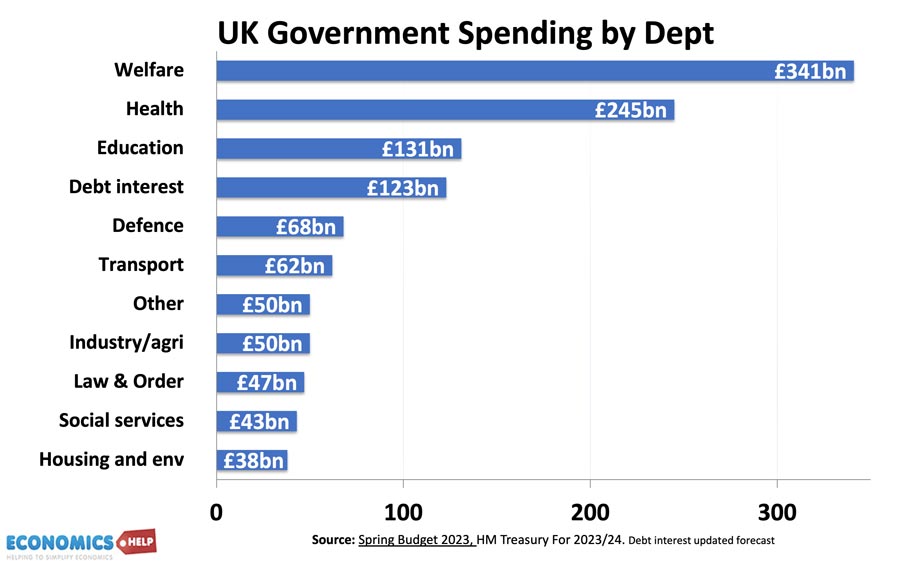 In the UK, the biggest department for public money is social security. This takes almost a quarter of all public spending. It goes on financing a variety of benefits (State pensions, public sector pensions, housing benefits, income support, disability/incapacity benefits, unemployment benefits).
EU spending is £14.7bn (2014). Net spending £9.9bn. See more at the cost of EU
See also: Public Spending at UK Gov
---
Main areas of Government Spending 2015
Public Pensions       £150 billion

Sickness and disability

£40bn
Old age pensions £107bn

National Health Care       + £133 billion
State Education       + £90 billion

Secondary education – £25bn
University education – £11bn
local education spending – £48bn

Defence       + £46 billion
Social Security       + £110 billion
State Protection       + £30 billion
Transport       + £20 billion

Railway – £5.2bn
Roads – £3bn
Local transport – £9bn

General Government       + £14 billion

Executive and legislative – £5.9bn

Other Public Services       + £86 billion

Social housing – £1.2bn
Waste management – £9bn

Public Sector Interest       + £52 billion
Cost of EU
Gross payment to EU – £17.2bn
Net payment to EU – £8.6bn
FT – EU cost
Total Spending       = £731 billion
Other Notes
Foreign Aid £7.8 billion or 0.7% of GDP 2011/12 (Cost of Foreign aid)
Job Seekers allowance £4.9bn (or 0.7% of total spending) 2013/14
The largest area of government spending?
By far the largest area of government spending is social protection. £222bn (2015) 34% of government spending. However, this budget can be split up into different compartments. The biggest single item of government spending is public pensions, with NHS spending in 2nd place.
What percentage of UK spending is on the EU?
If you take gross payments (ignoring EU payments to the UK), in 2014 – £14.7 billion was transferred from the UK to the EU in official payments. This is 2% of government spending.
If you take the £7.1bn net contribution, it works out at 0.9% of public sector spending or £110 per person per year. It is 0.4% of GDP.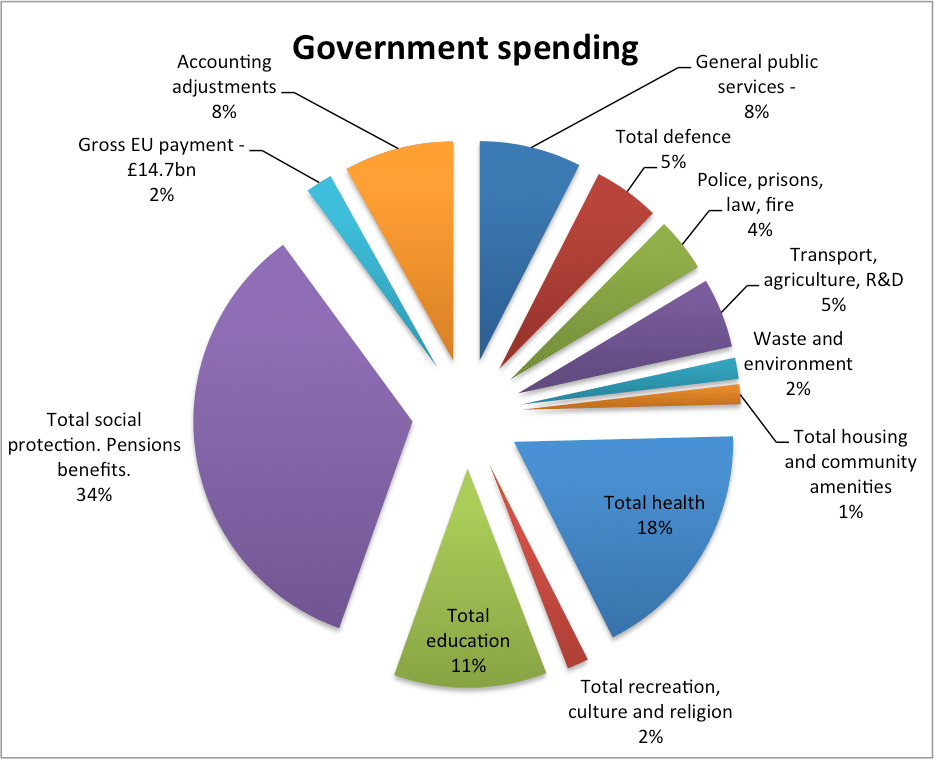 Total Government Spending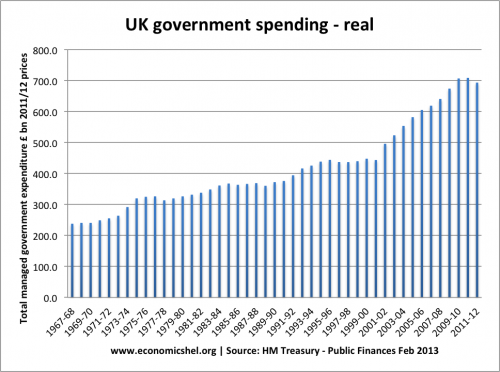 Government Spending as % of GDP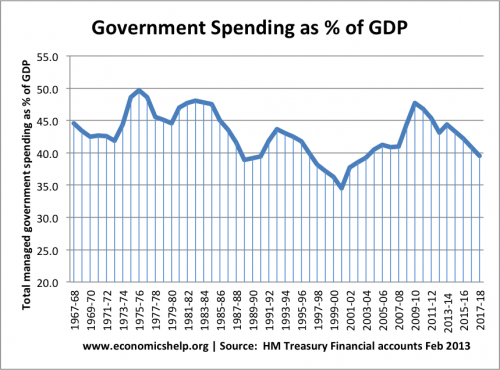 In 2010, the government embarked on tough spending cuts to try and reduce the budget deficit. However, spending on debt interest payments rose to £48bn. Also, spending on welfare benefits rose because of the increase in unemployment. Overall the government plan to keep spending static in real terms (adjusted for inflation)
See also: Total UK government spending
Changes in UK government spending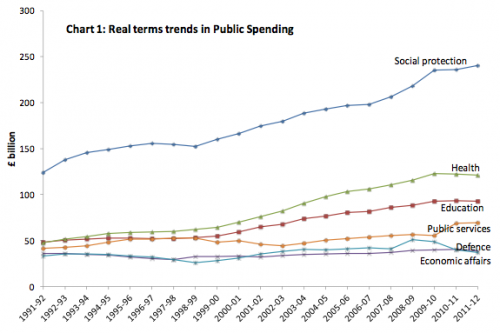 source: HM Treasury
In the past 20 years, in real terms, the biggest increase in government spending has been in the area of health care.
Welfare Payments
Welfare benefits (billion, bn)
Housing benefit    £16.94 bn
Disability allowance    £12.57 bn
pensions credit +MIG    £8.11 bn
Income support    £6.92 bn
Rent rebates    £5.45 bn
Attendance allowance    £5.30bn
Incapacity    £5.30 bn
Jobseekers allowance    £4.90 bn(0.7% of total spending)
Council tax benefit    £4.80 bn
employment + Support    £3.58bn
Sick + maternity pay    £2.55 bn
Social fund    £2.37 bn
carers allowance    £1.73 bn
financial assistance    £1.24 bn
See more on UK social security payments
The welfare budget includes spending on unemployment, income support (universal credit), housing benefit and disability allowances. It increased to £105bn in 2011-12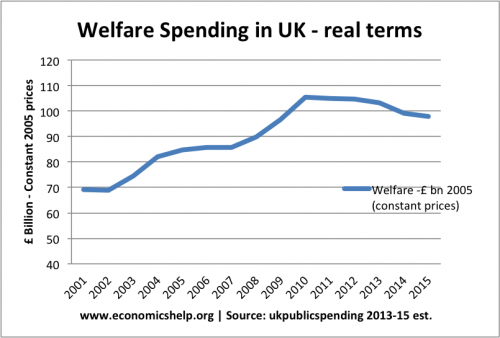 As a percentage of GDP, welfare spending  is just over 7% of GDP.
Total Benefit Spending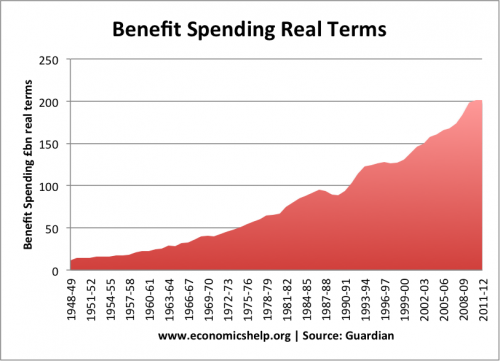 Total benefit spending includes the welfare budget, plus also the total spending on pensions. The total benefits bill for the UK was £200bn in 2012. See growing size of welfare state
Related