Q2: Why are there millions of people unemployed even when the economy is booming?
During periods of strong economic growth, we can often experience high rates of unemployment. Firstly, there may be structural unemployment. This occurs when the unemployed are unsuited or unable to fill job vacancies. For example, a booming economy may have a growing number of jobs in high-tech industries, but many unemployed may not have the right skills for this job.
Alternatively, we could see geographical unemployment. This occurs when the economy is booming in the south, but unemployed workers in the north are unable or unwilling to move to the south (for example, difficulty of getting housing in London, where jobs are available.
Inflexible labour markets. Another potential problem is that labour markets may be inflexible. For example, high minimum wages or costly regulations may discourage firms from employing people, despite high growth.
Frictional unemployment. In a modern economy we usually see some inevitable frictional unemployment – when people are in between jobs and taking time to find the job best suited to their skills. Therefore, in practise, full employment is never 0% – we can always expect around 2-3% unemployment due to this frictional unemployment. – Temporary short term unemployment
Another potential issue is that some types of economic growth could involve less employment opportunities. For example, the software industry may be able to add high value added to GDP, without employing a large quantity of workers. Labour intensive industries on the other hand may be closing down and these unskilled manual workers find it difficult to move into other areas. There have been some concerns that recent global economic growth has been in industries with lower job creation than usual.
Good example of high unemployment in an economic boom
If we look at the UK economy in the 1980s, there is persistently high unemployment, despite strong economic growth in the mid and late 1980s. Unemployment was slow to fall, and even at the peak of the economic boom, unemployment was still over 1.6 million. One reason for this is that in the 1980s the UK economy went through a radical restructuring. Manufacturing output fell significantly, causing a big loss of jobs in the north and amongst unskilled manual workers. New jobs were created in the south and service sector, but there was a lag in these unemployed workers finding new employment.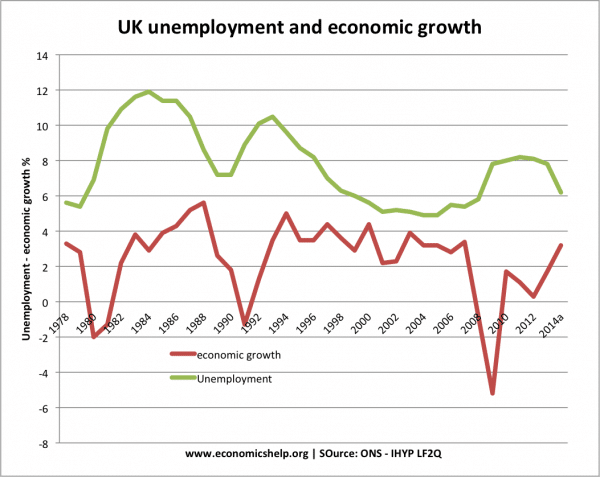 In the current economic recovery, UK unemployment has fallen much faster. Despite weak growth since 2010, UK unemployment has fallen by more than many economists expected, suggesting labour markets are becoming more flexible. It has also helped that wage growth has been very muted, encouraging firms to hire more workers.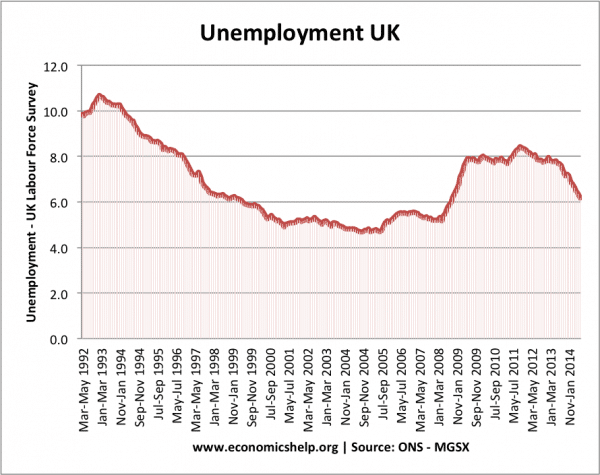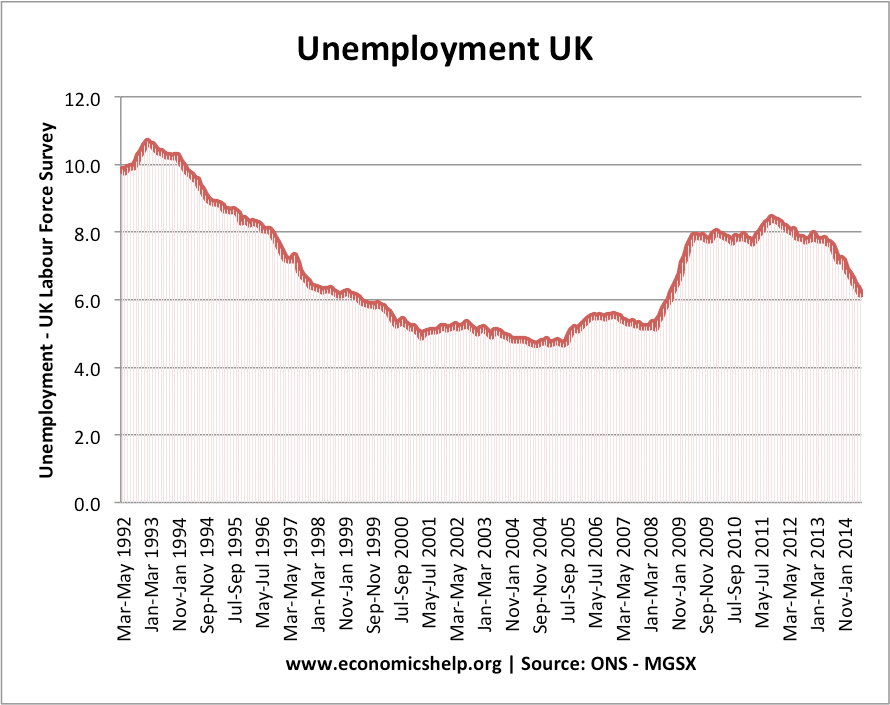 Related