Should visiting a GP doctor be free or should we pay to visit the doctor? It is an emotional issue as in the UK there is a strong acceptance of free health care, but what are the economic arguments? Could we have better health care by charging people to see their GP?
Benefits of charging to see your doctor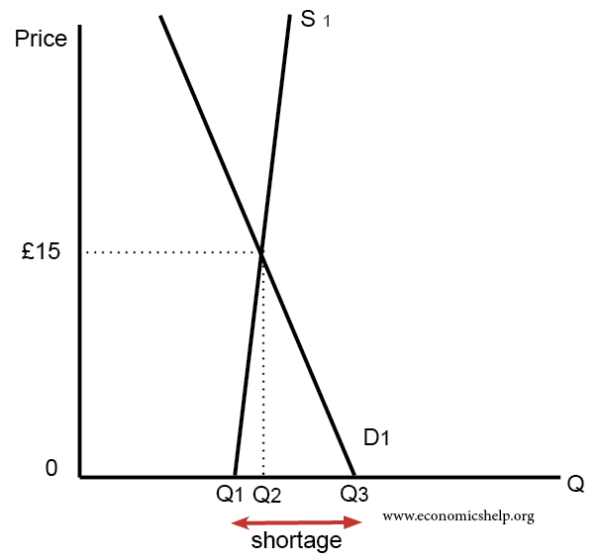 When health care is £0, demand (Q3) is greater than supply Q1. Charging £15 would cause a movement along demand curve and an expansion in supply and, in theory, end waiting lists.
Free appointments can lead to a shortage. Currently, in the UK there is a shortage of GP appointments. Demand outstrips supply and this leads to an average waiting list of over 2 weeks (link). This is frustrating for patients who need to be seen sooner.
If it is free, people may go even if they don't really need to. Charging for a doctor's appointment will reduce the incentive to go for very minor issues, leaving more appointments for people who really need it.
If people pay to see the doctor, they are more likely to turn up for their appointment. At the moment, there is no cost of missing an appointment and this leads to wasted appointments. According to NHS England "15 million general practice appointments are being wasted each year because patients do not turn up" (link)  The NHS claim that the cost is £30 per missed appointment, creating a total cost to the NHS of than £216 million.
It will raise revenue for the government which can be spent on the NHS. Most patients would feel that for the cost of £15, a better funded health service and shorter waiting times would be worth it.  In England, there are 300 million GP appointments per year. Charging £15 per appointment would raise £4.5 bn (link) This would enable a very significant expansion in GP numbers and the number of available surgeries.
It could be combined with giving patients more choice on which doctor they see.
Disadvantages of charging for the NHS
Health is a merit good, people underestimate the benefits of going to the doctor – e.g. for cancer screening; charging would put some people off. If GPs miss early signs of cancer/ill health, it can prove more costly in the long run to treat. Therefore, these kind of health checks should be free.
GPs are often in the position of having to advise patients to change diet, change lifestyle – e.g. stop drinking, stop smoking, cut down on sugar and lose weight. These kind of lifestyle changes can be more effective than expensive drugs. However, if patients are paying to see the GP, they may not want to pay to hear they should lose weight. Paying patients may feel they have a right to be proscribed antibiotics (even when they don't really need them.)
Health has positive externalities which are ignored in a free market. If you have flu, the doctor can advise you on staying home, not infecting other people. Timely treatment and advice from your GP can get you back to work quicker – this will lead to benefits for firms and the economy.
Demand for health care is inelastic, therefore charging may not reduce waiting lists.
It is debatable whether many people go to the GP just because it is free. There are still costs in taking time out of the day. Most people don't go unless they have to.
Administration costs of collecting money. Surgeries will also have to start collecting money from patients, creating more admin.
It will also change the relationship between doctors and patients. We trust doctors are acting in our best interest, but when we start paying a doctor we have different attitude to the GP surgery.
Charging to see the doctory would be a regressive charge. It would be a  bigger percentage of income for those who are on low-income.
It would also be a bigger share of income for those who are ill. When you are ill and not able to work, you may already be financially stretched, having to pay to see the GP would impose an additional cost.
There are other ways to raise finance for the NHS. Rather than collecting from patients directly, the government could raise taxes (VAT or income tax). It could impose a sugar tax or higher alcohol tax to help reduce levels of obesity and alcohol-related problems.
Conclusion
This is an interesting question. Superficially, there is a good economic case for charging people to see the doctor. It is a logical response to a shortage of demand. However, we have to be careful with basic economy analysis. For example, would a charge discourage people from going to see the doctor and then end up costing the NHS more because the illness becomes more serious?
Also, it is very interesting how charging to see the doctor would change our relationship with the GP. A fee paying patient may have a subtle feeling they can demand the GP treats them in a certain way. It reminds my of the "Moral limits of markets" by Michael Sandel.
Related