The highest rates of obesity in the world are found in the small pacific islands,  Nauru, Cook Islands with close to 60% of the adult population meeting definition of obesity as measured by the BMI (body mass index)
Excluding these small pacific islands (with very small population) the greatest levels of obesity are found in the Gulf states (Kuwait 37.9%)) and the United States (36.2%) Obesity rates across the world have been increasing in recent decades.
In 2014, more than half the world's obese people lived in ten countries including United States, China, India, Russia, Brazil, Mexico, Egypt, Germany, Pakistan and Indonesia.
Highest rates of obesity in the world – top 25
For this list, I excluded small islands, like Nauru and the Cook Islands.
Lowest levels of obesity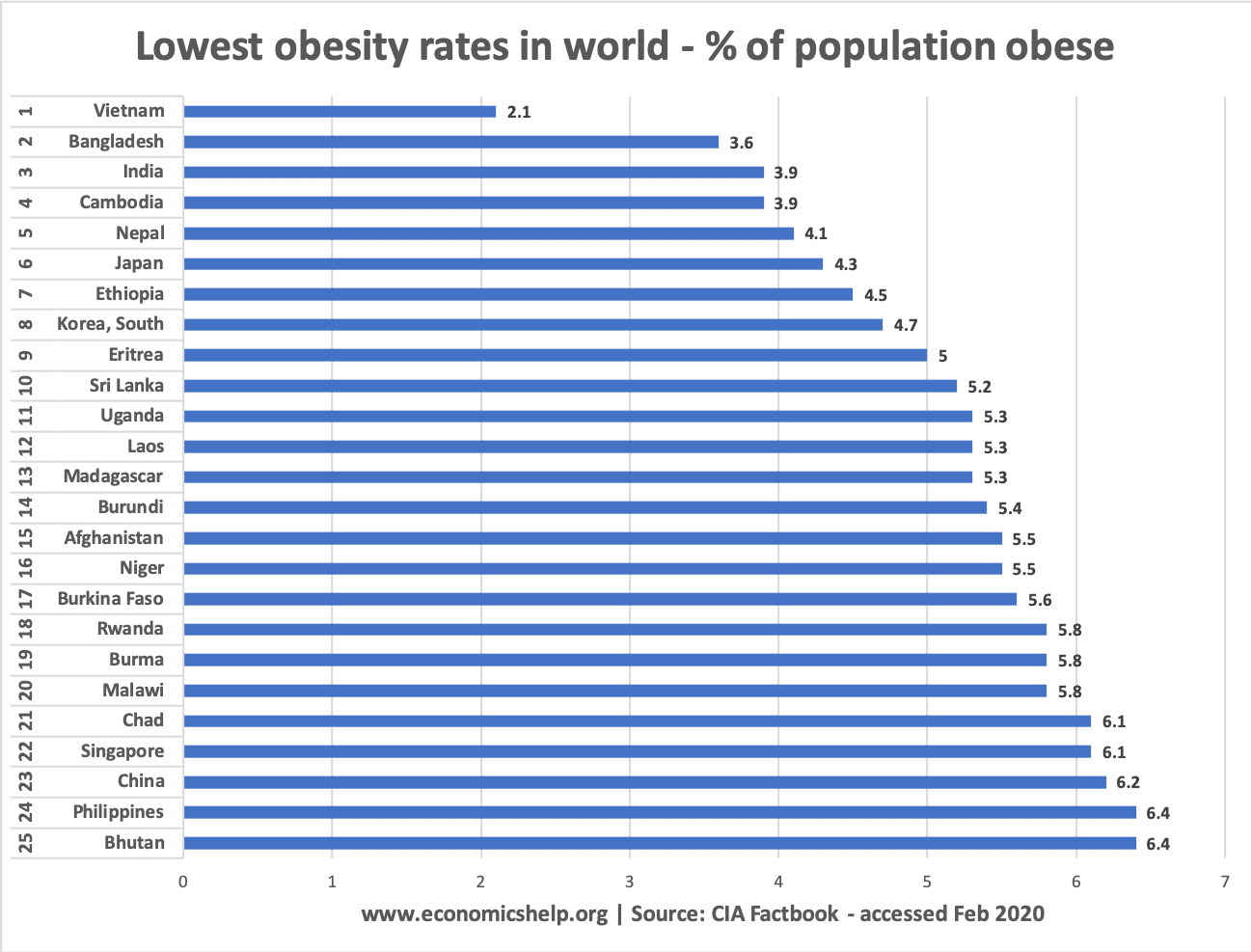 The countries with the lowest obesity rates tend to be low-income developing economies, though Japan is an exception.
Reasons for Obesity
The link between calory consumption and obesity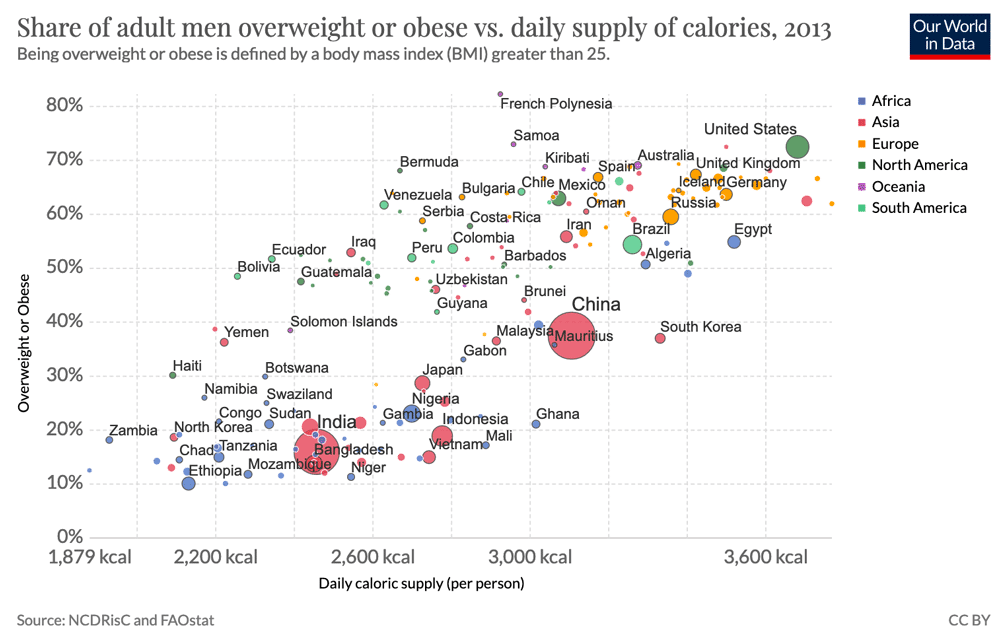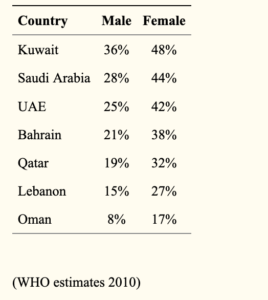 In the gulf states, obesity levels are significantly higher amongst women – which could be related to different lifestyles and lower likelihood of being involved in exercise.
"Soft drink consumption increased globally from 9.5 gallons per person per year in 1997 to 11.4 gallons in 2010. A 1% rise in soft drink consumption was associated with an additional 4.8 overweight adults per 100." 10.2105/AJPH.2012.300974
Growth of obesity in recent years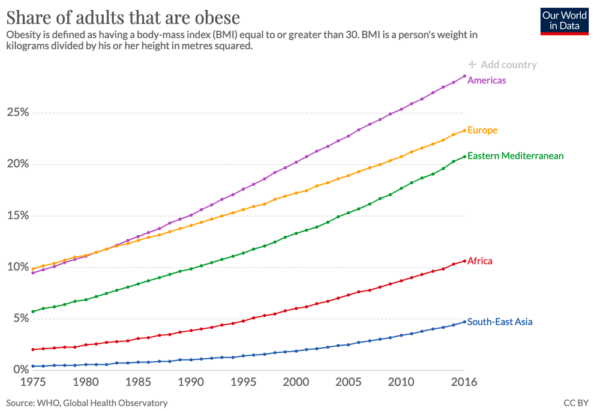 Source: Our World in Data
List of Obesity rates worldwide
| | | |
| --- | --- | --- |
| Rank | Country | (%) |
| 1 | Nauru | 61 |
| 2 | Cook Islands | 55.9 |
| 3 | Palau | 55.3 |
| 4 | Marshall Islands | 52.9 |
| 5 | Tuvalu | 51.6 |
| 6 | Niue | 50 |
| 7 | Tonga | 48.2 |
| 8 | Samoa | 47.3 |
| 9 | Kiribati | 46 |
| 10 | Micronesia | 45.8 |
| 11 | Kuwait | 37.9 |
| 12 | United States | 36.2 |
| 13 | Jordan | 35.5 |
| 14 | Saudi Arabia | 35.4 |
| 15 | Qatar | 35.1 |
| 16 | Libya | 32.5 |
| 17 | Turkey | 32.1 |
| 18 | Egypt | 32 |
| 19 | Lebanon | 32 |
| 20 | United Arab Emirates | 31.7 |
| 21 | Bahamas, The | 31.6 |
| 22 | New Zealand | 30.8 |
| 23 | Iraq | 30.4 |
| 24 | Fiji | 30.2 |
| 25 | Bahrain | 29.8 |
| 26 | Canada | 29.4 |
| 27 | Australia | 29 |
| 28 | Malta | 28.9 |
| 29 | Mexico | 28.9 |
| 30 | South Africa | 28.3 |
| 31 | Argentina | 28.3 |
| 32 | Chile | 28 |
| 33 | Dominica | 27.9 |
| 34 | Uruguay | 27.9 |
| 35 | Syria | 27.8 |
| 36 | United Kingdom | 27.8 |
| 37 | Dominican Republic | 27.6 |
| 38 | Algeria | 27.4 |
| 39 | Oman | 27 |
| 40 | Tunisia | 26.9 |
| 41 | Suriname | 26.4 |
| 42 | Hungary | 26.4 |
| 43 | Lithuania | 26.3 |
| 44 | Morocco | 26.1 |
| 45 | Israel | 26.1 |
| 46 | Czechia | 26 |
| 47 | Iran | 25.8 |
| 48 | Costa Rica | 25.7 |
| 49 | Andorra | 25.6 |
| 50 | Venezuela | 25.6 |
| 51 | Ireland | 25.3 |
| 52 | Vanuatu | 25.2 |
| 53 | Bulgaria | 25 |
| 54 | Greece | 24.9 |
| 55 | Jamaica | 24.7 |
| 56 | Cuba | 24.6 |
| 57 | El Salvador | 24.6 |
| 58 | Belarus | 24.5 |
| 59 | Croatia | 24.4 |
| 60 | Belize | 24.1 |
| 61 | Ukraine | 24.1 |
| 62 | Spain | 23.8 |
| 63 | Nicaragua | 23.7 |
| 64 | Saint Vincent | 23.7 |
| 65 | Latvia | 23.6 |
| 66 | Montenegro | 23.3 |
| 67 | Norway | 23.1 |
| 68 | Barbados | 23.1 |
| 69 | Poland | 23.1 |
| 70 | Russia | 23.1 |
| 71 | Saint Kitts and Nevis | 22.9 |
| 72 | Panama | 22.7 |
| 73 | Haiti | 22.7 |
| 74 | Luxembourg | 22.6 |
| 75 | Solomon Islands | 22.5 |
| 76 | Romania | 22.5 |
| 77 | Macedonia | 22.4 |
| 78 | Colombia | 22.3 |
| 79 | Germany | 22.3 |
| 80 | Finland | 22.2 |
| 81 | Belgium | 22.1 |
| 82 | Brazil | 22.1 |
| 83 | Iceland | 21.9 |
| 84 | Cyprus | 21.8 |
| 85 | Albania | 21.7 |
| 86 | Georgia | 21.7 |
| 87 | France | 21.6 |
| 88 | Serbia | 21.5 |
| 89 | Honduras | 21.4 |
| 90 | Grenada | 21.3 |
| 91 | Papua New Guinea | 21.3 |
| 92 | Estonia | 21.2 |
| 93 | Guatemala | 21.2 |
| 94 | Kazakhstan | 21 |
| 95 | Portugal | 20.8 |
| 96 | Mongolia | 20.6 |
| 97 | Sweden | 20.6 |
| 98 | Slovakia | 20.5 |
| 99 | Netherlands | 20.4 |
| 100 | Paraguay | 20.3 |
| 101 | Guyana | 20.2 |
| 102 | Slovenia | 20.2 |
| 103 | Armenia | 20.2 |
| 104 | Bolivia | 20.2 |
| 105 | Austria | 20.1 |
| 106 | Azerbaijan | 19.9 |
| 107 | Italy | 19.9 |
| 108 | Ecuador | 19.9 |
| 109 | Peru | 19.7 |
| 110 | Saint Lucia | 19.7 |
| 111 | Denmark | 19.7 |
| 112 | Switzerland | 19.5 |
| 113 | Antigua and Barbuda | 18.9 |
| 114 | Botswana | 18.9 |
| 115 | Moldova | 18.9 |
| 116 | Trinidad and Tobago | 18.6 |
| 117 | Turkmenistan | 18.6 |
| 118 | Bosnia and Herzegovina | 17.9 |
| 119 | Namibia | 17.2 |
| 120 | Yemen | 17.1 |
| 121 | Kyrgyzstan | 16.6 |
| 122 | Lesotho | 16.6 |
| 123 | Uzbekistan | 16.6 |
| 124 | Swaziland | 16.5 |
| 125 | Malaysia | 15.6 |
| 126 | Zimbabwe | 15.5 |
| 127 | Gabon | 15 |
| 128 | Tajikistan | 14.2 |
| 129 | Brunei | 14.1 |
| 130 | Seychelles | 14 |
| 131 | Djibouti | 13.5 |
| 132 | Mauritania | 12.7 |
| 133 | Sao Tome + Principe | 12.4 |
| 134 | Cabo Verde | 11.8 |
| 135 | Cameroon | 11.4 |
| 136 | Ghana | 10.9 |
| 137 | Mauritius | 10.8 |
| 138 | Gambia, The | 10.3 |
| 139 | Cote d'Ivoire | 10.3 |
| 140 | Thailand | 10 |
| 141 | Liberia | 9.9 |
| 142 | Benin | 9.6 |
| 143 | Congo, Republic | 9.6 |
| 144 | Guinea-Bissau | 9.5 |
| 145 | Nigeria | 8.9 |
| 146 | Senegal | 8.8 |
| 147 | Sierra Leone | 8.7 |
| 148 | Maldives | 8.6 |
| 149 | Mali | 8.6 |
| 150 | Pakistan | 8.6 |
| 151 | Togo | 8.4 |
| 152 | Tanzania | 8.4 |
| 153 | Somalia | 8.3 |
| 154 | Angola | 8.2 |
| 155 | Zambia | 8.1 |
| 156 | Equatorial Guinea | 8 |
| 157 | Comoros | 7.8 |
| 158 | Guinea | 7.7 |
| 159 | Central African Republic | 7.5 |
| 160 | Mozambique | 7.2 |
| 161 | Kenya | 7.1 |
| 162 | Indonesia | 6.9 |
| 163 | Korea, North | 6.8 |
| 164 | Congo, Dem. Rep. | 6.7 |
| 165 | Sudan | 6.6 |
| 166 | South Sudan | 6.6 |
| 167 | Bhutan | 6.4 |
| 168 | Philippines | 6.4 |
| 169 | China | 6.2 |
| 170 | Singapore | 6.1 |
| 171 | Chad | 6.1 |
| 172 | Malawi | 5.8 |
| 173 | Burma | 5.8 |
| 174 | Rwanda | 5.8 |
| 175 | Burkina Faso | 5.6 |
| 176 | Niger | 5.5 |
| 177 | Afghanistan | 5.5 |
| 178 | Burundi | 5.4 |
| 179 | Madagascar | 5.3 |
| 180 | Laos | 5.3 |
| 181 | Uganda | 5.3 |
| 182 | Sri Lanka | 5.2 |
| 183 | Eritrea | 5 |
| 184 | Korea, South | 4.7 |
| 185 | Ethiopia | 4.5 |
| 186 | Japan | 4.3 |
| 187 | Nepal | 4.1 |
| 188 | Cambodia | 3.9 |
| 189 | India | 3.9 |
| 190 | Timor-Leste | 3.8 |
| 191 | Bangladesh | 3.6 |
| 192 | Vietnam | 2.1 |
Related posts