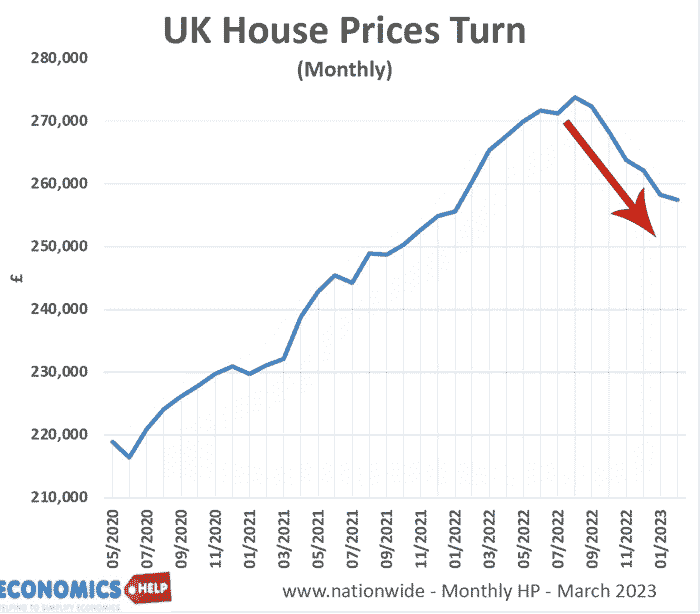 Last week, the Nationwide reported a sixth consecutive monthly fall in house prices. They are now 6% down on last summer's peak with buyers able to get an average £14,000 off the asking price. Annual price changes are falling at the fastest rate since 2012.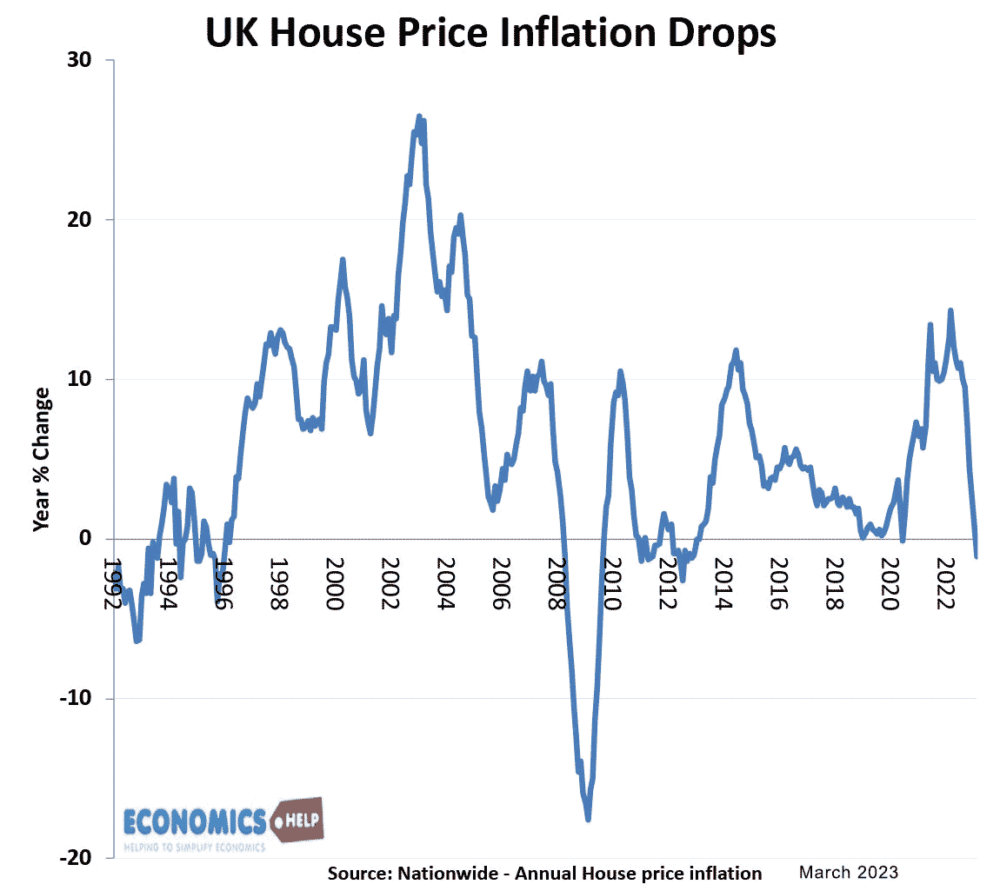 Yet, some analysts wonder if the worst is already over? Zoopla executive director is hopeful by Easter the market will stabilise and buyers return. Optimists could point to the recent decline in mortgage rates since the crazy days of Truss and Kwarteng last September. However, we can still make a strong case that house prices have much more to fall.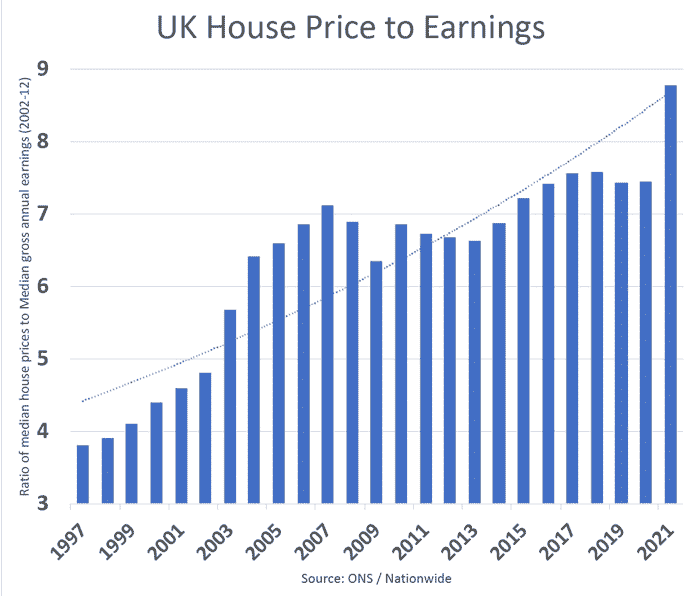 Last summer, house price to income ratios reached a record of just under nine times earnings. (The highest level since the nineteenth century)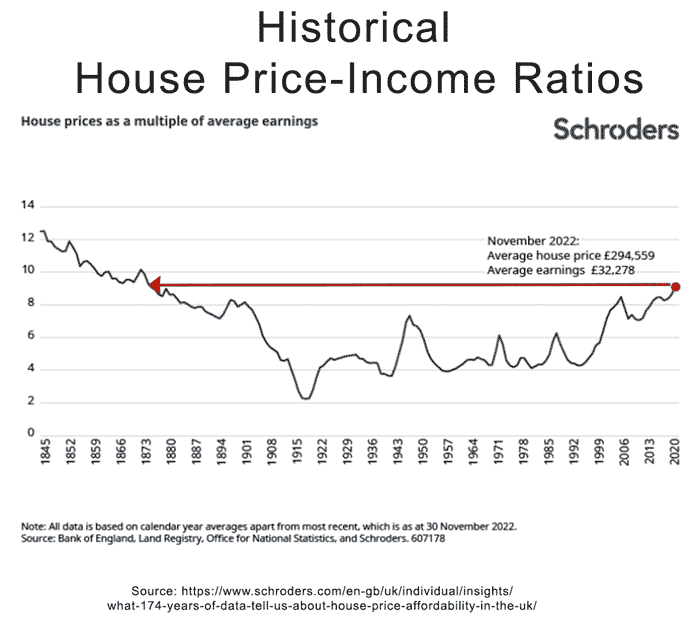 But, in 2019 the Bank of England produced a report saying that 90% of this rise in house price to income ratio in the UK was due to ultra low interest rates. They stated interest rates are so important to house prices that a 1% rise in long-term interest rates could reduce real house prices by 20% over a long period of time.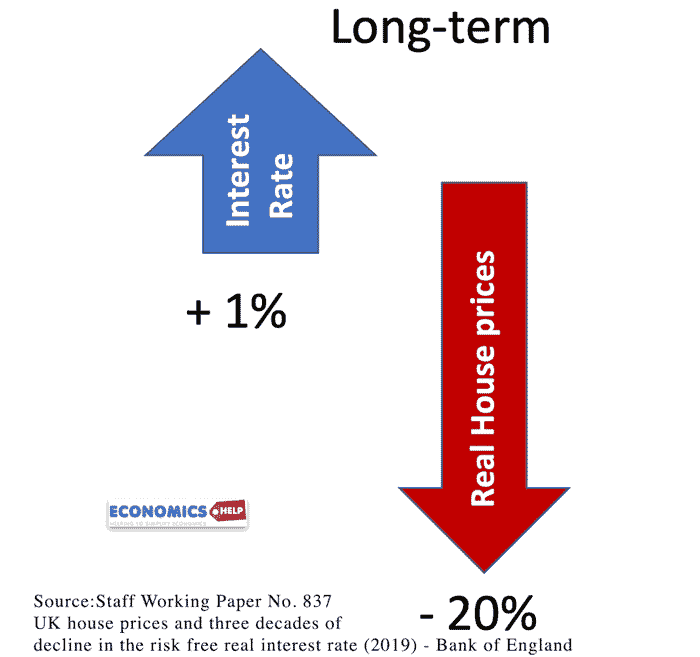 Now, although mortgage rates have fallen slightly since September, this shouldn't detract from the dramatic change after 13 years of near zero rates.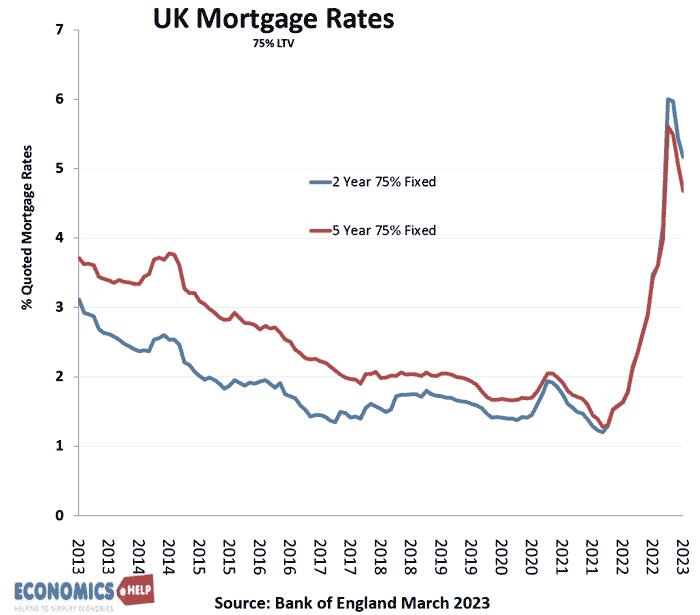 This time last year, Halifax were offering a two year fixed rate mortgage for 0.83%. The same mortgage is now 4.95%. For a £270,000 mortgage that is an extra £6,864 per year. It means that mortgage payments as a share of income are reaching the levels of the previous crashes in 2008 and 1991. Of course, rates are low by comparison with the early 1990s, but it is not different because house prices are so much high.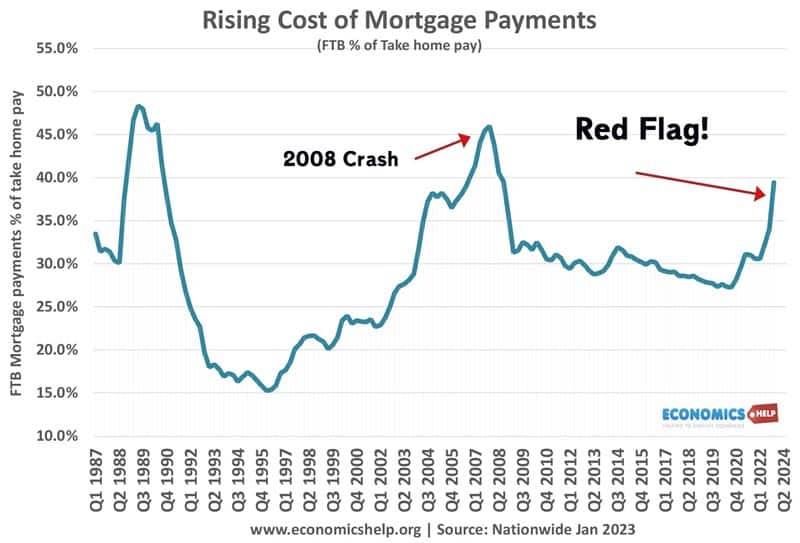 The rise in interest rates combined with poor economic growth has led to a sharp fall in mortgage approvals. It is getting close to levels seen in the credit crunch.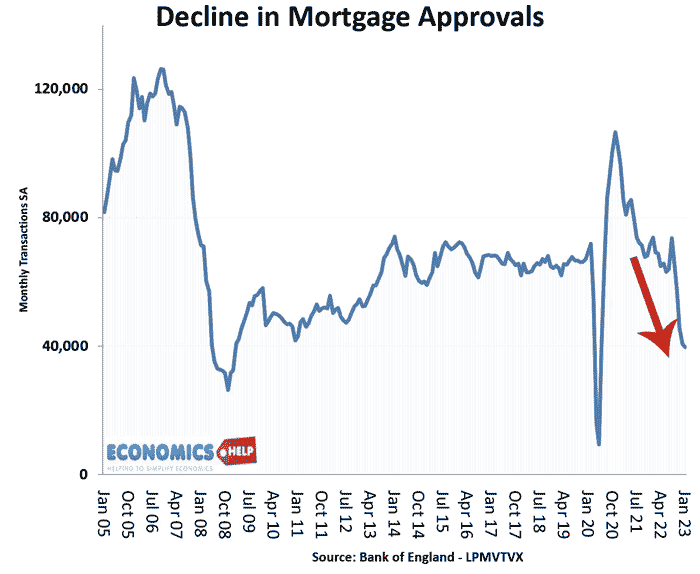 Overall transactions are quite low and could be squeezed further this year as high rates begin to bite.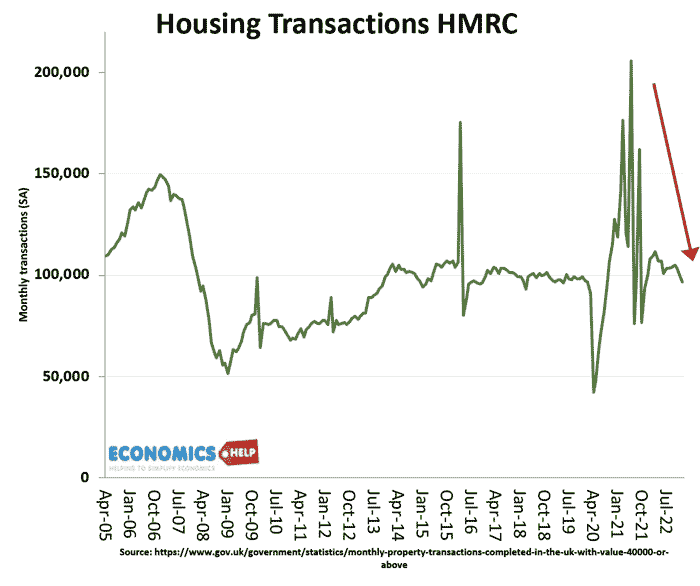 Andrew Wishart of Capital Economics (via Telegraph) argues if mortgage rates settle at 4.5%, the average mortgage size could fall from £234,000 to £176,000. This is a significant reduction in buying power and if we get this fall in mortgage loans, it could, in theory, reduce house prices 17% This is a similar decline to the last crashes of 1991 and 2007, where prices fell 20% and it is also similar to what we have already seen in Canada, Sweden and New Zealand.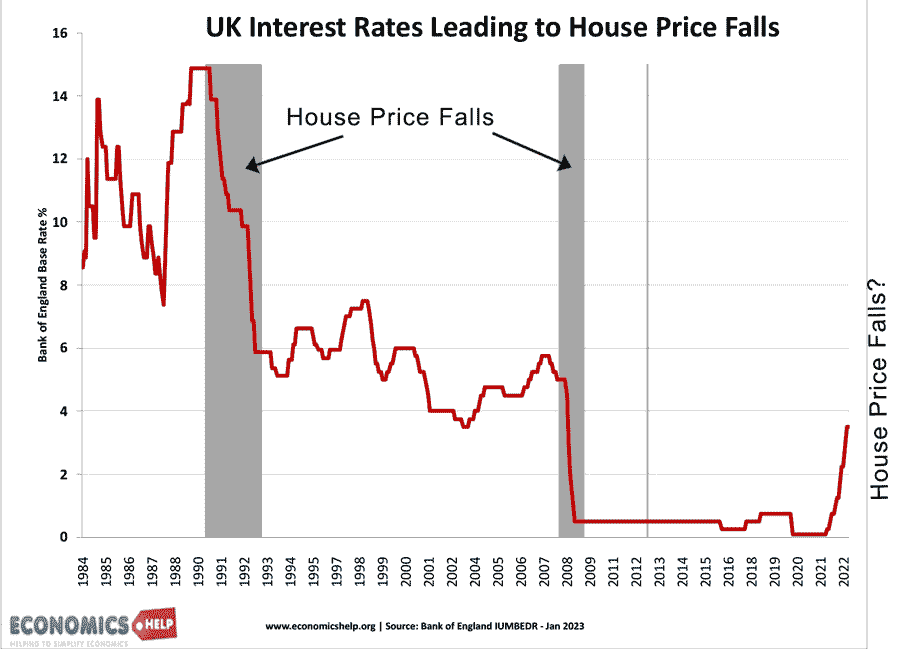 Historically, interest rates have a negative effect on house prices. There is an inverse relationship, but there is also a significant time lag. It takes time for homeowners and investors to readjust to the new higher interest rate climate. If interest rates remain elevated, it significantly reduces the attractiveness of buy to let investors taking out big mortgage, when rental yields are relatively low and there is the prospect of falling or at least stagnating prices.
Going back to the Bank of England report they don't say a 1% rise in interest rates will cause a 20% fall in prices overnight. It requires a sustained rise in interest rates causing a prolonged fall in real house prices. Basically, with interest rates at zero, housing has been a very attractive investment – better than bonds, pensions and cash in the bank. However, this jump in interest rates, will increasingly change people's investment decisions.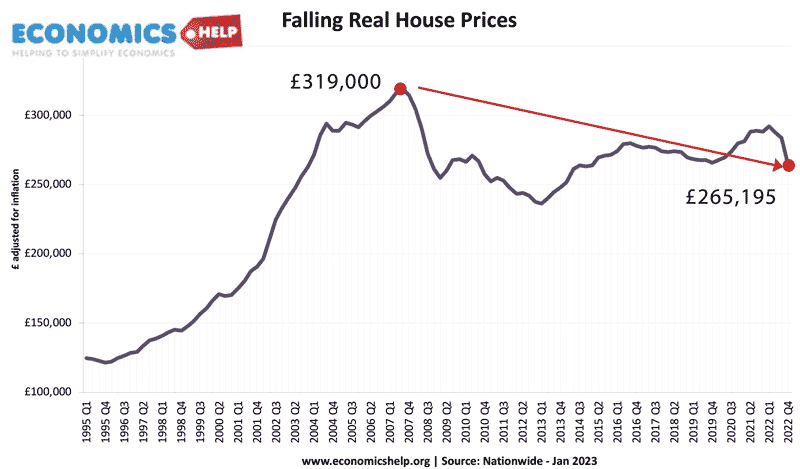 It is also worth considering real house prices, which the Bank of England mention. This means they are adjusted for inflation. In a period of high inflation, house price stats can be slightly misleading. If inflation is 10% and house prices fall 1%. That is a real, inflation adjusted fall of 11%. Real House prices have actually already fallen 9% in the past 12 months and are now back to 2015 levels.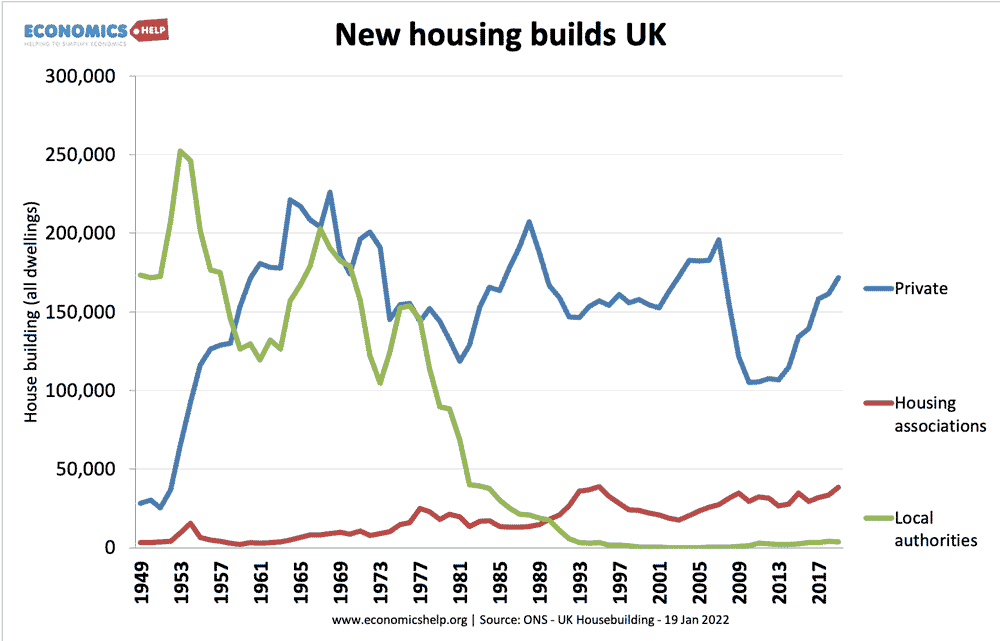 Won't a Shortage of Supply Keep Prices elevated?
It is true up to a point. The UK's relative shortage of housing is definitely a factor in long-term prices. The UK does have a lower ratio of homes compared to our European neighbours. This analysis from Lichfields (a development consultant) claims the UK is 2.1 million homes short.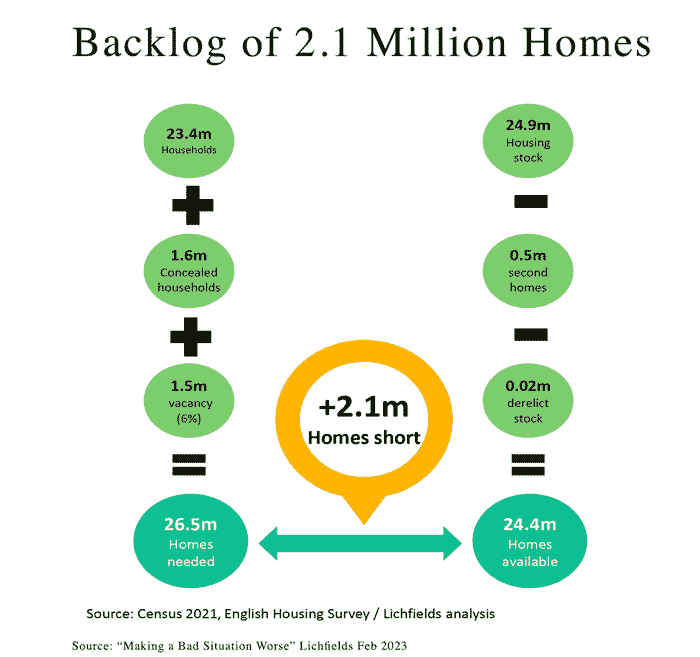 This figure primarily comes from 1.6 million concealed households, e.g. young adults living with parents. You can debate this 1.6 million figure and also mention the 600,000 empty homes, slower household growth plus all the Airbnb lets. But homebuilders and independent analysts are concerned that changes to planning laws and environmental legislation such as limits on nitrate pollution could cause UK homebuilding to fall to record low levels this year. Planning permissions have been declining for a few years. However, in the short-term, a decline in homebuilding will only have a marginal impact on prices. A 1% increase in total supply is estimated to reduce prices 1.5%. Even if we increased homebuilding to 300,000 a year, the short-run affect would be fairly marginal.  Of course, in  the long-term, it is a different matter.
Isn't it better to buy than rent?
If I was renting, I would aspire to buy, rather than rent. I may wait a few months, but generally wouldn't worry about house price to income ratios. I would try to buy, if I could. The UK's rental market is crazy, and I do worry about the impact of the next generation of old people facing private market rents, way above their pension value. However, this point has been valid for many years. The big question is whether people in the private renting market can actually buy and achieve their aspiration. Despite the lack of affordability in renting, there will still be downward pressure on house prices.
Why Did Prices surge during the Covid pandemic?
Three reasons. Firstly, due to weak economic growth, interest rates were close to zero, making mortgages very cheap. The Bank of England also pumped more money supply into the banking system. Secondly, with a shift to work from home, buying a house, especially bigger houses became more desirable, people were willing to use more of their savings and income to buy. Thirdly, many potential homebuyers actually did quite well in the pandemic. Expenditure fell, but wages were maintained, Savings surged during the pandemic, meaning people could afford bigger deposits. The shift to working from home is probably a long-term trend, but the race for space is less than it was. Also, savings have come down considerably since Covid.
What if inflation and interest rates fall this year?
What if inflation and interest rates fall this year? The best argument for the fact house prices will not fall, but stagnate is if we have a sharp fall in inflation and the Bank of England can start to cut interest rates. If we return to economic stagnation with low growth and low inflation, we might return to ultra-low interest rates, which would undermine a lot of the headwinds pushing house prices down. Inflation is falling and will continue to fall this year, as oil and gas prices are lower than 12 months ago. But, there is evidence that inflation is s more embedded than in the past. We no longer expect zero inflation and wage demands have risen.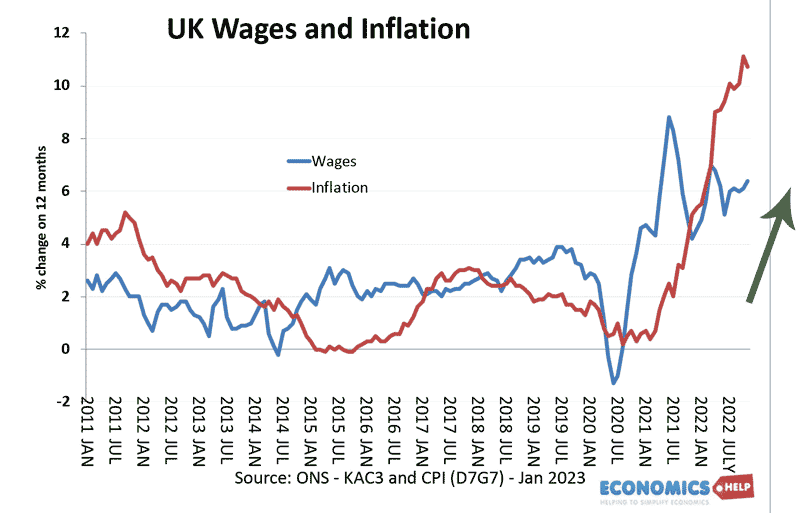 Even though real wages are falling, nominal private sector wages are rising close to 7%, which will have continued inflationary pressures. Wages are rising enough to cause inflation, but, not enough to boost real incomes.
But, a cut in interest rates is not on the immediate horizon, so there will be continued downward pressure on house prices in 2023 and probably into 2024. If you like this video, check out this video on the economic problems and benefits of a house price fall on the UK economy.