Brexit Costs include
Food inflation/Food shortages
Devaluation of Pound
Slower economic growth
Fall in tax revenue/less spending
Custom Duties and Tax
Decline in Trade
Fall in Business Investment
Labour Shortages
Illegal crossing/Small crossings
Frictions to travel
In recent weeks, the UK has seen shortages of fresh vegetables. This shortage primarily stems from bad weather in southern Europe, the much higher energy costs which discourage farmers from growing over winter and the fixed price contracts of supermarkets. But, the increased Brexit frictions and delays in transporting to and from Europe, make the UK less attractive for big food companies. It is why the UK is much more affected by these temporary factors than elsewhere in Europe. Spanish growers claim there is no actual shortage, just logistical problems getting it into the UK. The shortages won't last forever (hopefully), but analysis suggests, food prices have risen post-Brexit. The Economist reports 6% rise between 2020 and 2021, which amounts to around £210 per household. High food prices are due to increased trade friction, labour shortages, and increased costs.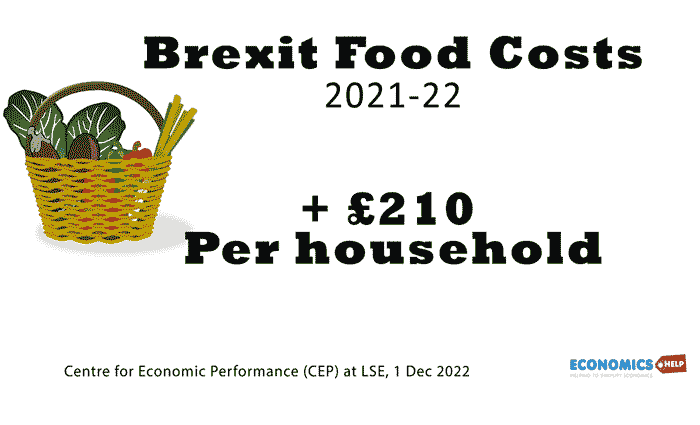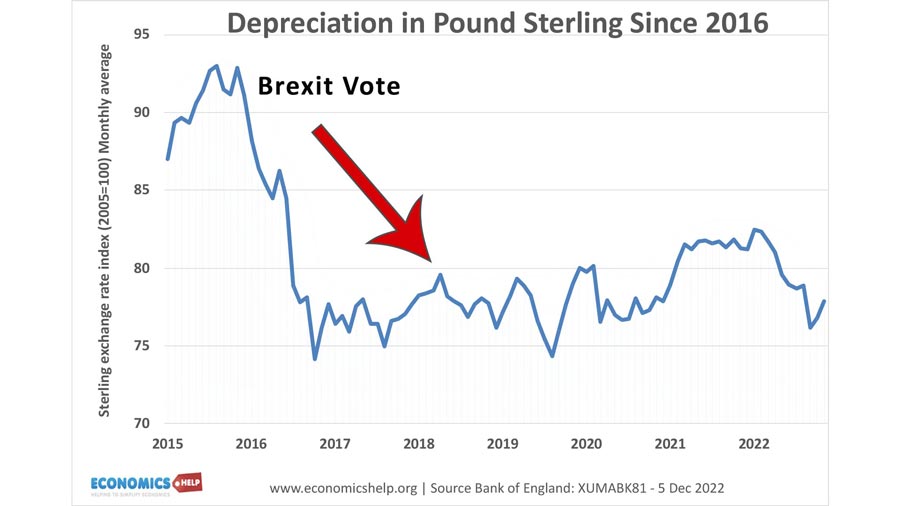 Since the Brexit vote, there has been a near 20% fall in the value of the Pound which further increases the price of imports, in particular increasing costs of food, energy and oil. The recent deal with the EU over the NI protocol does raise hopes of better relations between UK and EU, the Pound slightly recovered. But, on the other hand, the UK is set to impose more checks on the EU at the end of 2023, which means more barriers to trade. And as the UK remove EU legislation it could lead to further declines in trade.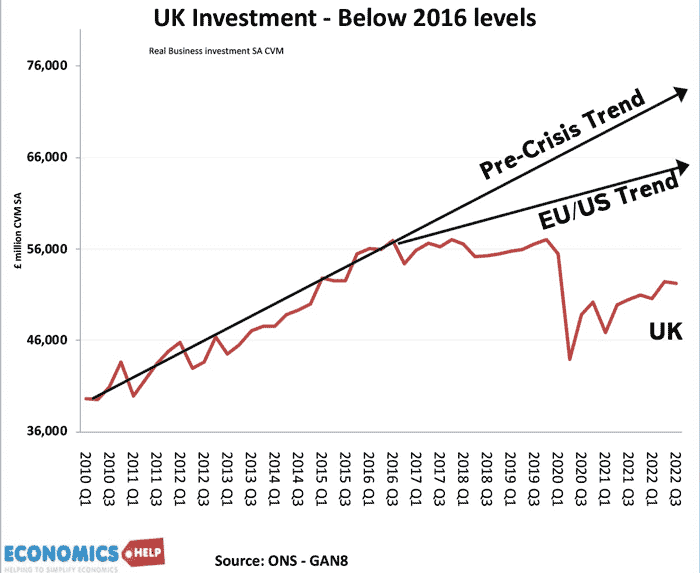 A particular concern since 2016 is the decline in business investment. The UK now has one of the lowest levels of investment in world. Whilst Covid caused a big drop, the UK has not recovered compared to the US and EU. The Centre for European Reform estimate UK investment has experienced a shortfall of 11% or £12 billion.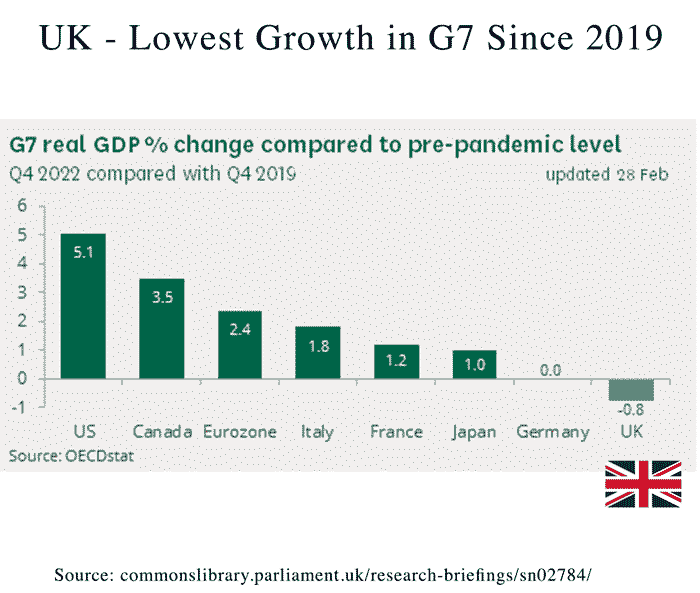 Understandably, the impact of uncertainty, lower investment, trade frictions have all contributed to lower economic growth. Again Covid is partly to blame, but compared to comparable countries the Centre for European Reform estimate a loss of 5% of GDP. The OBR are slightly more cautious suggesting a 4% loss or £80bn. For those who disagree Brexit has had an impact, it is hard to explain why growth has been so much lower than before Brexit and lower compared to other countries, with grim forecasts for 2023.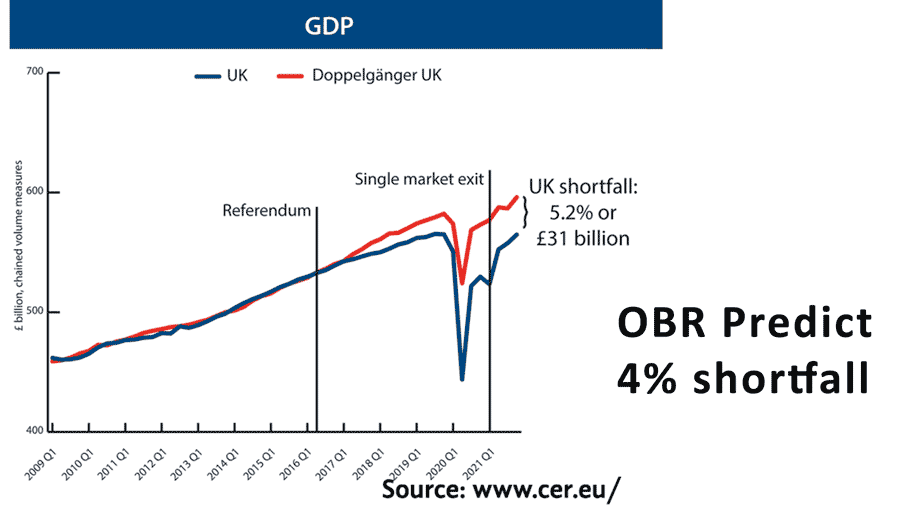 If there is a loss of GDP equivalent to 5% this has a big impact on public finances, costing up to £40bn a year in lost tax or 7p on the basic rate of income tax.
In theory the UK will save some of its £12bn net contributions to EU but the decline in growth related tax revenue is a major problem giving the UK's stress on public sector pay and long waiting lists in our public services
Since leaving the customs union, there are new checks and tariffs on the import of some goods. I recently spent 30 minutes on the phone trying to dispute a £269 VAT bill. A friend sent me two hard-discs from the EU, but to receive, I had to pay 20% – even though, it is not a purchase, just a temporary loan. It's a pain for me and embarrassing for my European friend. He does this all the time to European countries with no problems, but the UK is now a special case of paperwork and unexpected charges.
For small exporters, there is a similar array of new charges post-Brexit, which make business more unprofitable. The FT highlights a clothing company, now facing new charges of £88 post Brexit, substantially reducing their profit margins. It is worse for food companies who have extra costs, such as £180 health certificate, even on orders of £25. Many small companies have simply stopped exporting to the EU, with the only option to relocate to the continent. Some like this Bike company are struggling to stay afloat after unexpected Brexit costs pushed them into the red.
Whilst big companies are less affected by bureaucracy and exports recovered to some extent last summer, the UK has seen a strong decline in trade openness.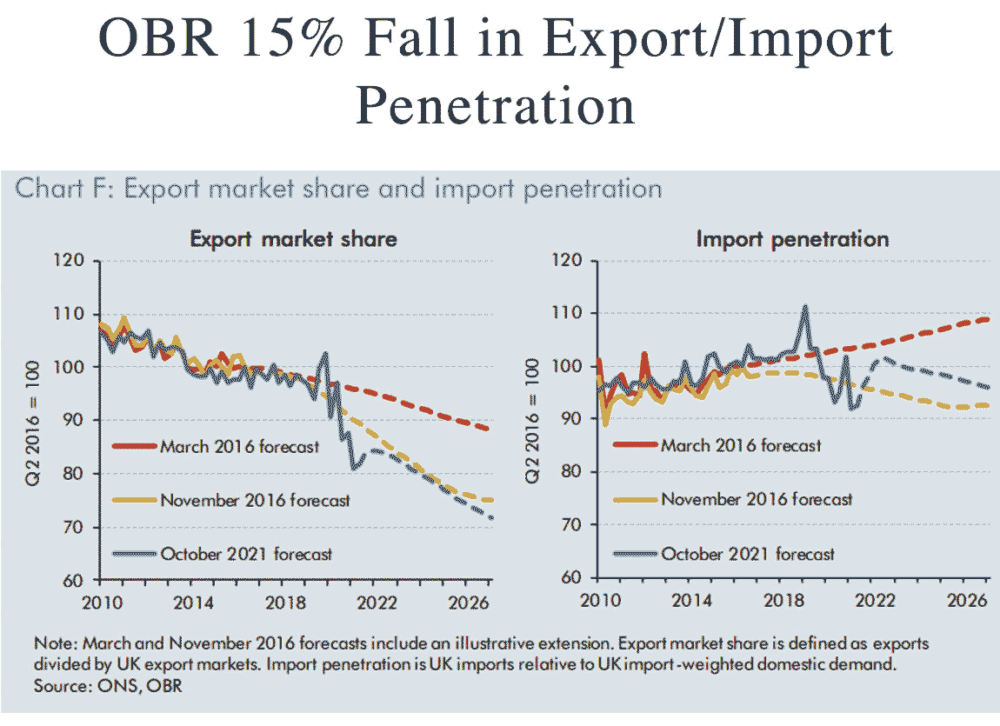 The OBR predict export and import penetration will continue to fall. Why? Firstly, there has been a sharp rise in customs duties and paperwork. The hassle and extra costs is a major block to trade. Combined with delays at Dover and shortages of lorry drivers, the UK is turning its back on frictionless trade. It will particularly affect sectors like cars and high end electrical goods, which rely on closely integrated supply chains. Free trade agreements, long touted as an alternative have so far made no difference as they mostly role over past agreements.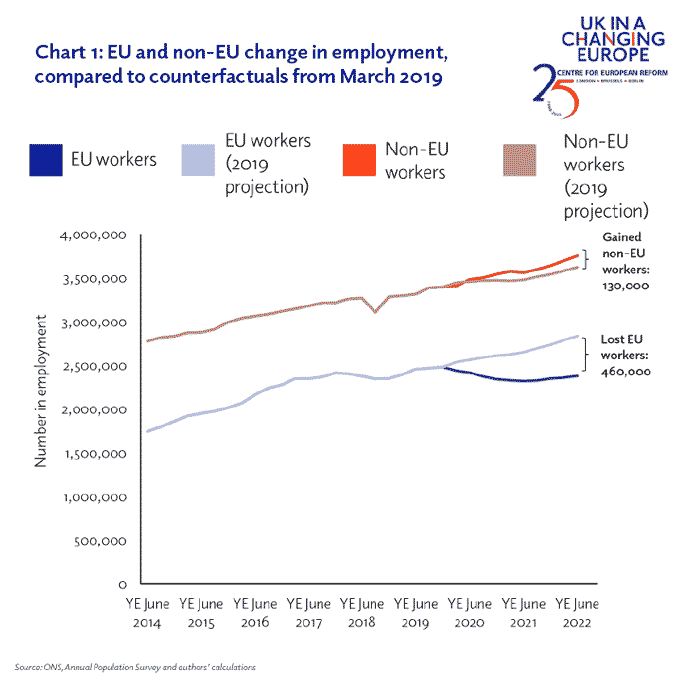 A report by Jonathon Portes claims, the end of free movement of labour has led to a shortage of around 330,000 workers. This is particularly the case for low skilled sectors like transport, retail and construction. A fall in EU workers has partly been offset by a rise in non-EU workers. Though it has been complicated by a rise in long-term sickness. The change in migration does broadly fulfil the stated aims of Brexit, though as of yet, has not translated into real wage growth. Since 206, the UK has experienced stagnant real wages has fallen behind wage growth in other countries.
Whilst EU migration has fallen, an unexpected cost of Brexit is the rise in attempted channel crossings, which have soared since 2016. A minister acknowledged that since Brexit, the UK has lost its former agreements with EU on the return of migrants from third-party country.
The loss of free movement affects UK citizens wishing to work abroad. This has particularly affected industries like musicians who find it harder to work in the EU, due to increased customs regulations and restrictions on travel. Evidence given to House of Commons Feb 2021 found 81% of respondents said they were 'highly likely' to stop touring Europe as a result of the changes. The new customs checks as a result of Brexit have also increased waiting lists at Dover and caused Eurostar to reduce the capacity of trains due to the extra time of customs checks. And this reduction in capacity has led to higher prices.
A few weeks ago, I wrote about the potential economic Benefits of Brexit. But, it was hard to find any particular convincing benefits apart from perhaps leaving the common agricultural policy and the possibility labour shortages may lead to higher real wages in the future. Yet, the economic costs of Brexit are numerous.
Despite the extenuating circumstances of the Ukraine War and Covid, it is hard to avoid the conclusion Brexit had worsened the already grim outlook for the UK.
Further reading